The latest news stories and stories of interest in the Willamette Valley from the digital home of Southern Oregon, from Wynne Broadcasting's WillametteValleyMagazine.com
Friday, November 17, 2023
Willamette Valley Weather
United States Postal Service and FOOD For Lane County Food Drive Saturday
The USPS and FOOD for Lane County have coordinated the Letter Carriers' Food Drive with donations being picked up on November 18 in Eugene and Springfield. Mail carriers will be picking up donated food items left outside mail boxes. FOOD for Lane County is also seeking volunteers to help out with the food drive.
The Fall Letter Carriers Food Drive is our largest food drive of the entire year.
FOOD for Lane County is looking for volunteers to either help pick up food and individual mailboxes or help at the post offices unloading all the food that is donated.
Volunteers that are interested in picking up food will get designated routes to assist Letter Carriers in picking the food left at mailboxes. The time is flexible (somewhere between 11am – 4pm) when food can get picked up. Volunteers will need to drive their own vehicles and bring the food that they pickup to the nearest post office. We have large magnets for your vehicle that is FOOD For Lane County's logo so donors know that you are volunteering with us.
Volunteers that would like to help at the post offices can sign up for the 2nd shift from 4 – 7pm. We have 4 post offices in Eugene and 1 in Springfield that we are looking for help at. Volunteers at the post office are helping unload the Letter Carrier's vehicles when they return from their routes.
Our goal is over 50,000 lbs. of food donated during this one day food drive!
Sign up if you can help! https://www.mobilize.us/foodforlanecounty/event/586521/
"We see people who are struggling or have been doing just fine but they are asking for help for the first time," said Dawn Marie Woodward, an associate with FOOD for Lane County.
Nonperishable donations, including high-protein items like tuna, other meats, and peanut butter, along with condiments, spices, and cooking oils are sought and can be left next to mail boxes in a weatherproof bag.
The USPS and FLC have been holding this drive for more than 30 years and was started by a letter carrier named Mark Nelson who noticed people on his route who were struggling with food insecurity. Nielsen gathered up food and gave it to them in the form of food baskets for the holidays and gradually more people got involved leading to FLC's eventual involvement.
In 2022, more than 71,000 pounds of food was collected through the drive and organizers are hoping to collect 80,000 pounds this year.
Springfield Police Department Retail Theft Mitigation Operation Results In Multiple Arrests
According to the Springfield Police Department, six theft suspects were arrested on Monday at the Springfield Target store on Gateway Street
SPD officials said that they coordinated an operation focused on retail theft with the store's loss prevention personnel on November 13. Over a four-hour period, police arrested six suspects who stole various items that included electronics, clothing, and housewares, authorities said. Police said none of the suspects made any attempt to pay for the items they had taken from inside the store and most were cited to appear in court. Police officials said one of the suspects also had outstanding warrants and was taken into custody.
Springfield police said they also contacted an individual with multiple warrants for their arrest who was believed to be selling stolen merchandise and was found with multiple pieces of construction equipment in his possession from a local hardware store.
This is the third retail theft mission SPD has engaged in recently and more are planned for the near future. The Springfield Police Department is committed to and focused on addressing criminal activity in our city, including retail theft. The SPD Crime Reduction Unit will continue to work alongside of community partners to identify problems, collaborate on effective ways to address them, and then take action to improve the safety, security, and livability of Springfield.If you would like more information on ways to partner with SPD, please contact us at police@springfield-or.gov.
Three Suspects Arrested In Connection With Noti Murder
On November 20, 2022 a body was located in the forest by hunters. The Lane County Sheriff's Office detectives worked diligently on finding any leads on the case. With help from community members tips and hard work from the detectives they were able to gather probable cause on the murder suspects.
On November 13, 2023 A search warrant was served and with the assistance from the Lane County Sheriff's Office Special Response Team three individuals were arrested in conjunction with the search warrant in the Noti area. The three individuals arrested were Timothy Bryce Shafer, Timothy Leon Shafer and Anna Mariateres Glica.
Timothy Leon Shafer and Anna Glica are charged with Abuse of a corpse 2, Tampering with physical evidence and Hindering prosecution. Timothy Bryce Shafer is charged with Murder 2 and all three are currently lodged at Lane County Adult Corrections.
These arrests were the culmination of a year-long investigation. This investigation was made possible by the collaboration of the Sheriff's Office and the Oregon State Police Criminal Division and Crime Laboratory.
Lane County Diverse Business Directory has Expanded
Head to www.LaneCountyOR.gov/DBD and discover a list of local businesses owned by people from diverse backgrounds.
The Diverse Business Directory can help connect you to businesses run by folks who identify with one or more of the following diverse identities: Asian, Black, Indigenous, Latino/a/e/x, LGBTQIA2S+, Pacific Islander, Person with a Disability, Veteran, and Women.
It's organized by what the businesses do and where they are, making it super easy to find and support them. Right now, there are 44 listed, and more are joining every month! If you're a business owner who is part of one or more of these communities and you want to be added to the Diverse Business Directory, go to www.LaneCountyOR.gov/DBD and fill out the form.
Operation Winter Survival Supply Stockpile Drive
Lane County Health & Human Services, in partnership with the First Christian Church of Eugene's Helping Hearts program and White Bird, today announced the launch of Operation Winter Survival Stockpile. The operation is an effort to create a stockpile through donations of clothing and other supplies that will help those in our community experiencing homelessness better brave the elements.
"Every winter those in our community who are without shelter are faced with life-threatening temperatures and weather," said Maria Cortez, Lane County Human Services Program Coordinator. "These donations will be absolutely crucial to helping these community members stay warm and stay alive."
To help kick off Operation Winter Survival Stockpile, the First Christian Church (located at 1166 Oak St. in downtown Eugene) and Cahoots are hosting a one day donation drive event where community members can drop-off donations and enjoy refreshments this Wednesday, November 8th from 12 P.M. to 6 P.M.
"Having access to the severe weather stockpile is an indispensable resource for service providers in our county," said White Bird Clinic Nest Program Interim Coordinator, Theresa Bordreau. "Having both hot and cold weather supplies, fills a much-needed gap for survival gear that are often in short supply. For any community member looking for ways you can support the most vulnerable in our community, I would encourage you to look at donating to this very important resource. It has been of great value to our clients here at the White Bird Clinic."
After the donation drive, items can continue to be dropped off on weekdays between 10 A.M. and 2 P.M. or by appointment. Items can also be purchased on Amazon and sent to First Christian Church at 166 Oak St. Eugene, OR, 97402.
The Operation's Amazon Wish List can be found at: https://www.amazon.com/hz/wishlist/ls/2XR33GS1ULV8Z?ref_=wl_share
Distribution of items will be prioritized to homeless outreach providers such as CAHOOTS that come into direct contact with individuals who are unhoused and unsheltered.
Preferred donation items include:
Clothing such as rain ponchos, wool socks, thermal underwear, gloves, beanies and footwear
Items like tents, blankets, hand warmers, tarps, gift cards, and laundry cards
Tools such as flashlights, batteries, and other survival supplies
For more information on Operation Winter Survival Stockpile, please contact Maria Cortez at ia.Cortez@lanecountyor.gov">Maria.Cortez@lanecountyor.gov
PeaceHealth Announces More Closure Dates In Eugene
PeaceHealth says the inpatient rehabilitation unit at the University District hospital will relocate to RiverBend in Springfield on Dec. 15.
The transition will mark the official end of services at the main "hospital tower" at University District, which is Eugene's only hospital. The healthcare organization announced in August that it would phase out services at the facility, but until recently, had not announced specific closure dates.
PeaceHealth previously announced that the University District emergency room would close on Dec. 1 at 7 a.m.
Services in outlying buildings at the Eugene location, including the inpatient behavioral health unit, will remain available.
Community leaders, as well as Oregon Gov. Tina Kotek, have urged PeaceHealth to reconsider or delay the closure of the hospital. While there are two hospitals just several miles away in Springfield, including PeaceHealth's RiverBend facility, officials in Eugene say the loss of a close-in emergency room could be potentially dangerous in emergency situations, or in the event of a major earthquake that damages or destroys bridges that cross the Willamette River.
Use this easy tool to email OHA and ask them to save Eugene's hospital and protect Lane County residents: https://actionnetwork.org/letters/save-eugenes-hospital?source=direct_link&
1st press conference was livestreamed on the Oregon Nurses Association's (ONA's) Facebook page here.
The Oregon Nurses Association (ONA) is the state's largest and most influential nursing organization. We are a professional association and labor union which represents more than 16,000 nurses and allied health workers throughout Oregon. ONA's mission is to advocate for nursing, quality health care and healthy communities. For more information visit: www.OregonRN.org.
Eugene, Springfield and Lane County to begin leaf pickup
Lane County and the cities of Eugene and Springfield are preparing to kick-off their annual leaf collection efforts. Removing leaves from catch basins, grates and gutters allows storm water to run off and prevents flooding.
Keeping leaves out of the drainage system also improves water quality because decomposing leaves use up oxygen that is needed by aquatic life in local streams and rivers. And removing slippery leaves from streets and sidewalks makes travel safer for people walking, biking and driving.
In all three jurisdictions, property owners are responsible for leaves that are placed improperly in the street or cause safety or localized flooding hazards.
Eugene and Lane County allow residents to pile leaves in the street, while Springfield only allows bagged leaves to be set out for collection.
Leaves are the only items collected. Piles with branches, pine needles, trash, grass and other lawn debris are not accepted and will not be collected.
To get the best information for your property, determine which jurisdiction provides service in your area, and then contact that agency. Here are the details for each jurisdiction:
City of Eugene – Eugene's leaf collection and delivery program begins Nov. 6. Eugene's leaf program is funded by storm water fees because proper use and disposal of leaves keeps decaying leaves out of local creeks and rivers and helps prevent localized flooding caused by blocked storm drains.
After an initial focus on the central Eugene area, City crews will break into three groups to focus on designated sections of the city. Each crew has the staffing and equipment needed to collect and deliver leaves and sweep streets after the leaves have been picked up. This puts resources closer to neighborhoods and improves service on unimproved streets.
Online features allow Eugene residents to look up their address and see when they should pile their leaves neatly in a row parallel to the curb, order leaf deliveries, or report hazards such as leaves in a bike lane. People should place their leaves in the street the weekend before crews are scheduled to be in their neighborhood. The second round of leaf collection will start January 2. Safely pile remaining leaves in the street between December 31 and January 1.
For more information about Eugene's leaf collection and delivery services, go to www.eugene-or.gov/leaf or call Eugene Public Works Maintenance at 541-682-4800.
City of Springfield – In Springfield, the City provides a leaf pickup service to residents within the city limits to help prevent flooding, protect water quality, and keep neighborhood streets safe for people walking, biking, and driving. Leaves are collected in two rounds in two areas — the west and east sides of town with 28th/31st Street as the dividing line.
Sanipac is contracted to pick up, haul, and recycle bagged leaves for residents within the city limits. Leaves must be put in medium-sized bags that contain only leaves. Bags containing other yard debris cannot be used for compost and will not be picked up.
Bags need to be placed curbside, not in the street, by 7:00 a.m. on Monday of the scheduled week for collection in that area. Not all bags will be picked up first thing Monday; it may take several days. Additionally, severe weather may cause delays. Landscaping, yard maintenance companies, property management companies, and residents are not allowed to blow or rake leaves into the streets.
Springfield residents can also pledge to properly dispose of their leaves for a chance to win one of two $100 gift cards from a local home improvement store. Residents can view this year's informational flier for more details on how to enter.
The first round of leaf collection in Springfield starts November 27 west of 28th Street/31st Street, then December 4 east of 28th Street/31st Street. The second round starts January 8 west of 28th Street/31st Street, then January 15 east of 28th Street/31st Street.
For more information about leaf pickup in Springfield, visit www.springfield-or.gov/leafpickup, call 541-525-2658 or email ogram@springfield-or.gov">leafpickupprogram@springfield-or.gov.
Lane County – Lane County Public Works will begin its annual leaf pick-up program on Monday, November 13. The County collects leaves in two rounds in two general areas: Santa Clara north of Beltline Highway and several Springfield locations generally just outside the city limits. Lane County crews may be working in your zone prior to official collection dates if time allows; however, crews will return to your zone as scheduled.
Lane County provides a leaf collection information line (541-682-8565) updated at 5:00 p.m. each Friday. It describes where leaf pickup begins on a weekly basis. For more information go to www.LaneCountyOR.gov/LeafPickUp, call 541-682-6905 or e-mail leafcollection@lanecountyor.gov.
Leaf Preparation Guidelines – Two priorities that are the same in all three jurisdictions are public safety and operational efficiency. Here are some tips to help meet those objectives:
In Eugene and Lane County, leaves must be in the roadway but piled at least 15 feet away from parked vehicles. Do not bag leaves.
In Lane County leaf pickup will be provided for paved curb-and-gutter streets only. In Eugene, unimproved streets are picked up during both rounds but equipment must be able to reach the leaves from the hard road surface.
In Springfield, leaves need to be put in medium-sized bags that contain only leaves. The bags should be placed curbside, not in the street.
Do not pile leaves in bike or traffic lanes or on curbs or sidewalks.
Keep storm drains and gutters clear to prevent localized flooding.
Do not mix in other debris such as branches, rocks, lawn clippings, pine needles, or trash.
Leaves are not picked up in private yards.
Wait to put leaves in the street until the weekend prior to collection.
Consider recycling leaves as compost or mulch material.
Attached Media Files: Full press release with maps , 2023-10/6775/167460/Spfld_leaf_collection_zones.png , Lane County leaf map , Eugene leaf map
Permalink
Governor Kotek Issues Statement in Response to Revenue Forecast
Governor Tina Kotek issued a statement in response to the quarterly revenue forecast:
"Oregon's economy is continuing to stabilize, and that is good news for working families and businesses across our state. To keep our economy moving in the right direction, we need to address core issues for Oregonians. Housing production, the addiction crisis, and access to child care are at the top of the list. I look forward to working with legislators in the upcoming 2024 session to make progress for Oregonians on these issues and more."
Union Makes Concession To Withdraw Proposal For Capping Class Sizes As Portland Teacher Strike Continues
The main issues involve pay, more planning time and smaller class sizes.
The Portland Association of Teachers has removed class size caps — one of the most expensive, publicly popular and politically contentious elements of their asks — from their most recent bargaining proposal submitted Thursday.
The major concession from the union potentially paves the way for a settlement with the school district and an end to a strike that had already cost students 10 days of school and their teachers 12 days of pay as of Thursday. District officials say until the strike is over, it is difficult to determine exactly how many days students will need to make up to meet state requirements.
School will not reopen until Monday, Nov. 27 at the earliest, district officials announced Thursday and parent-teacher conferences that were scheduled for next week have been indefinitely postponed.
Union leaders had pushed hard for class size caps, telling members as recently as Wednesday night that the two sides remained "far apart" on the issue.
But the phrase "class size cap" was struck-through in the union's latest proposal on workload issues Thursday afternoon. Instead, the Portland Association of Teachers has proposed a significant increase in the overage pay that teachers receive when the number of students in their classroom, or in their caseload, exceeds a certain threshold.
For example, in the current contract, a kindergarten teacher with more than 24 students in their class gets a 3% increase in their base salary for every student above that number. Under the proposal the union gave the district Thursday, that would increase to a 5% increase for the first student and a 10% increase for each additional student in elementary school, along with similar increases for every five students added at the middle and high school levels.
The threshold that triggers overage pay is 26 students at grades 1-3, and 28 students at grades 4-5 and grade 6 in K-8 schools. At the middle school level, teachers may lead up to 150 students before overage pay kicks in, while the high school caseload threshold is set at 160.
Currently, the district spends between $2 and $3 million a year on overage pay. It wasn't immediately clear Thursday how much more in overage pay the district would have to spend under the union's proposal, since they did not include cost estimates. District budget analysts were crunching numbers to figure out the cost Thursday evening, according to district spokesperson Will Howell.
Declining enrollment levels, driven by a lower birth rate, rising home prices and pandemic flight to home-school and private school options, have complicated the class size picture in recent years. In some schools, they've led to class sizes well below the thresholds. In others, so many students have departed that grade levels that could once support — for example — three classes each with 23 students now have two classes with over 30 students in each.
Fulfilling the class size and caseload caps that the union had requested in the last round of proposals would have cost the district about $100 million over two years, starting with the 2024-2025 school year, and required hiring more than 350 educators, according to the district's analysis.
District negotiators and the school board have consistently said they oppose hard class size caps, both because of the financial implications and because they want to retain the flexibility to keep class sizes smallest at high needs, high poverty schools.
But in their most recent counter-proposal Wednesday, they offered to form a joint committee with teachers to focus on the class size issue, which could include conversations about redrawing attendance boundaries to balance enrollment in schools around the city.
The proposal the union put forth Thursday retains language that would allow for the formation of a class size committee at each school, on an as-needed basis. Those committees would consist of a union representative, the affected classroom teacher, the principal, an assistant superintendent or their proxy and two parents, appointed by either the PTA or, if there is not one, by the principal and by the building's union representative.
The school-based class size committee would convene to discuss potential solutions for classrooms over the threshold, like adding support from reading specialists.
The state teachers union has tried for several years, without success, to get lawmakers to agree to make class size caps a mandatory topic of bargaining. They've met opposition from advocacy groups that represent school boards and superintendents. (SOURCE)
Sheriff's Office Patrol Deputies Track Down and Arrest California Fugitive in Remote Forest Camp Near Trail
JCSO Case 23-6529 — TRAIL, Ore. – Jackson County Sheriff's Office (JCSO) Patrol deputies tracked down and arrested a fugitive wanted out of California Tuesday. JCSO Patrol located and arrested Tyler Thomas Burrow, 24, on a Trinity County, California fugitive Warrant around 2:35 p.m. in a remote forest camp northeast of Trail.
He is lodged at the Jackson County Jail awaiting extradition back to California. Humboldt County Sheriff's Office detectives are in Jackson County doing follow-up investigations. There is no more information for release at this time. Further information will come from the Humboldt County Sheriff's Office.
Connected to Missing Woman's case:
FBI Portland Encourages Oregonians to Report Federal Hate Crimes
The Portland Division of the FBI is joining the FBI's nationwide efforts to increase awareness about hate crimes and encourage reporting of hate incidents with advertising campaign across Oregon. The campaign, which began on November 6, includes billboards in Medford, Eugene, Corvallis, as well as static and digital displays reaching thousands of passengers daily at Portland International Airport.
Hate crimes are the highest priority of the FBI's civil rights program because of the devastating impact they have on families and communities. The FBI defines a hate crime as a criminal offense against a person or property motivated in whole or in part by an offender's bias against a race, religion, disability, sexual orientation, ethnicity, gender, or gender identity.
The FBI is the lead investigative agency for criminal violations of federal civil rights statutes and works closely with local, state, tribal, and other federal law enforcement partners in many of these cases, even when federal charges are not pursued.
"Violent acts motivated by hate are unacceptable in our communities. Sadly though, the amount of hate crimes reported here in Oregon has doubled from what it was just five years ago. Even still, the vast majority of these crimes are going underreported and that needs to change. That's why we are spreading the word with this campaign," said Kieran L. Ramsey, Special Agent in Charge of the FBI Portland Field Office. "The FBI serves to safeguard against hate and violence, but we can only do so if we know about any such threats or violent actions. Every person has the right to live without fear of violence or intimidation. The FBI and our law enforcement partners will continue to hold those accountable whose hate-filled aggression violates the civil rights of others."
This Oregon effort ties with a national FBI awareness campaign that hopes to drive education efforts and increase reporting: "Protecting Our Communities Together: Report Hate Crimes".
2022 Hate Crime Statistics — The FBI recently released the 2022 Hate Crime Reportas part of its Uniform Crime Reporting (UCR) Program. In Oregon, 212 of 236 agencies voluntarily submitted data for this current 2022 report. The UCR program specifically defines a hate crime as a criminal offense motivated, in whole or in part, by the offender's bias or biases against a race, religion, disability, sexual orientation, ethnicity, gender, or gender identity. In Oregon, there were 290 single bias incidents reported in 2022, and 287 single bias incidents reported in 2021. In Oregon, there were 428 reported victims in 2022, and 377 reported victims in 2021. (Note: These victim numbers include both single bias and multiple bias incidents.) Nationally, there were over 11,000 single-bias hate crime incidents involving 13,278 victims and 346 multiple-bias hate crime incidents that involved 433 victims. In 2022, the top three bias categories in single-bias incidents were race/ethnicity/ancestry, religion, and sexual-orientation. The top bias types within those bias categories by volume of reported hate crime incidents is Anti-Black or African American for race/ethnicity/ancestry bias, Anti-Jewish for religious bias, and Anti-Gay (male) for sexual-orientation bias.
Key Takeaways from 2022 Hate Crimes Report — The bias motivator in about 60% of Oregon incidents were race/ethnicity/ancestry. Victims perceived as Black were the racial group targeted most frequently. Religion was the motivator in about 10% of cases. Victims perceived as Jewish were the religious group targeted most frequently. Sexual orientation was the motivator in about 18% of reported Oregon incidents. Raw UCR reporting is available on FBI.gov and through the FBI's Crime Data Explorer.
FBI Role in Investigating Hate Crimes — There are a number of federal laws that give the FBI the ability to investigate hate crimes. Those laws generally require some kind of criminal act AND a finding that the person committing the act did so because he/she was motivated by bias. The criminal act can include offenses such as murder, assault, arson, and it generally requires the use or threat of force or violence. For an incident to qualify as a federal hate crime, the subject(s) must have acted wholly or in part based on the victim's actual or perceived status. This is generally consistent with state law. Under federal law, bias motivators include:
Race
Ethnicity
National origin
Disability
Religion
Gender
Gender identity
Sexual orientation
Anyone who has information about or believes they are a victim of a federal hate crime should contact the FBI by phone at 1-800-CALL-FBI or online
DEA Medford, Grants Pass Police and Oregon State Police Dismantle Fentanyl and Methamphetamine Trafficking Ring in Southern Oregon
GRANTS PASS, Ore.- Today the DEA Seattle Field Division, along with our partners at the Grants Pass Police Department and Oregon State Police, are announcing the takedown of a drug and firearm trafficking ring in Southern Oregon on Tuesday. The investigation started about 18 months ago and resulted with the execution of 9 search warrants in and around Grants Pass, Oregon with 24 arrests, 37 firearms seized, as well as large quantities of fentanyl and methamphetamine.
Even before Tuesday's enforcement action, the team had already seized 40 pounds of methamphetamine and more than nine pounds of fentanyl. Very small amounts of fentanyl-just two milligrams-can be deadly. The fentanyl seized had the potential to yield more than 144,000 deadly doses. These numbers will increase as the evidence collected in the search warrants is processed.
In Oregon, the DEA has seized more than 3.84 million deadly doses of fentanyl so far this year, which is double the amount seized all of last year.
"This case once again highlights DEA's commitment to Southern Oregon and the strength of our partnerships throughout the region," said David F. Reames, Special Agent in Charge, DEA Seattle Field Division. "The drug and weapons seizures made in this cooperative effort between Federal, state, and local law enforcement agencies made communities in Southern Oregon safer today."
This takedown was made possible because of the cooperative efforts of DEA and our five offices throughout Oregon (Medford, Bend, Eugene, Salem and Portland) and our many law enforcement partners in Southern and Central Oregon, including Grants Pass Police, Oregon State Police, Central Point Police Department, Rogue Area Drug Enforcement (RADE), Central Oregon Drug Enforcement (CODE), Douglas County Interagency Narcotics Team (DINT), and Basin Interagency Narcotics Enforcement Team (BINET), and the Interagency Marijuana Enforcement Team (IMET).
This case is being prosecuted by the Josephine County District Attorney.
Last year, 110,757 Americans were killed as a result of drug poisonings, 70 percent involved fentanyl and 30 percent involved methamphetamine, according to the CDC.  DEA laboratory testing indicates seven out of every 10 pills seized by DEA contain a lethal dose of fentanyl.  One Pill Can Kill | DEA.gov
Lead-contaminated WanaBana applesauce impacting children, families in Oregon
PORTLAND, Ore. – State and local health officials have identified multiple children in Oregon with elevated blood lead levels after they ate certain pouches of applesauce called WanaBana Apple Cinnamon Fruit Purée.
The elevated blood lead reports follow a safety and recall alert from the U.S. Food and Drug Administration (FDA) in late October warning parents and caregivers against buying or feeding the product to young children.
As of Nov. 15, local public health investigators have found a total of six cases of elevated blood lead levels in children who ate WanaBana Apple Cinnamon Fruit Purée. The children live in Lake, Lincoln, Multnomah and Washington counties. Some of the families learned about the FDA alert through local news and online media reports that prompted parents and caregivers to report possible exposure to health care providers.
WanaBana Apple Cinnamon Fruit Purée is distributed nationwide through retailers including Dollar Tree, Amazon and other online stores. Additionally, since the FDA alert Oct. 28, two other brands of applesauce products sold at Schnucks and Weis Markets have become subject to the recall, though they are not available in Oregon.
A collaborative investigation by state and local partners, FDA's Coordinated Outbreak Response & Evaluation (CORE) Network, and the U.S. Centers for Disease Control and Prevention (CDC) is ongoing.
While WanaBana has agreed to voluntarily recall all WanaBana Apple Cinnamon Fruit Purée pouches regardless of their expiration dates, some people may have bought the product before the recall announcement. Families should check their homes and throw away any pouches they find.
"While lead is toxic for all people regardless of age, small children are especially at risk because they're still growing and developing," said Ryan Barker, Oregon Health Authority's Childhood Lead Poisoning Prevention Program coordinator. "Continued exposure over time can permanently damage their central nervous system, which may result in long-term health problems, such as learning disorders, impaired speech and brain damage."
Signs of lead poisoning are not always easy to see and can be mistaken for other illnesses. Without a blood test, lead poisoning may go undiagnosed, especially since affected children often don't look or act sick.
Possible signs of lead exposure and symptoms in children include:
Tiredness or loss of energy.
Hyperactivity.
Reduced attention span.
Irritability or crankiness.
Poor appetite.
Weight loss.
Trouble sleeping.
Constipation.
Aches or pains in stomach.
Parents and caregivers concerned about a child's exposure to WanaBana Apple Cinnamon Fruit Purée should contact their health care provider to request a blood test.
More information on blood testing and lead can be found on the following pages:
Umpqua River Drowning Investigation – One man dead another victim missing
ROSEBURG, Ore. – One man is dead and a second victim is presumed drowned after an incident in the South Umpqua River on Monday.
On Monday, November 13, 2023, shortly after 1:00 pm, 9-1-1 dispatchers received a report of two men who were trying to cross the South Umpqua river on foot when they lost their footing and fell into the water near the 1000-block of Kendall Street in Roseburg. Witnesses who called 9-1-1 reported observing both men go under water and not resurface.
Responders from the Douglas County Sheriff's Office, Douglas County Fire District #2, Roseburg Police Department, Roseburg Fire Department and Umpqua Valley Ambulance arrived at the scene and began searching.
One of the male victims was located deceased on the riverbank. His identity is being withheld at this time pending next of kin notification. Divers from the Douglas County Sheriff's Office attempted to locate the second victim, described as a male, but were unsuccessful after two days of searching. Efforts to locate the second victim are still ongoing.
The FBI is Offering a Reward of up to $25,000 for Information Leading to the Arrest and Conviction of the Individual(s) Responsible for Portland Triple Homicide
PORTLAND, OREGON – The Federal Bureau of Investigation's Portland Field Office and the Portland Police Bureau are asking for the public's help in identifying the individual(s) responsible for the shooting deaths of 17-year-old Eskender Tamra, 19-year-old Babu Daudi, and 20-year-old Patrick Johnson.
On Saturday, March 25, 2023, Tamra, Daudi, and Johnson were shot and killed while traveling in a car on Foss Avenue near University Park in North Portland around 12:30pm. Based on the investigation to date, it appears that three individuals fired numerous gunshots at the victims' vehicle, killing all three people inside.
The FBI is offering a reward of up to $25,000 for information leading to the arrest and conviction of the individual(s) responsible for the murders of Tamra, Daudi and Johnson.
"Even as the victims tried to drive away, the suspects chased them and continued shooting in broad daylight. From inside their homes, neighbors heard dozens of gunshots ring out and found shell casings in their yards," said Kieran L. Ramsey, Special Agent in Charge of the FBI Portland Field Office. "We know there are people out there who know who did this. The shooters brought terror to this neighborhood and ripped apart three families. For this community and these families, we are asking for the public to come forward with any information."
If you have any information concerning this case, please contact the FBI Portland Field Office at (503) 224-4181, your local FBI office, the nearest American Embassy or Consulate, or you can submit a tip online at tips.fbi.gov.
Oregon Division of Financial Regulation reminds people to be careful of gift card scams as holiday shopping season approaches
The 2023 holiday shopping season is here and the Oregon Division of Financial Regulation (DFR) is reminding people to watch out for financial scams that can target their pocketbook, particularly gift card scams.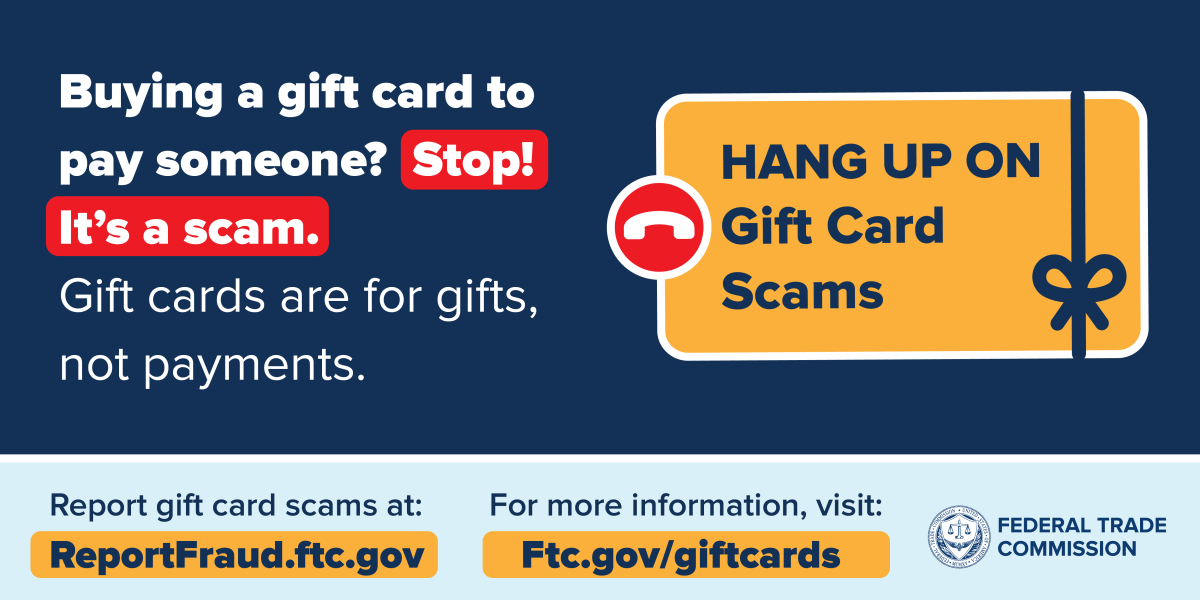 Gift card scams often start with a call, text, email, or social media message. Scammers will say anything to get you to buy gift cards – such as Google Play, Apple, or Amazon cards – and hand over the card number and personal identification number (PIN) codes.
According to the Federal Trade Commission, here are some common tactics scammers use:
1. Scammers will say it is urgent. They will say to pay them right away or something terrible will happen. They don't want you to have time to think about what they are saying or talk to someone you trust. Slow down. Don't pay. It is a scam.
2. Scammers will tell you which gift card to buy (and where). They might say to put money on an eBay, Google Play, Target, or Apple gift card. They might send you to a specific store – often Walmart, Target, CVS, or Walgreens. Sometimes, they will tell you to buy cards at several stores, so cashiers will not get suspicious. The scammer also might stay on the phone with you while you go to the store and load money onto the card. If this happens to you, hang up. It is a scam.
3. Scammers will ask you for the gift card number and PIN. The card number and PIN on the back of the card lets scammers get the money you loaded onto the card — even if you still have the card itself. Slow down. Don't give them those numbers or send them a photo of the card. It is a scam.
Scammers tell different stories to get you to buy gift cards so they can steal your money.
• Scammers say they are from the government. They say they are from the IRS, the Social Security Administration, or even the Federal Trade Commission. They say you have to pay taxes or a fine. However, government agencies will not contact you to demand immediate payment, and they never demand payment by gift card. It is a scam.
• Scammers say they are from tech support. They say they are from Microsoft or Apple and there is something wrong with your computer. They ask for remote access and say to pay them to get it fixed. Don't give them access to your computer. It is a scam.
• Scammers say they are a friend or family member with an emergency. If the scammer uses voice cloning, they may even sound just like your loved one. They ask you to send money right away – but not to tell anyone. It is a scam. If you are worried, contact the friend or relative to check that everything is all right.
• Scammers say you have won a prize. But first, they tell you to pay fees or other charges with a gift card. It is a scam. No honest business or agency will ever make you buy a gift card to pay them for a prize. And did you even enter to win that prize?
• Scammers say they are from your utility company. They threaten to cut off your service if you don't pay immediately. Utility companies don't work that way. It is a scam.
• Scammers ask for money after they chat you up on a dating website. Romance scammers will make up any story to trick you into buying a gift card to send them money. Slow down. Never send money or gifts to anyone you have not met in person – even if they send you money first.
• Scammers send a check for way more than you expected. They tell you to deposit the check and give them the difference on a gift card. Don't do it. It is a scam. That check will be fake and you will be out that money.
To help prevent yourself from getting scammed, DFR offers these reminders:
• Don't answer unknown numbers – block unwanted calls and text messages.
• Don't give personal identifying information to unsolicited calls, texts, or emails. Hang up, look up their number, and call them to verify.
• Be skeptical. Ask questions and be wary of offers "too good to be true."
• Resist the pressure to act immediately. Scammers use urgency as a tool.
• Stop and talk to someone you trust. Talking about it can help you spot the scam.
• Never pay someone who insists you pay with a gift card, money transfer, or cryptocurrency.
Remember, if it is too good to be true, it probably is.
If you feel you may have been scammed, the division's consumer advocates may be able to help. They can be reached at 1-888-877-4894 (toll-free) or dfr.financialserviceshelp@dcbs.oregon.gov.
### About Oregon DFR: The Division of Financial Regulation is part of the Department of Consumer and Business Services, Oregon's largest business regulatory and consumer protection agency. Visit dfr.oregon.gov and oregon.gov/dcbs.
Free parking at Oregon State Parks the day after Thanksgiving
Oregon Parks and Recreation Department invites Oregonians to head outside the day after Thanksgiving, Nov. 24.
Popularly known as "Green Friday," the day after Thanksgiving has become a tradition for many families. State parks will once again waive day-use parking fees in the 24 parks that are open and charge for parking on that day.
"We're proud to continue this tradition and offer everyone the chance to explore parks in the fall," said Lisa Sumption, director of Oregon Parks and Recreation Department.
Parking is free year-round at almost all state parks; the waiver applies to the parks that charge $5 daily for parking. Fee parks include popular destinations such as Fort Stevens, Cape Lookout, Silver Falls, Champoeg, L.L. Stub Stewart, Smith Rock and Milo McIver. A complete list of parks that require day-use parking permits is available online at stateparks.oregon.gov (Fall Creek is listed, but closed for the season).
The fee waiver applies from open to close on Nov. 24, except at Shore Acres State Park, where it expires at 4 p.m. for the Holiday Lights event that runs Thanksgiving through New Year's Eve.
Use #OregonStateParks and #OptOutside on social media to share your adventures.
Oregon Lottery Profits Return $900 Million to State
Salem, Ore. – The Oregon Lottery will return nearly $900 million to the state for the 2023 fiscal year – down slightly from the previous year due to an increase in operating costs. Unclaimed prizes for the year totaled $9 million and will also go back to the state.
The funding directly benefits state parks and natural habitats, public schools, veteran services, outdoor school, and economic development. Oregon Lottery is self-funded through the sale of games, not tax dollars, and voters and the Legislature designate where the money goes. 
"Oregon Lottery's success allows us to support programs that help our state thrive," said Oregon Lottery Director Mike Wells. "We're focused on running our operations as efficiently as possible to benefit the public programs Oregonians care about."
Lottery players were lucky this year with payouts totaling nearly $16 billion for the year. With jackpot games climbing to record amounts, eight players took home prizes worth $1 million or more. Prizes big and small account for about 92% of the Lottery dollars played.
Sales commissions on Lottery games also support retailers, many of whom are small business owners. The 3,800 Lottery retailers across Oregon collectively earned more than $310 million this year.
Since 2016, Oregon Lottery has maintained the highest level of accreditation for responsible gambling from both the National Association of State and Provincial Lotteries/National Council on Problem Gambling and the World Lottery Association's (WLA) Responsible Gambling programs. Oregon is one of only eight lotteries in the U.S. to reach this level by the WLA.
The Lottery's financial year runs from July 1, 2022 to June 30, 2023. A final audited report will be posted to the Oregon Lottery's website.
Since the Oregon Lottery began selling tickets on April 25, 1985, it has earned nearly $15.5 billion for economic development, public education, outdoor school, state parks, veteran services, and watershed enhancements. For more information on the Oregon Lottery visit www.oregonlottery.org.
How to get help with state medical, food, cash, and child care benefits and avoid potentially high call wait times at the ONE Customer Service Center
(Salem) – With the end of the COVID-19 federal public health emergency, the state is required to review eligibility for all 1.5 million Oregonians who have Oregon Health Plan (OHP) and other Medicaid benefits. These medical renewals combined with the unprecedented levels of people applying for and receiving medical, food, cash, and child care benefits, have led to a historically high number of callers to the ONE Customer Service Center and is impacting call wait times.
The Oregon Department of Human Services (ODHS) is encouraging people in Oregon to use new alternate contact options given high call wait times at the ONE Customer Service Center. The ONE Customer Service Center provides phone support to people in Oregon calling to apply for or get help with their medical, food, cash, and child care benefits.
ODHS anticipates that wait times will remain high during open enrollment season for Medicare and the Oregon Health Insurance Marketplace. While people can apply for OHP any time of year, both open enrollment events increase awareness of and interest in applying for OHP.
"We know that many people in Oregon depend on us when they have questions about their medical, food, cash and child care benefits," said Nathan Singer (he/him) director of the Oregon Eligibility Partnership at ODHS which manages the ONE Customer Service Center. "We are doing everything we can to provide the best customer service possible on our phones and in our offices. We encourage people to create or use their ONE Online account, the Oregon ONE Mobile app or online chat bot when possible."
OHP members are encouraged to respond as quickly as possible after they receive a request for information to avoid any possible delays. The fastest way members can provide an update is by going to benefits.oregon.gov and creating or logging into their ONE Online account. People can also create an ONE Online account and upload documents through the Oregon ONE Mobile app.
The ONE Customer Service Center can be reached by phone at 1-800-699-9075, Monday to Friday from 7 a.m. to 6 p.m. Call wait times are lowest in the morning between 7 and 8 a.m., especially on Tuesday mornings.
People are welcome to visit or call their local ODHS office with questions, find an office near you here.
The Aging and Disability Resource Connection of Oregon is also available to provide support at 1-855-673-2372 or in-person, find a local office at www.adrcoforegon.org.
There are many other ways people can get support and information about their medical, food, cash, and child care benefits:
Online at: benefits.oregon.gov
Visiting or calling an office near you: Find an office.
Older adults and people with disabilities can get help through Aging and Disability Resource Connection of Oregon at 1-855-673-2372 or www.adrcoforegon.org.
In your language: Help in Your Language
By mail at: ONE Customer Service Center, PO Box 14015, Salem, OR 97309
By fax at: 503-378-5628
People also can seek free help with their medical benefits from a community partner. Find a community partner near you.
ODHS is committed to providing the best customer service and doing everything it can to support people who need help with their benefits in as timely way as possible, including:
Creating an incident management team that is committed to ensuring we provide the best customer service possible by:

Making as many staff as possible available to support people in Oregon who are contacting the ONE Customer Service Center for help with their benefits.
Prioritizing any agency work like hiring, budget, training, or data analysis, that supports the ONE Customer Service Center.
Ensuring workers have the best and latest information they need to support people contacting the ONE Customer Service Center.
Bringing ODHS leaders together to problem solve and create short-, medium- and long-term solutions to meet our customer service goals.

Launching Oregon ONE Mobile, an app in English and Spanish that allows people to manage benefits, respond to inquiries and get notifications. This free app is available on Apple and Android app stores.
Adding a call back option to the ONE Customer Service Center, for some types of calls, so people don't have to stay on hold when wait times are long.
Sending text message reminders for critical matters such as appointments and key deadlines. People are now 1.25 times more likely to attend appointments and 1.7 times more likely to renew their cases on time since this was put in place.
Adding a chat bot service assistant for people applying for or managing their benefits online.
Emailing and texting people whose mail was returned to ask them to update their addresses so they can get important information about their benefits.
Redesigning and adding a Spanish version of the benefits.oregon.gov website where people go to find information about applying for and managing their benefits.
Adding 200 contracted staff to temporarily increase capacity in the ONE Customer Service Center.
Making renewal notices easier to understand.
ODHS is committed to transparency. Dashboards with the latest wait times, customer service scores and medical renewal information are available online here.
About the Oregon Department of Human Services — The mission of ODHS is to help Oregonians in their own communities achieve wellbeing and independence through opportunities that protect, empower, respect choice and preserve dignity.
Oregon Food Bank Teams Up With Shari's to Raise Donations and Educate About Hunger
Shari's Restaurant is partnering with the Oregon Food Bank for an education campaign. They are working together to launch a series of public service announcements to educate the community about hunger and raise donations for the food bank.
– Shari's Restaurants ("Shari's"), one of the largest full-service community restaurant chains in the Pacific Northwest, today announced that it has partnered with Oregon Food Bank on an education campaign to raise awareness for the fight against hunger. Through the partnership, Shari's and Oregon Food Bank will develop a series of public service announcements designed to tell the full story of hunger and the breadth of anti-hunger work and to mobilize local communities across the state to take action against food insecurity and its root causes.
Oregon Food Bank, which is a member of Feeding America®, seeks to provide access to nutritious food for all while building community power and working across systems and networks to eliminate hunger. From Oregon Food Bank's 21 regional food banks, the organization distributes free food equitably across the Network in Oregon and SW Washington and advocates for policies and programs to address the root causes of hunger.
"Shari's is a community-oriented, family-style restaurant at its core, and we recognize the importance of lending a helping hand to our neighbors in need," said Sam Borgese, principal of Gather Holdings and owner of Shari's. "We are proud to renew our partnership with Oregon Food Bank and to play a part in raising necessary awareness and funds in the critical fight against food insecurity."
"We are so grateful to Shari's for joining Oregon Food Bank to spread the true story of hunger," shared Oregon Food Bank President Susannah Morgan. "Distributing enough food today will not end hunger tomorrow. Together, we're working to fundamentally shift common understanding of food insecurity, its root causes and the actions needed to end hunger for good."
Shari's first partnered with Oregon Food Bank alongside Sysco food distribution on a similar education campaign during the 2019 holiday season. The campaign raised approximately $13,500 to support Oregon Food Bank's end-of-year efforts against hunger.
Give blood, celebrate the 20th Anniversary of the film "Elf"
Exclusive "Elf" + Red Cross socks for donors Nov. 10-30 — Portland, OR (Nov. 10, 2023) — For many, watching the classic holiday movie "Elf" has been a heartwarming tradition for 20 years. This November, the American Red Cross is encouraging people to add a new tradition as the holiday season begins: Spread cheer with a blood or platelet donation.
Donations are critical to the blood supply as the holiday season draws near – a time when blood donations often decline. Donors of all blood types are urged to give, especially type O blood donors and those giving platelets.
To celebrate the 20th Anniversary of the film "Elf," and create holiday cheer, all who come to give Nov. 10-30 will receive an exclusive pair of "Elf" + Red Cross socks, while supplies last. For more details, visit RedCrossBlood.org/Elf.
It feels good to give a gift to someone else that truly means something. Those wishing to help patients receive lifesaving transfusions can book a blood or platelet donation appointment by using the Red Cross Blood Donor App, visiting RedCrossBlood.org or calling 1-800-RED CROSS (1-800-733-2767).
How to donate blood — A blood donor card or driver's license or two other forms of identification are required at check-in. Individuals who are 17 years of age in most states (16 with parental consent where allowed by state law), weigh at least 110 pounds and are in generally good health may be eligible to donate blood. High school students and other donors 18 years of age and younger must also meet certain height and weight requirements.
Amplify your impact − volunteer! — Another way to support the lifesaving mission of the Red Cross is to become a volunteer blood donor ambassador at Red Cross blood drives. Blood donor ambassadors help greet, check-in and thank blood donors to ensure they have a positive donation experience.
Volunteers can also serve as transportation specialists, playing a vital role in ensuring lifesaving blood products are delivered to nearby hospitals. For more information and to apply for either position, contact or visit redcross.org/volunteertoday.
About the American Red Cross: The American Red Cross shelters, feeds and provides comfort to victims of disasters; supplies about 40% of the nation's blood and is the primary blood supplier to 65 hospitals throughout Washington and Oregon; teaches skills that save lives; distributes international humanitarian aid; and supports veterans, military members and their families. The Red Cross is a nonprofit organization that depends on volunteers and the generosity of the American public to deliver its mission. For more information, please visit redcross.org or CruzRojaAmericana.org, or visit us on Twitter at @RedCross.
"Elf" and all related characters and elements © & ™ New Line Productions, Inc.
PART 2 – Newsweek Podcast Focusing on The Disappearance of Fauna Frey From Lane County
Here One Minute, Gone the Next —-– PART 2 – Josephine County Sheriff Dave Daniel joins investigative journalist Alex Rogue to speak with Here One Minute, Gone the Next about the disappearance of Fauna Frey, the growing friction between citizen investigators and law enforcement, and the lack of resources in missing persons cases. https://podcasts.apple.com/us/podcast/the-disappearance-of-fauna-frey-pt2-feat-sheriff/id1707094441?i=1000630100040
PART 1 – John Frey joins Newsweek to discuss exclusive details about the case of his missing daughter that until now have been unavailable to the general public.
READ MORE HERE: https://www.newsweek.com/exclusive-what-happened-fauna-frey-new-clues-uncovered-1827197?fbclid=IwAR3Z3Glru5lIgqiYXbs_nA1Fj8JuCIzM11OHSVHfwIucfq2f_G5y9y5bnmQ
If you have any information on the whereabouts of Fauna Frey, call the anonymous tip line at 541-539-5638 or email FindFaunaFrey@gmail.com. — Help Find Fauna Frey #FindFaunaFrey FACEBOOK GROUP
Missing Yachats Man's Vehicle Found in North Lane County
On 08/25/2023, Dustin Steyding was reported missing to the Lincoln County Sheriff's Office after he left work on 07/22/2023 and hadn't been located since. Dustin was living and working in the Yachats area.
Dustin was reported to be in good physical condition, having previously worked as a hot shot firefighter in New Mexico. Dustin is very experienced in the woods and commonly goes out for hikes to stay in shape. Without means to locate Dustin, Deputies entered Dustin as a missing person in a national database.
On 09/04/2023, the Lincoln County Sheriff's Office received a call from Dustin's family after they located his vehicle on Keller Creek Rd, just outside of Lincoln County in Lane County. Lincoln County Sheriff's Office Deputies contacted the vehicle and determined it had been at the location for some time. Deputies were unable to determine Dustin's direction of travel from the vehicle.
The vehicle having been located in Lane County, Lincoln County Deputies contacted the Lane County Sheriff's Office Search and Rescue Team and arranged for their response the next day to started searching the area. After two days of searching, no clues to Dustin's have been found.
Anyone with information on the whereabouts of Dustin Steyding should contact the Lincoln County Sheriff's Office at 541-265-0777 and reference case number 23S-07321.