The latest news stories and stories of interest in the Willamette Valley from the digital home of Southern Oregon, from Wynne Broadcasting's WillametteValleyMagazine.com
Monday, November 20, 2023
Willamette Valley Weather
Active Weather Alerts – NATIONAL WEATHER SERVICE
...AIR STAGNATION ADVISORY IN EFFECT UNTIL 10 PM PST TUESDAY BELOW 1000 FEET...
...DENSE FOG ADVISORY REMAINS IN EFFECT UNTIL 10 AM PST THIS MORNING BELOW 1000 FEET...

* WHAT...For the Air Stagnation Advisory, a period of stagnant air with light winds is expected. For the Dense Fog Advisory below 1000 feet, visibility one quarter mile or less in areas of dense fog.

* WHERE...Valleys of the Central Coast Range of Western Oregon and South Willamette Valley.

* WHEN...For the Air Stagnation Advisory, until 10 PM PST Tuesday. For the Dense Fog Advisory, until 10 AM PST this morning.

* IMPACTS...  Hazardous driving conditions due to low visibility. Air stagnation could result in the development and persistence of poor air quality.

* ADDITIONAL DETAILS...With temperatures near or slightly below freezing, roads will be     slippery in spots, especially in outlying valleys. Untreated bridges and overpasses are 
most likely become icy. The rapid changes in visibility and potentially slick roads will make driving challenging in some areas through the Monday morning commute.
City Debates Bond Issue For New Eugene Emeralds Ballpark
City officials are debating the outlines of a potential $15-million bond issue for a new Eugene Emeralds ballpark, as the team is working to close a funding gap for the proposed $100.5-million facility at the Lane County Fairgrounds.
The Northwest League's Emeralds play at PK Park on the University of Oregon grounds. While it's a pleasant environment on the fan side, it won't come close to meeting new MiLB facility standards set for 2025 and apparently the university isn't interested in funding any upgrades; hence the need to seek a new ballpark. There exists the very, very real possibility Eugene could lose its player-development license without the prospect of a new ballpark.
The solution has been a proposed new Eugene Emeralds ballpark at the Lane County Fairgrounds. Right now there's a $43-million gap in funding for the $100.5-million facility, and the team has been working with the city on a bond issue to cover $15 million of that shortfall.
The debate has really centered so far on whether the ballpark bonding will go to referendum on its own or whether it's grouped with two other projects. The current status has the ballpark funding ask on its own. From the Eugene Register-Guard:
They also have said the stadium would be a multi-use facility, hosting large events such as concerts and community events such as high school baseball tournaments, graduations and events put on by local nonprofits. They say it would improve other events held at the Lane Events Center and bring in commerce that would revitalize the area around the fairgrounds and Eugene more broadly.
"It's so much more than baseball," Emeralds' Assistant General Manager Matt Dompe told councilors. "It's about having that place where we can all come together. That communal spot where we can have shared experiences as Eugeneans. Minor league baseball teams, they reflect their community. As a father, I would hate it if my two little girls didn't get a chance to keep going out to the ballpark."
Opponents of the project have said the stadium will increase noise and traffic to an otherwise residential neighborhood, take up space at the events center in a way that harms other events held there, hurt the event center financially and that public money shouldn't be spent on a facility for a private company. (SOURCE)
Renovation Work On Lane Transit District's Eugene Station Starts Today
Lane Transit District's central hub is undergoing a major renovation. The $3.8 million project at Eugene Station is set to begin Nov. 20 and last through the fall of 2024.
Some of the project's key components include a remodel of the Customer Service Center (CSC), station signage updates, the addition of inclusive restrooms, and efficiency upgrades for lighting and HVAC equipment. Several safety and security upgrades will also be made around the property. The "Next Stop Center," the public meeting room at the corner of West 11th & Olive, will be remodeled to enhance the accessibility, technology, and comfort of events held there.
During construction, CSC will remain open. Restrooms inside the CSC will be closed, but portable ones will be available outside. These restrooms will only be open during service hours and locked overnight.
Once completed, our riders and community members can expect an improved experience that promotes safety, security and inclusiveness. The infrastructure improvements will allow LTD to run even more efficiently for the foreseeable future.
80% of the project budget is funded through grants, and 20% of the project is funded through local match dollars. Information about LTD's Annual Budget and Community Investment Plan can be found on the Financials webpage. — https://www.ltd.org/latest-news/eugene-station-remodel-improves-efficiency/
Corvallis Fire Station 3 Reopens
Corvallis Fire Station 3 held a reopening ceremony Sunday afternoon, giving the public a look at the improvements made for firefighters and a glimpse at the future of public buildings in the city.
Corvallis Fire Chief Ben Janes said the $4 million renovation project took around a year to complete. A major focus of the project was creating better facilities for the fire crews that live there during their days-long shifts.
In addition to a newly built workout facility, the project included additional covered storage space for all of their fire trucks and ambulances. Inside the living quarters, additional TV's, new furniture and a remodeled kitchen were built to better suit the needs of firefighters. Janes said it was also important to ensure they added individual bedrooms for the staff to give them privacy along with the best available sleep.
Station 3 is the first of many facility modernization projects the city is looking to take on. Next on the checklist is the planning for a renovation of Fire Station 2 near the Oregon State University campus. The goal, Janes said, is to bring all the fire stations up to a higher level of efficiency and living.
"We were fortunate enough to start this project just a little over a year ago and get it completed," he said. "And we've just broken ground on the second fire station on 35th street on campus, as it under goes a very similar renovation."
Both past and future renovations are aiming towards becoming more energy independent to reduce costs and future emissions. Janes said the city's goal of upgrading their facilities will lead to a greener output long into the future, with Fire Station 3 putting solar panels on the roof.
Eugene Saturday Market's Holiday Market Returns
The Eugene Saturday Market's Holiday Market returned to the Lane Events Center this weekend and will be open every weekend until December 24th.
Visit indoors from 10am until 6pm (10am until 4pm on Dec. 24th) and explore two halls filled with handmade treasures made by local artisans, delicious food, and live performances. As always, admission and parking are free!
MORE INFO: https://www.facebook.com/eugenesaturdaymarket/ — https://www.holidaymarket.org/
Operation Winter Survival Supply Stockpile Drive Need Ongoing
Lane County Health & Human Services, in partnership with the First Christian Church of Eugene's Helping Hearts program and White Bird, today announced the launch of Operation Winter Survival Stockpile. The operation is an effort to create a stockpile through donations of clothing and other supplies that will help those in our community experiencing homelessness better brave the elements.
"Every winter those in our community who are without shelter are faced with life-threatening temperatures and weather," said Maria Cortez, Lane County Human Services Program Coordinator. "These donations will be absolutely crucial to helping these community members stay warm and stay alive."
"Having access to the severe weather stockpile is an indispensable resource for service providers in our county," said White Bird Clinic Nest Program Interim Coordinator, Theresa Bordreau. "Having both hot and cold weather supplies, fills a much-needed gap for survival gear that are often in short supply. For any community member looking for ways you can support the most vulnerable in our community, I would encourage you to look at donating to this very important resource. It has been of great value to our clients here at the White Bird Clinic."
Items can be dropped off on weekdays between 10 A.M. and 2 P.M. or by appointment. Items can also be purchased on Amazon and sent to First Christian Church at 166 Oak St. Eugene, OR, 97402. 
The Operation's Amazon Wish List can be found at: https://www.amazon.com/hz/wishlist/ls/2XR33GS1ULV8Z?ref_=wl_share
Distribution of items will be prioritized to homeless outreach providers such as CAHOOTS that come into direct contact with individuals who are unhoused and unsheltered.
Preferred donation items include:
Clothing such as rain ponchos, wool socks, thermal underwear, gloves, beanies and footwear
Items like tents, blankets, hand warmers, tarps, gift cards, and laundry cards
Tools such as flashlights, batteries, and other survival supplies
For more information on Operation Winter Survival Stockpile, please contact Maria Cortez at ia.Cortez@lanecountyor.gov">Maria.Cortez@lanecountyor.gov
Line Up of Many Events During The 31st Annual Festival of Trees – hosted at the Graduate in Eugene
The event takes place from November 21 through the 26; closed on Thanksgiving day. — Starting Wednesday, folks will get a chance to check out the Christmas wonderland, from 11 a.m. to 3:00 p.m. Entry is encouraged with a suggested donation of $10 for adults, $5 for children, $5 for seniors and $20 for families.
Funds raised through the Festival of Trees goes towards end-of-life care through Cascade Health services and the Pete Moore Hospice House, a local nonprofit.
For three decades, the Festival of Trees has delighted families and supported Cascade Health's charitable programs. This event plays a vital role in funding the Pete Moore Hospice House, the sole inpatient hospice house in Lane County, offering compassionate, culturally sensitive, hospital-level care in a comfortable, secure, and home-like environment.
Event goers will also get the chance to bid on their favorite tree in an auction, organizers say they will be continuing with the hybrid auction approach introduced in 2021 due to COVID-19, this year's items will be on display at the venue with scannable codes for smartphone access. Bidding opens on Monday, November 20, at 8 a.m., and interested participants can sign up at cascade2023.ggo.bid.
This year's highlights include:
The signature Tour of Trees showcases 45 gorgeously decorated trees available for purchase in our silent and live auctions.
The Festival Marketplace, featuring local vendors with handmade and artisan wares, is perfect for holiday gift shopping.
Craft demonstrations from a variety of artists will improve your skills in creating ornaments, wreaths, cards, decorations, gingerbread and more.
Special live performances for the whole family include music, dance, magic, storytime and more.
Kids craft activities offer fun and festive delight for all ages.
The silent auction features an array of exciting packages and experiences up for bid in-person and online.
You are warmly invited to special Festival events throughout the week:
Cocktails, Crafts & Conifers (Tuesday, Nov. 21, 5:30-8 p.m.) kicks off Festival with early-bird tree previews, interactive holiday craft demonstrations and delicious drinks and bites.
Senior Day sponsored by KVAL-TV (Wednesday, Nov. 22, 11 a.m.-3 p.m.) welcomes our community for special entertainment and treats.
The elegant Starlight Celebration Gala (Saturday Nov. 25, 5:30 p.m.) invites you to put on your festive finest and enjoy a night out with friends.
Light Up a Life (Sunday, Nov. 26, 4 p.m.), Cascade Health's candlelight ceremony honoring loved ones lost, brings the week's events to a meaningful close
For more information: https://www.cascadehealth.org/festival
Bushnell University School of Music and Performing Arts Presents A Bushnell Christmas
EUGENE, Ore. – Bushnell University's School of Music and Performing Arts is pleased to welcome the community to a free event celebrating the birth of Christ: A Bushnell Christmas. This creative and spiritual musical celebration will feature a selection of holiday classics and contemporary favorites performed by the university choir, jazz ensemble, and choral.
The event will take place on Dec. 2 at 4:00 p.m. at the First Baptist Church.
Kelly Ballard, D.Min., Associate Dean of Music and Performing Arts, acknowledges that "our students find great joy in all styles and genres of music and appreciate the opportunity to perform in welcoming spaces for appreciative audiences. We are honored and privileged to present this concert at First Baptist Church."
The musical selection is woven together with a beautiful narrative of the meaning of Christmas. We hope you will come and experience a joyous, inspirational holiday concert for the entire family in A Bushnell Christmas, as we celebrate the birth of Christ together!
Program subject to change.
LOCATION: First Baptist Church of Eugene
Tickets: Free
Bushnell School of Music and Performing Arts is a nonprofit, 40+ student music school based in Eugene, Oregon led by Associate Dean, Dr. Kelly Ballard. The school provides students with fundamental musical knowledge, performance, and leadership skills, marked by innovation, creativity, and high academic standards. Digital content is offered through its social media channels. More at www.bushnell.edu.
PeaceHealth Announces More Closure Dates In Eugene
PeaceHealth announced today that its inpatient rehabilitation unit at University District in Eugene will relocate to PeaceHealth Sacred Heart Medical Center at RiverBend in Springfield on Dec. 15.
PeaceHealth is taking this step after announcing in August the start of a comprehensive process to close the underutilized University District hospital.
After the closure of the emergency department at University District at 7 a.m. on Dec. 1, the inpatient rehabilitation unit will be the only service remaining at the hospital until the unit moves to RiverBend on Dec. 15. Following the unit's relocation to RiverBend, the hospital tower at University District will close.
The transition will mark the official end of services at the main "hospital tower" at University District, which is Eugene's only hospital. The healthcare organization announced in August that it would phase out services at the facility, but until recently, had not announced specific closure dates.
All PeaceHealth Medical Group clinics on the west side of Hilyard Street and the outpatient rehabilitation clinic, plus the inpatient behavioral health unit on the corner of Alder Street and 11th Avenue, will remain open and serving patients.
Oregon Rehabilitation Center, PeaceHealth's inpatient rehabilitation unit, serves adults recovering from such conditions as stroke, neurological disease, or brain or spinal cord injuries. The center will operate temporarily at RiverBend until the state-of-the-art, 50-bed rehabilitation hospital PeaceHealth is developing with Lifepoint opens in 2026.
———- Community leaders, as well as Oregon Gov. Tina Kotek, have urged PeaceHealth to reconsider or delay the closure of the hospital. While there are two hospitals just several miles away in Springfield, including PeaceHealth's RiverBend facility, officials in Eugene say the loss of a close-in emergency room could be potentially dangerous in emergency situations, or in the event of a major earthquake that damages or destroys bridges that cross the Willamette River.
Use this easy tool to email OHA and ask them to save Eugene's hospital and protect Lane County residents: https://actionnetwork.org/letters/save-eugenes-hospital?source=direct_link&
1st press conference was livestreamed on the Oregon Nurses Association's (ONA's) Facebook page here.
The Oregon Nurses Association (ONA) is the state's largest and most influential nursing organization. We are a professional association and labor union which represents more than 16,000 nurses and allied health workers throughout Oregon. ONA's mission is to advocate for nursing, quality health care and healthy communities. For more information visit: www.OregonRN.org.
Eugene, Springfield and Lane County to begin leaf pickup
Lane County and the cities of Eugene and Springfield are preparing to kick-off their annual leaf collection efforts. Removing leaves from catch basins, grates and gutters allows storm water to run off and prevents flooding.
Keeping leaves out of the drainage system also improves water quality because decomposing leaves use up oxygen that is needed by aquatic life in local streams and rivers. And removing slippery leaves from streets and sidewalks makes travel safer for people walking, biking and driving.
In all three jurisdictions, property owners are responsible for leaves that are placed improperly in the street or cause safety or localized flooding hazards.
Eugene and Lane County allow residents to pile leaves in the street, while Springfield only allows bagged leaves to be set out for collection.
Leaves are the only items collected. Piles with branches, pine needles, trash, grass and other lawn debris are not accepted and will not be collected.
To get the best information for your property, determine which jurisdiction provides service in your area, and then contact that agency. Here are the details for each jurisdiction:
For more information about Eugene's leaf collection and delivery services, go to www.eugene-or.gov/leaf or call Eugene Public Works Maintenance at 541-682-4800.
For more information about leaf pickup in Springfield, visit www.springfield-or.gov/leafpickup, call 541-525-2658 or email ogram@springfield-or.gov">leafpickupprogram@springfield-or.gov.
Union Makes Concession To Withdraw Proposal For Capping Class Sizes As Portland Teacher Strike Continues
The main issues involve pay, more planning time and smaller class sizes.
School will not reopen until Monday, Nov. 27 at the earliest, district officials announced last Thursday and parent-teacher conferences that were scheduled for next week have been indefinitely postponed.
The Portland Association of Teachers has removed class size caps — one of the most expensive, publicly popular and politically contentious elements of their asks — from their most recent bargaining proposal submitted Thursday.
The major concession from the union potentially paves the way for a settlement with the school district and an end to a strike that had already cost students 10 days of school and their teachers 12 days of pay as of Thursday. District officials say until the strike is over, it is difficult to determine exactly how many days students will need to make up to meet state requirements.
Union leaders had pushed hard for class size caps, telling members as recently as Wednesday night that the two sides remained "far apart" on the issue.
But the phrase "class size cap" was struck-through in the union's latest proposal on workload issues Thursday afternoon. Instead, the Portland Association of Teachers has proposed a significant increase in the overage pay that teachers receive when the number of students in their classroom, or in their caseload, exceeds a certain threshold.
For example, in the current contract, a kindergarten teacher with more than 24 students in their class gets a 3% increase in their base salary for every student above that number. Under the proposal the union gave the district Thursday, that would increase to a 5% increase for the first student and a 10% increase for each additional student in elementary school, along with similar increases for every five students added at the middle and high school levels.
The threshold that triggers overage pay is 26 students at grades 1-3, and 28 students at grades 4-5 and grade 6 in K-8 schools. At the middle school level, teachers may lead up to 150 students before overage pay kicks in, while the high school caseload threshold is set at 160.
Currently, the district spends between $2 and $3 million a year on overage pay. It wasn't immediately clear Thursday how much more in overage pay the district would have to spend under the union's proposal, since they did not include cost estimates. District budget analysts were crunching numbers to figure out the cost Thursday evening, according to district spokesperson Will Howell.
Declining enrollment levels, driven by a lower birth rate, rising home prices and pandemic flight to home-school and private school options, have complicated the class size picture in recent years. In some schools, they've led to class sizes well below the thresholds. In others, so many students have departed that grade levels that could once support — for example — three classes each with 23 students now have two classes with over 30 students in each.
Fulfilling the class size and caseload caps that the union had requested in the last round of proposals would have cost the district about $100 million over two years, starting with the 2024-2025 school year, and required hiring more than 350 educators, according to the district's analysis.
District negotiators and the school board have consistently said they oppose hard class size caps, both because of the financial implications and because they want to retain the flexibility to keep class sizes smallest at high needs, high poverty schools.
But in their most recent counter-proposal Wednesday, they offered to form a joint committee with teachers to focus on the class size issue, which could include conversations about redrawing attendance boundaries to balance enrollment in schools around the city.
The proposal the union put forth Thursday retains language that would allow for the formation of a class size committee at each school, on an as-needed basis. Those committees would consist of a union representative, the affected classroom teacher, the principal, an assistant superintendent or their proxy and two parents, appointed by either the PTA or, if there is not one, by the principal and by the building's union representative.
The school-based class size committee would convene to discuss potential solutions for classrooms over the threshold, like adding support from reading specialists.
The state teachers union has tried for several years, without success, to get lawmakers to agree to make class size caps a mandatory topic of bargaining. They've met opposition from advocacy groups that represent school boards and superintendents. (SOURCE)
Free parking at Oregon State Parks the day after Thanksgiving
Oregon Parks and Recreation Department invites Oregonians to head outside the day after Thanksgiving, Nov. 24.
Popularly known as "Green Friday," the day after Thanksgiving has become a tradition for many families. State parks will once again waive day-use parking fees in the 24 parks that are open and charge for parking on that day.
"We're proud to continue this tradition and offer everyone the chance to explore parks in the fall," said Lisa Sumption, director of Oregon Parks and Recreation Department.
Parking is free year-round at almost all state parks; the waiver applies to the parks that charge $5 daily for parking. Fee parks include popular destinations such as Fort Stevens, Cape Lookout, Silver Falls, Champoeg, L.L. Stub Stewart, Smith Rock and Milo McIver. A complete list of parks that require day-use parking permits is available online at stateparks.oregon.gov (Fall Creek is listed, but closed for the season).
The fee waiver applies from open to close on Nov. 24, except at Shore Acres State Park, where it expires at 4 p.m. for the Holiday Lights event that runs Thanksgiving through New Year's Eve.
Use #OregonStateParks and #OptOutside on social media to share your adventures. 
Projects to restore Columbia River Basin health in Oregon get $31 million
Seven projects will get millions in federal aid through Oregon Sen. Jeff Merkley's Columbia River Restoration Program
Oregon tribes, state agencies, farmers and ranchers are getting more than $31 million from the federal government to reduce toxic pollution in the Columbia River and its tributaries.
It's the last of $79 million that the U.S. Environmental Protection Agency has dedicated to improving the health of the Columbia River Basin since 2021, under the Bipartisan Infrastructure Law. 
Oregon's U.S. Sen. Jeff Merkley, a Democrat, announced the projects that would receive funding Thursday, on the two-year anniversary of the law's passage.
"Our rivers and waterways are the lifeblood of our communities. If they are dirty and polluted, our homes, schools, and businesses are dirty and polluted," Merkley said in a news release.
The Columbia River Basin covers nearly 260,000 square miles, spanning 16 federally recognized tribal nations and seven states from Oregon and Washington to Wyoming. Over decades, it's become contaminated by toxic waste from agriculture, forestry, recreation and hydroelectric power generation, harming the health of wildlife and leaving some fish species threatened, endangered or unsafe for consumption.
Among the recipients of the $31 million are the Confederated Tribes of the Grand Ronde and the Confederated Tribes of the Umatilla Indian Reservation. Each tribe will receive about $2 million to reduce pollution in Columbia River tributaries that each tribe depends on for fish. The Grand Ronde will launch a new effort to reduce pollution in the Willamette River Basin, and the Confederated Tribes of the Umatilla will target pollution in the Umatilla, Walla Walla, Snake and John Day tributaries to the Columbia River.
The Oregon Department of Environmental Quality will get $6 million to reduce the amount of agricultural pesticides, mercury and PFAS, often called "forever chemicals," in the Columbia River Basin. Thousands of human-made PFAS, or perfluoroalkyl and polyfluoroalkyl substances, have been put into consumer and industrial products such as nonstick pans and flame retardants, and the EPA is just beginning to regulate them. They do not break down or go away naturally but instead have leached into rivers and streams, contaminating water and are now in the blood of nearly everyone in the U.S., according to the Centers for Disease Control and Prevention.
The Portland-based nonprofit Salmon-Safe will get $6 million to continue growing its network of farmers, ranchers, developers and tribes along the river, who take on voluntary measures to protect water quality and quantity. In exchange, the producers earn the Salmon-Safe label, appealing to some consumers. Several Portland and Corvallis-based nonprofits collaborating with EPA will get between $4 million and $5.5 million to work on projects that can reduce stormwater runoff into the Columbia River.
Lastly, about $5.6 million will go to the Portland-based nonprofit Freshwater Trust to help farmers upgrade irrigation systems on fields to reduce fertilizer and manure runoff that is creating methylmercury pollution in the Snake River, poisoning fish that become unsafe for human consumption. The methylmercury is created when farm fertilizers get into water and, combined with warm temperatures, create algal blooms and conditions that lead to depleted oxygen levels in the water. Without the oxygen, bacteria grow and create methylmercury through digestive processes, which ends up in Snake River reservoirs each summer and fall. (SOURCE)
Traffic #ALERT UPDATE: SB I-205 Reopening at Airport Way after Fatal Crash Investigation
###PPB### Original Message Below
On scene supervisors have updated the closure of southbound I-205. All southbound I-205 traffic is diverted to Northeast Airport Way. The ramp onto I-205 from Northeast Killingsworth is also closed.
A crash involving a single vehicle has closed southbound Interstate-205 at Killingsworth, and is likely to significantly affect the morning commute hours.
On Monday, November 20, 2023 at 2:06a.m., North Precinct officers responded to a report of a crash on southbound I-205 at Northeast Killingsworth Street. When officers arrived, they found a vehicle crashed into the jersey barrier on the left side of the southbound lanes of travel. The driver was deceased at the scene.
The Portland Police Traffic Division Major Crash Team is responding to the scene to investigate this incident. During the investigation, southbound I-205 is closed to all traffic at Northeast Killingsworth Street. The Oregon Department of Transportation is assisting with traffic control and detours.
If anyone has information about this crash, please e-mail crimetips@police.portlandoregon.gov attn: Traffic Investigations Unit and reference case number 23-301400.
The PIO is not responding to the scene. Additional information will be released as appropriate.
This is the 63rd fatal traffic-related crash in Portland this year. That is a higher figure than the Portland fatal crashes counted by the National Highway Traffic Safety Administration (NHTSA). NHTSA's count excludes crashes involving suicide, private property, non-public roadways, non-motor vehicles, and deaths that happen more than 30 days after a crash.
Sheriff's Office Patrol Deputies Track Down and Arrest California Fugitive in Remote Forest Camp Near Trail
JCSO Case 23-6529 — TRAIL, Ore. – Jackson County Sheriff's Office (JCSO) Patrol deputies tracked down and arrested a fugitive wanted out of California Tuesday. JCSO Patrol located and arrested Tyler Thomas Burrow, 24, on a Trinity County, California fugitive Warrant around 2:35 p.m. in a remote forest camp northeast of Trail.
He is lodged at the Jackson County Jail awaiting extradition back to California. Humboldt County Sheriff's Office detectives are in Jackson County doing follow-up investigations. There is no more information for release at this time. Further information will come from the Humboldt County Sheriff's Office.
Connected to Missing Woman's case:
An Oregon City Man Arrested After Walking Into Police Station And Confessing To Killing His Wife
Anthony Wessel, 41, was arrested for murder after apparently telling the Oregon City Police Department that he shot his wife, Anna Wessel, a press release says.
41-year-old Anthony Wessel was arrested by the Oregon City Police Department for Murder II after reporting he shot his wife. Mr. Wessel came to the police department shortly before 1:00pm on 11/13/2023 and said the incident occurred inside the family's home in the 13400 block of Squire Dr in Oregon City. Officers rushed to the residence and located 37-year-old Anna Wessel deceased inside. No other occupants were located inside the home, and Mr. Wessel has been lodged at the Clackamas County Jail.
Oregon City Police Detectives, with assistance from the Clackamas County District Attorney's Office and Clackamas County Medical Examiner's Office, have processed the crime scene. The investigation is ongoing and no additional information will be released at this time. If you have any information related to this investigation, please call the Oregon City Police Tip line at 503-905-3505 and reference case #23-023587.
________________________________________________________________________________________________
On November 13, 2023, Oregon City Police Department responded to the 13400 block of Squire Dr in Oregon City regarding a death investigation. Upon arriving, patrol officers located a deceased woman inside the home. 41-year-old Anthony Wessel was arrested for Murder II and lodged at the Clackamas County Jail. Detectives, with help from the Clackamas County District Attorney's Office and Clackamas County Medical Examiner's Office, are currently processing the scene. Additional information will be released as the investigation continues.
If you have any information related this investigation, please call the Oregon City Police Tip line at 503-905-3505 and reference: OCPD case #23-023587.
"Mr. Wessel came to the police department shortly before 1:00pm on 11/13/2023 and said the incident occurred inside the family's home in the 13400 block of Squire Dr in Oregon City," the press release said. "Officers rushed to the residence and located 37-year-old Anna Wessel deceased inside."
Wessel has been charged with second-degree murder and unlawful use of a weapon. He is in custody at the Clackamas County Jail.
Family members have launched a GoFundMe to raise money to support Anna Wessel's surviving family members. (SOURCE)
FBI Portland Encourages Oregonians to Report Federal Hate Crimes
The Portland Division of the FBI is joining the FBI's nationwide efforts to increase awareness about hate crimes and encourage reporting of hate incidents with advertising campaign across Oregon. The campaign, which began on November 6, includes billboards in Medford, Eugene, Corvallis, as well as static and digital displays reaching thousands of passengers daily at Portland International Airport.
Hate crimes are the highest priority of the FBI's civil rights program because of the devastating impact they have on families and communities. The FBI defines a hate crime as a criminal offense against a person or property motivated in whole or in part by an offender's bias against a race, religion, disability, sexual orientation, ethnicity, gender, or gender identity.
The FBI is the lead investigative agency for criminal violations of federal civil rights statutes and works closely with local, state, tribal, and other federal law enforcement partners in many of these cases, even when federal charges are not pursued.
"Violent acts motivated by hate are unacceptable in our communities. Sadly though, the amount of hate crimes reported here in Oregon has doubled from what it was just five years ago. Even still, the vast majority of these crimes are going underreported and that needs to change. That's why we are spreading the word with this campaign," said Kieran L. Ramsey, Special Agent in Charge of the FBI Portland Field Office. "The FBI serves to safeguard against hate and violence, but we can only do so if we know about any such threats or violent actions. Every person has the right to live without fear of violence or intimidation. The FBI and our law enforcement partners will continue to hold those accountable whose hate-filled aggression violates the civil rights of others."
This Oregon effort ties with a national FBI awareness campaign that hopes to drive education efforts and increase reporting: "Protecting Our Communities Together: Report Hate Crimes". Anyone who has information about or believes they are a victim of a federal hate crime should contact the FBI by phone at 1-800-CALL-FBI or online
COVID Payments Data Brief highlights widely varying prices paid for common COVID-19-related procedures
Insurers paid hospitals vastly differing amounts for the same COVID-19-related procedures across Oregon
SALEM, Ore. – Oregon Health Authority (OHA) released a data brief that shows how much commercial insurers paid hospitals for COVID-19-related treatments in 2021.
The COVID Payments Data Brief looks at data for six common COVID-19-related procedures that account for more than $40 million paid by commercial insurers to Oregon hospitals in 2021. It highlights the median amount paid to hospitals for each type of procedure, how many of each procedure was performed, and the typical range of payments the hospital received.
Commercial insurers paid Oregon hospitals widely varying amounts for the same COVID-19 procedures, not only from hospital to hospital but also within the same hospital. For example, insurers paid hospitals a wide range for inpatient hospital stays that included treatment with remdesivir, an antiviral medication approved for hospitalized COVID-19 patients. The median payment was $5,506 per day, with the range of payments across hospitals from $4,167 to $7,631.
This report sheds additional light on the cost of the COVID-19 pandemic. As Oregon continues to recover from the pandemic, understanding cost and utilization of services is vital in ensuring Oregon can meet the health care cost growth target.
For more information about OHA's Hospital Reporting Program, visit Oregon.gov/oha/HPA/ANALYTICS/Pages/Hospital-Reporting.aspx or contact hdd.admin@odhsoha.oregon.gov.
Oregon's Drug Decriminalization Law Faces Growing Pushback Amid Fentanyl Crisis
Oregon's first-in-the-nation law that decriminalized the possession of small amounts of heroin, cocaine and other illicit drugs in favor of an emphasis on addiction treatment is facing strong headwinds in the progressive state after an explosion of public drug use fueled by the proliferation of fentanyl and a surge in deaths from opioids, including those of children .
"The inability for people to live their day-to-day life without encountering open-air drug use is so pressing on urban folks' minds," said John Horvick, vice president of polling firm DHM Research. "That has very much changed people's perspective about what they think Measure 110 is."
When the law was approved by 58% of Oregon voters three years ago, supporters championed Measure 110 as a revolutionary approach that would transform addiction by minimizing penalties for drug use and investing instead in recovery.
But even top Democratic lawmakers who backed the law, which will likely dominate the upcoming legislative session, say they're now open to revisiting it after the biggest increase in synthetic opioid deaths among states that have reported their numbers.
The cycle of addiction and homelessness spurred by fentanyl is most visible in Portland, where it's not unusual to see people shooting up in broad daylight on busy city streets.
"Everything's on the table," said Democratic state Sen. Kate Lieber, co-chair of a new joint legislative committee created to tackle addiction. "We have got to do something to make sure that we have safer streets and that we're saving lives."
Measure 110 directed the state's cannabis tax revenue toward drug addiction treatment services while decriminalizing the possession of so-called "personal use" amounts of illicit drugs. Possession of under a gram of heroin, for example, is only subject to a ticket and a maximum fine of $100.
Those caught with small amounts of drugs can have the citation dismissed by calling a 24-hour hotline to complete an addiction screening within 45 days, but those who don't do a screening are not penalized for failing to pay the fine. In the first year after the law took effect in February 2021, only 1% of people who received citations for possession sought help via the hotline, state auditors found
Critics of the law say this doesn't create an incentive to seek treatment.
Republican lawmakers have urged Democratic Gov. Tina Kotek to call a special session to address the issue before the Legislature reconvenes in February. They have proposed harsher sanctions for possession and other drug-related offenses, such as mandatory treatment and easing restrictions on placing people under the influence on holds in facilities such as hospitals if they pose a danger to themselves or others.
"Treatment should be a requirement, not a suggestion," a group of Republican state representatives said in a letter to Kotek.
Law enforcement officials who have testified before the new legislative committee on addiction have proposed reestablishing drug possession as a class A misdemeanor, which is punishable by up to a year in jail or a $6,250 fine.
"We don't believe a return to incarceration is the answer, but restoring a (class A) misdemeanor for possession with diversion opportunities is critically important," Jason Edmiston, chief of police in the small, rural city of Hermiston in northeast Oregon, told the committee.
However, data shows decades of criminalizing possession hasn't deterred people from using drugs. In 2022, nearly 25 million Americans, roughly 8% of the population, reported using illicit drugs other than marijuana in the previous year, according to the annual National Survey on Drug Use and Health .
Some lawmakers have suggested focusing on criminalizing public drug use rather than possession. Alex Kreit, assistant professor of law at Northern Kentucky University and director of its Center on Addiction Law and Policy, said such an approach could help curb visible drug use on city streets but wouldn't address what's largely seen as the root cause: homelessness.
"There are states that don't have decriminalization that have these same difficult problems with public health and public order and just quality-of-life issues related to large-scale homeless populations in downtown areas," he said, mentioning California as an example.
Backers of Oregon's approach say decriminalization isn't necessarily to blame, as many other states with stricter drug laws have also reported increases in fentanyl deaths.
But estimates from the U.S. Centers for Disease Control and Prevention show, among the states reporting data, Oregon had the highest increase in synthetic opioid overdose fatalities when comparing 2019 and the 12-month period ending June 30, a 13-fold surge from 84 deaths to more than 1,100.
Among the next highest was neighboring Washington state, which saw its estimated synthetic opioid overdose deaths increase seven-fold when comparing those same time periods, CDC data shows.
Nationally, overdose deaths involving synthetic opioids such as fentanyl roughly doubled over that time span. Roughly two-thirds of all deadly overdoses in the U.S. in the 12 months ending June 30 involved synthetic opioids, federal data shows.
Supporters of Oregon's law say it was confronted by a perfect storm of broader forces, including the COVID-19 pandemic, a mental health workforce shortage and the fentanyl crisis, which didn't reach fever pitch until after the law took effect in early 2021.
A group of Oregon lawmakers recently traveled to Portugal, which decriminalized the personal possession of drugs in 2001, to learn more about its policy. State Rep. Lily Morgan, the only Republican legislator on the trip, said Portugal's approach was interesting but couldn't necessarily be applied to Oregon.
"The biggest glaring difference is they're still not dealing with fentanyl and meth," she said, noting the country also has universal health care.
Despite public perception, the law has made some progress by directing $265 million dollars of cannabis tax revenue toward standing up the state's new addiction treatment infrastructure.
The law also created what are known as Behavioral Health Resource Networks in every county, which provide care regardless of the ability to pay. The networks have ensured about 7,000 people entered treatment from January to March of this year, doubling from nearly 3,500 people from July through September 2022, state data shows.
The law's funding also has been key for providers of mental health and addiction services because it has "created a sustainable, predictable funding home for services that never had that before," said Heather Jefferis, executive director of Oregon Council for Behavioral Health, which represents such providers.
Horvick, the pollster, said public support for expanding treatment remains high despite pushback against the law.
"It would be a mistake to overturn 110 right now because I think that would make us go backwards," Lieber, the Democratic state senator, said. "Just repealing it will not solve our problem. Even if we didn't have 110, we would still be having significant issues." (SOURCE)
Lead-contaminated WanaBana applesauce impacting children, families in Oregon
PORTLAND, Ore. – State and local health officials have identified multiple children in Oregon with elevated blood lead levels after they ate certain pouches of applesauce called WanaBana Apple Cinnamon Fruit Purée.
The elevated blood lead reports follow a safety and recall alert from the U.S. Food and Drug Administration (FDA) in late October warning parents and caregivers against buying or feeding the product to young children.
As of Nov. 15, local public health investigators have found a total of six cases of elevated blood lead levels in children who ate WanaBana Apple Cinnamon Fruit Purée. The children live in Lake, Lincoln, Multnomah and Washington counties. Some of the families learned about the FDA alert through local news and online media reports that prompted parents and caregivers to report possible exposure to health care providers.
WanaBana Apple Cinnamon Fruit Purée is distributed nationwide through retailers including Dollar Tree, Amazon and other online stores. Additionally, since the FDA alert Oct. 28, two other brands of applesauce products sold at Schnucks and Weis Markets have become subject to the recall, though they are not available in Oregon.
A collaborative investigation by state and local partners, FDA's Coordinated Outbreak Response & Evaluation (CORE) Network, and the U.S. Centers for Disease Control and Prevention (CDC) is ongoing.
While WanaBana has agreed to voluntarily recall all WanaBana Apple Cinnamon Fruit Purée pouches regardless of their expiration dates, some people may have bought the product before the recall announcement. Families should check their homes and throw away any pouches they find.
"While lead is toxic for all people regardless of age, small children are especially at risk because they're still growing and developing," said Ryan Barker, Oregon Health Authority's Childhood Lead Poisoning Prevention Program coordinator. "Continued exposure over time can permanently damage their central nervous system, which may result in long-term health problems, such as learning disorders, impaired speech and brain damage."
Signs of lead poisoning are not always easy to see and can be mistaken for other illnesses. Without a blood test, lead poisoning may go undiagnosed, especially since affected children often don't look or act sick.
Possible signs of lead exposure and symptoms in children include:
Tiredness or loss of energy.
Hyperactivity.
Reduced attention span.
Irritability or crankiness.
Poor appetite.
Weight loss.
Trouble sleeping.
Constipation.
Aches or pains in stomach.
Parents and caregivers concerned about a child's exposure to WanaBana Apple Cinnamon Fruit Purée should contact their health care provider to request a blood test.
More information on blood testing and lead can be found on the following pages:
FDA Issues Recall Alert for Dog and Cat Foods Sold in Oregon Due to Possible Salmonella Contamination
The Food and Drug Administration is alerting pet owners to a recall of certain pet foods that could be contaminated with Salmonella. TFP Nutrition and the FDA said all dry dog food and all dry cat food manufactured in one of TFP's Texas facilities is contaminated and should be disposed of.
Brands affected by the recall include Exclusive Signature Dog and Cat Food and Feline Medley Formula Cat Food. The recalled food was sold at several pet and animal supply stores in Oregon.
The Centers for Disease Control and Prevention said babies and young children can get sick from contaminated pet food if they have access to pet food bowls on the floor, put pet food in their mouths, or if caregivers don't wash their hands after feeding pets.
Pet owners are urged to throw away recalled pet food and clean any surfaces that might have come in contact with the pet food.
Suppliers who may have sold the recalled pet food include:
Wilco stores all over Oregon
H and E Feed in Eugene
Junction City Farm and Garden
Old Mill Farm Store in Cottage Grove
Country Farms and Ranch Supplies in Creswell
The Farm Store and J and S Supply in Veneta
Sweet Home Feed and Supply
Out West Farm and Ranch in Philomath
Scio Farm Store
Central Feed and Supply in Sutherlin
Douglas County Farmers Co-op in Roseburg
Tractor Supply Co. in Junction City and Creswell
More information on the recall, including a comprehensive list of the pet foods affected by the recall, can be found at TFP's website and the FDA's website.
Unusual Respiratory Illness Effecting Oregon Dogs
Veterinary laboratories in several states are investigating an unusual respiratory illness in dogs and encouraging people to take basic precautions to keep their pets healthy as veterinarians try to pin down what's making the animals sick.
Oregon, Colorado and New Hampshire are among the states that have seen cases of the illness, which has caused lasting respiratory disease and pneumonia and does not respond to antibiotics.
Symptoms of respiratory illness in dogs include coughing, sneezing, nasal or eye discharge and lethargy. Some cases of the pneunomia progress quickly, making dogs very sick within 24 to 36 hours.
The Oregon Department of Agriculture has documented more than 200 cases of the disease since mid-August. It has encouraged pet owners to contact their vet if their dog is sick and told state veterinarians to report cases as soon as possible. The agency is working with state researchers and the U.S. Department of Agriculture's National Veterinary Services Laboratory to find out what is causing the illnesses.
Dogs have died, said Kurt Williams, director of the Oregon Veterinary Diagnostic Laboratory at Oregon State University. But without a clear way to define the disease or test for it, he said it's hard to put a number on how many died from a severe form of the infection.
Williams had a simple message for dog owners: "Don't panic." He also said dog owners should make sure that their pets are up to date on vaccines, including those that protect against various respiratory illnesses.
Labs across the country have been sharing their findings as they try to pinpoint the culprit.
David Needle, senior veterinary pathologist at the University of New Hampshire's New Hampshire Veterinary Diagnostic Laboratory, has been investigating the mysterious disease for almost a year.
His lab and colleagues at the university's Hubbard Center for Genome Research have looked at samples from dogs in Rhode Island, New Hampshire and Massachusetts and more will be coming from Oregon, Colorado and possibly other states.
He said his team has not seen a large increase in dogs dying from the illness but still encouraged pet owners to "decrease contact with other dogs." (SOURCE)
Oregon State Police Lieutenant rammed by suspect vehicle- Marion County
An Oregon State Police Lieutenant suffered minor injuries after being rammed by a motorist on Interstate 5 in Marion County.
Friday, November 17, 2023, 8:43 a.m. – The incident took place while the Lieutenant was attempting to get the suspect stopped and off the highway. The suspect vehicle rammed the patrol vehicle from behind, causing it to spin and strike the barrier, before fleeing northbound. The suspect was located and stopped in the Salem area.
The suspect has been arrested and there is no longer a danger to the public.
The Oregon State Police is investigating the incident with assistance from the Marion County Sheriff's Office. Due to the ongoing investigation, further details are unavailable for release at this time.
*** UPDATE 2 – Arrest *** Sheriff's Office investigate early morning assault, seek tips from the community
Early Saturday morning, 11/18/2023, patrol deputies located a vehicle alleged to have been involved in Friday morning's robbery and assault that occurred on Brown Rd NE near Idaho Ave NE. Deputies contacted multiple people with the vehicle and called out investigators. Through the investigation, detectives identified Luis Cardenas-Penaloza (27) as the suspect in the assault and robbery. Cardenas-Penaloza was taken into custody and has been lodged at the Marion County Jail for charges including Assault 1, Robbery 1, and Unlawful Use of a Weapon. ________________________________________________________________
Detectives are continuing to investigate the incident from this morning which turns out was an attempted robbery where the victim was assaulted. This occurred on Brown Rd NE at Idaho Ave NE. Please let us know if you saw anything that appears suspicious or out of sorts. Investigators are still seeking information from anyone who may have been in the area around that 6:00 am hour. The victim was treated at an area hospital for non-life-threatening injuries and released. Investigators would like to talk with anyone who may have seen anything unusual. Please call Detective Van Horn on her cell at 503-991-2145.
### ________ Sheriff's Deputies are in Brown Rd NE & Idaho Ave NE investigating an assault and will have Brown Rd NE blocked from Arizona NE north to Silverton Rd NE. Please avoid the area and use alternate routes. We are asking for the community's help. If you were in this area around 6:00 am to 6:15 am and have any information, please get in touch with Detective Van Horn at 503-584-6211—no further details at this time.
Oregon Division of Financial Regulation reminds people to be careful of gift card scams as holiday shopping season approaches
The 2023 holiday shopping season is here and the Oregon Division of Financial Regulation (DFR) is reminding people to watch out for financial scams that can target their pocketbook, particularly gift card scams.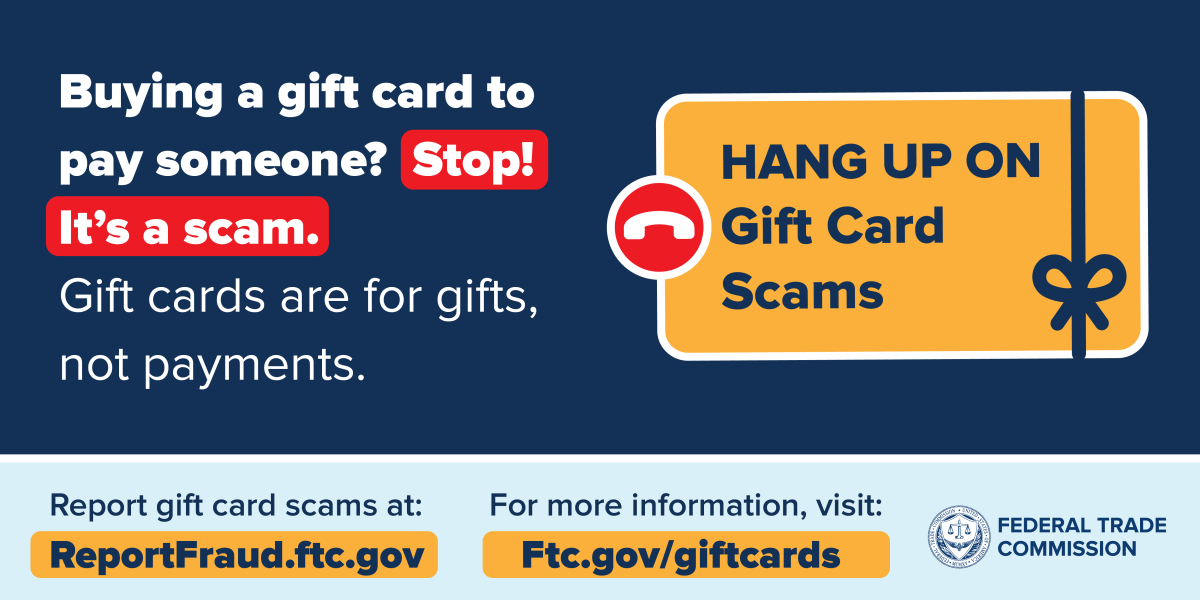 Gift card scams often start with a call, text, email, or social media message. Scammers will say anything to get you to buy gift cards – such as Google Play, Apple, or Amazon cards – and hand over the card number and personal identification number (PIN) codes.
According to the Federal Trade Commission, here are some common tactics scammers use:
1. Scammers will say it is urgent. They will say to pay them right away or something terrible will happen. They don't want you to have time to think about what they are saying or talk to someone you trust. Slow down. Don't pay. It is a scam.
2. Scammers will tell you which gift card to buy (and where). They might say to put money on an eBay, Google Play, Target, or Apple gift card. They might send you to a specific store – often Walmart, Target, CVS, or Walgreens. Sometimes, they will tell you to buy cards at several stores, so cashiers will not get suspicious. The scammer also might stay on the phone with you while you go to the store and load money onto the card. If this happens to you, hang up. It is a scam.
3. Scammers will ask you for the gift card number and PIN. The card number and PIN on the back of the card lets scammers get the money you loaded onto the card — even if you still have the card itself. Slow down. Don't give them those numbers or send them a photo of the card. It is a scam.
Scammers tell different stories to get you to buy gift cards so they can steal your money.
• Scammers say they are from the government. They say they are from the IRS, the Social Security Administration, or even the Federal Trade Commission. They say you have to pay taxes or a fine. However, government agencies will not contact you to demand immediate payment, and they never demand payment by gift card. It is a scam.
• Scammers say they are from tech support. They say they are from Microsoft or Apple and there is something wrong with your computer. They ask for remote access and say to pay them to get it fixed. Don't give them access to your computer. It is a scam.
• Scammers say they are a friend or family member with an emergency. If the scammer uses voice cloning, they may even sound just like your loved one. They ask you to send money right away – but not to tell anyone. It is a scam. If you are worried, contact the friend or relative to check that everything is all right.
• Scammers say you have won a prize. But first, they tell you to pay fees or other charges with a gift card. It is a scam. No honest business or agency will ever make you buy a gift card to pay them for a prize. And did you even enter to win that prize?
• Scammers say they are from your utility company. They threaten to cut off your service if you don't pay immediately. Utility companies don't work that way. It is a scam.
• Scammers ask for money after they chat you up on a dating website. Romance scammers will make up any story to trick you into buying a gift card to send them money. Slow down. Never send money or gifts to anyone you have not met in person – even if they send you money first.
• Scammers send a check for way more than you expected. They tell you to deposit the check and give them the difference on a gift card. Don't do it. It is a scam. That check will be fake and you will be out that money.
To help prevent yourself from getting scammed, DFR offers these reminders:
• Don't answer unknown numbers – block unwanted calls and text messages.
• Don't give personal identifying information to unsolicited calls, texts, or emails. Hang up, look up their number, and call them to verify.
• Be skeptical. Ask questions and be wary of offers "too good to be true."
• Resist the pressure to act immediately. Scammers use urgency as a tool.
• Stop and talk to someone you trust. Talking about it can help you spot the scam.
• Never pay someone who insists you pay with a gift card, money transfer, or cryptocurrency.
Remember, if it is too good to be true, it probably is.
If you feel you may have been scammed, the division's consumer advocates may be able to help. They can be reached at 1-888-877-4894 (toll-free) or dfr.financialserviceshelp@dcbs.oregon.gov.
### About Oregon DFR: The Division of Financial Regulation is part of the Department of Consumer and Business Services, Oregon's largest business regulatory and consumer protection agency. Visit dfr.oregon.gov and oregon.gov/dcbs.
Oregon Lottery Profits Return $900 Million to State
Salem, Ore. – The Oregon Lottery will return nearly $900 million to the state for the 2023 fiscal year – down slightly from the previous year due to an increase in operating costs. Unclaimed prizes for the year totaled $9 million and will also go back to the state.
The funding directly benefits state parks and natural habitats, public schools, veteran services, outdoor school, and economic development. Oregon Lottery is self-funded through the sale of games, not tax dollars, and voters and the Legislature designate where the money goes.
"Oregon Lottery's success allows us to support programs that help our state thrive," said Oregon Lottery Director Mike Wells. "We're focused on running our operations as efficiently as possible to benefit the public programs Oregonians care about."
Lottery players were lucky this year with payouts totaling nearly $16 billion for the year. With jackpot games climbing to record amounts, eight players took home prizes worth $1 million or more. Prizes big and small account for about 92% of the Lottery dollars played.
Sales commissions on Lottery games also support retailers, many of whom are small business owners. The 3,800 Lottery retailers across Oregon collectively earned more than $310 million this year.
Since 2016, Oregon Lottery has maintained the highest level of accreditation for responsible gambling from both the National Association of State and Provincial Lotteries/National Council on Problem Gambling and the World Lottery Association's (WLA) Responsible Gambling programs. Oregon is one of only eight lotteries in the U.S. to reach this level by the WLA.
The Lottery's financial year runs from July 1, 2022 to June 30, 2023. A final audited report will be posted to the Oregon Lottery's website.
Since the Oregon Lottery began selling tickets on April 25, 1985, it has earned nearly $15.5 billion for economic development, public education, outdoor school, state parks, veteran services, and watershed enhancements. For more information on the Oregon Lottery visit www.oregonlottery.org.
Oregon Food Bank Teams Up With Shari's to Raise Donations and Educate About Hunger
Shari's Restaurant is partnering with the Oregon Food Bank for an education campaign. They are working together to launch a series of public service announcements to educate the community about hunger and raise donations for the food bank.
– Shari's Restaurants ("Shari's"), one of the largest full-service community restaurant chains in the Pacific Northwest, today announced that it has partnered with Oregon Food Bank on an education campaign to raise awareness for the fight against hunger. Through the partnership, Shari's and Oregon Food Bank will develop a series of public service announcements designed to tell the full story of hunger and the breadth of anti-hunger work and to mobilize local communities across the state to take action against food insecurity and its root causes.
Oregon Food Bank, which is a member of Feeding America®, seeks to provide access to nutritious food for all while building community power and working across systems and networks to eliminate hunger. From Oregon Food Bank's 21 regional food banks, the organization distributes free food equitably across the Network in Oregon and SW Washington and advocates for policies and programs to address the root causes of hunger.
"Shari's is a community-oriented, family-style restaurant at its core, and we recognize the importance of lending a helping hand to our neighbors in need," said Sam Borgese, principal of Gather Holdings and owner of Shari's. "We are proud to renew our partnership with Oregon Food Bank and to play a part in raising necessary awareness and funds in the critical fight against food insecurity."
"We are so grateful to Shari's for joining Oregon Food Bank to spread the true story of hunger," shared Oregon Food Bank President Susannah Morgan. "Distributing enough food today will not end hunger tomorrow. Together, we're working to fundamentally shift common understanding of food insecurity, its root causes and the actions needed to end hunger for good."
Shari's first partnered with Oregon Food Bank alongside Sysco food distribution on a similar education campaign during the 2019 holiday season. The campaign raised approximately $13,500 to support Oregon Food Bank's end-of-year efforts against hunger.
Crisis hotline opens for farmers, ranchers, loggers and fishermen in Oregon
Commercial fishermen in Oregon and the rest of the West Coast have been hit with climate change and decreased sales due to the pandemic. (Oregon Fish and Wildlife Service)
If you or someone you know who works in agriculture, forestry or the fishing industry is struggling, call or text 833-897-2474 for help.
When Oregon farmers, farmworkers or ranchers sink into an emotional crisis or simply need someone to talk to, they now have counselors available.
A new hotline, the Agristress Helpline, launched in Oregon in September. It is tailored to support those who work in agriculture, forestry or the fishing industry through a phone and text service that operates 24 hours a day, seven days a week. The helpline is free and has trained counselors with experience in those industries who can take phone calls in 160 languages, with English, Spanish and Vietnamese professionals available to respond by text.
Its launch marks a dream come true for Allison Myers, who leads the Family and Community Health program at the Oregon State University extension service and campaigned for months to get the line established in Oregon.
Warning signs of suicide
Talking about wanting to die, feeling hopeless or having no purpose
Talking about feeling trapped or a burden to others
Increasing consumption of alcohol or drugs
Withdrawing or feeling isolated
Showing rage or talking about seeking revenge
Displaying extreme mood swings
Experts say not to leave the person alone, remove any weapons they could use to commit suicide along with alcohol and drugs.
To get help, call or text 833-897-2474. For a medical emergency, call 911.
"I'm honored to be a part of it," Myers said. "It's been a big team effort."
Besides Myers, the line has the backing of nearly 30 farm and health care organizations, Todd Nash, president of the Oregon Cattlemen's Association, and Sen. Bill Hansell, R-Athena. Hansell championed a bill approved by the Legislature in the final days of this year's session that allocated $300,000 for the line. That money went to the Oregon State University Foundation, which has set up a helpline endowment that's expected to produce $12,000 a year in interest. That's not enough to pay for operations, which cost about $70,000 a year.
The state was able to launch the service – which also operates in Connecticut, Missouri, Pennsylvania, Texas, Virginia, and Wyoming – thanks to donations totalling nearly $70,000 from Eastern Oregon Coordinated Care Organization, which serves rural Medicaid recipients in eastern Oregon, and the Roundhouse Foundation, a philanthropic organization based in Sisters.
To keep the line going in perpetuity, the endowment needs to increase to about $1.75 million, Myers said.
"Obviously, we still have more fundraising to do," Myers said.
As a start, she's working to inform people in various communities and in rural areas about the service.
"Our goal is to spread the word," she said. "Our next steps involve preparing and disseminating marketing materials for the line, through extension offices statewide and also through partners."
Experts say the line is sorely needed. Although the 988 crisis line provides a similar service, the Agristress line is specialized to address the needs of farmers, ranchers, loggers and fishermen. They often work in social and geographic isolation and in areas with limited access to health care services. These professions also have to grapple with extreme weather conditions, such as flash flooding or drought, and they face fluctuating commodity prices.
And they come from a culture of self-sufficiency, which means they might be reluctant to tell someone they need help. That stoicism can have dire consequences: They have the highest rate of suicide among all professions in Oregon. More than 70 took their own lives between 2016 and 2020, a rate of 104 people per 100,000. That compares with 21 per 100,000 on average in Oregon in 2020.
The service says calls are answered within 30 seconds, and all callers are screened for suicidality, with intervention for those at immediate risk. Others are offered relevant resources, and everyone gets a call back within 24 hours. Counselors are trained in mental health issues related to agriculture and the other professions, including production and financial issues, market fluctuations and family dynamics.
It's unclear whether the line is being used much or having an impact. The service is secretive about its use and has not released any data about use of the line. "We are evaluating the service carefully and will share findings when we have them," Myers said. (SOURCE)
Give blood, celebrate the 20th Anniversary of the film "Elf"
Exclusive "Elf" + Red Cross socks for donors Nov. 10-30 — Portland, OR (Nov. 10, 2023) — For many, watching the classic holiday movie "Elf" has been a heartwarming tradition for 20 years. This November, the American Red Cross is encouraging people to add a new tradition as the holiday season begins: Spread cheer with a blood or platelet donation.
Donations are critical to the blood supply as the holiday season draws near – a time when blood donations often decline. Donors of all blood types are urged to give, especially type O blood donors and those giving platelets.
To celebrate the 20th Anniversary of the film "Elf," and create holiday cheer, all who come to give Nov. 10-30 will receive an exclusive pair of "Elf" + Red Cross socks, while supplies last. For more details, visit RedCrossBlood.org/Elf.
It feels good to give a gift to someone else that truly means something. Those wishing to help patients receive lifesaving transfusions can book a blood or platelet donation appointment by using the Red Cross Blood Donor App, visiting RedCrossBlood.org or calling 1-800-RED CROSS (1-800-733-2767).
How to donate blood — A blood donor card or driver's license or two other forms of identification are required at check-in. Individuals who are 17 years of age in most states (16 with parental consent where allowed by state law), weigh at least 110 pounds and are in generally good health may be eligible to donate blood. High school students and other donors 18 years of age and younger must also meet certain height and weight requirements.
Amplify your impact − volunteer! — Another way to support the lifesaving mission of the Red Cross is to become a volunteer blood donor ambassador at Red Cross blood drives. Blood donor ambassadors help greet, check-in and thank blood donors to ensure they have a positive donation experience.
Volunteers can also serve as transportation specialists, playing a vital role in ensuring lifesaving blood products are delivered to nearby hospitals. For more information and to apply for either position, contact or visit redcross.org/volunteertoday.
About the American Red Cross: The American Red Cross shelters, feeds and provides comfort to victims of disasters; supplies about 40% of the nation's blood and is the primary blood supplier to 65 hospitals throughout Washington and Oregon; teaches skills that save lives; distributes international humanitarian aid; and supports veterans, military members and their families. The Red Cross is a nonprofit organization that depends on volunteers and the generosity of the American public to deliver its mission. For more information, please visit redcross.org or CruzRojaAmericana.org, or visit us on Twitter at @RedCross.
"Elf" and all related characters and elements © & ™ New Line Productions, Inc.
PART 2 – Newsweek Podcast Focusing on The Disappearance of Fauna Frey From Lane County
Here One Minute, Gone the Next —-– PART 2 – Josephine County Sheriff Dave Daniel joins investigative journalist Alex Rogue to speak with Here One Minute, Gone the Next about the disappearance of Fauna Frey, the growing friction between citizen investigators and law enforcement, and the lack of resources in missing persons cases. https://podcasts.apple.com/us/podcast/the-disappearance-of-fauna-frey-pt2-feat-sheriff/id1707094441?i=1000630100040
PART 1 – John Frey joins Newsweek to discuss exclusive details about the case of his missing daughter that until now have been unavailable to the general public.
READ MORE HERE: https://www.newsweek.com/exclusive-what-happened-fauna-frey-new-clues-uncovered-1827197?fbclid=IwAR3Z3Glru5lIgqiYXbs_nA1Fj8JuCIzM11OHSVHfwIucfq2f_G5y9y5bnmQ
If you have any information on the whereabouts of Fauna Frey, call the anonymous tip line at 541-539-5638 or email FindFaunaFrey@gmail.com. — Help Find Fauna Frey #FindFaunaFrey FACEBOOK GROUP
Missing Yachats Man's Vehicle Found in North Lane County
On 08/25/2023, Dustin Steyding was reported missing to the Lincoln County Sheriff's Office after he left work on 07/22/2023 and hadn't been located since. Dustin was living and working in the Yachats area.
Dustin was reported to be in good physical condition, having previously worked as a hot shot firefighter in New Mexico. Dustin is very experienced in the woods and commonly goes out for hikes to stay in shape. Without means to locate Dustin, Deputies entered Dustin as a missing person in a national database.
On 09/04/2023, the Lincoln County Sheriff's Office received a call from Dustin's family after they located his vehicle on Keller Creek Rd, just outside of Lincoln County in Lane County. Lincoln County Sheriff's Office Deputies contacted the vehicle and determined it had been at the location for some time. Deputies were unable to determine Dustin's direction of travel from the vehicle.
The vehicle having been located in Lane County, Lincoln County Deputies contacted the Lane County Sheriff's Office Search and Rescue Team and arranged for their response the next day to started searching the area. After two days of searching, no clues to Dustin's have been found.
Anyone with information on the whereabouts of Dustin Steyding should contact the Lincoln County Sheriff's Office at 541-265-0777 and reference case number 23S-07321.