The latest news stories and stories of interest in the Willamette Valley from the digital home of Southern Oregon, from Wynne Broadcasting's WillametteValleyMagazine.com
Monday, April 24, 2023
Willamette Valley Weather
Wolf Sighting Near Cottage Grove
The Oregon Department of Fish and Wildlife said it has received reports of a wolf sighting around the Mosby Creek area near Cottage Grove recently.
The wolf, a 2-year old male designated OR125, was identified to be from a pack in Douglas County. The department said it is normal for a young male to venture off on its own. They are often looking for new territory or a mate, in an act called "dispersing".
According to a 2022 report, there were 178 confirmed wolves in Oregon. The department has been able to place collars on some. They use either a radio collar or a GPS collar, which OR125 is wearing. Though it is not able to locate in real time, it helps the ODFW understand what it's dealing with.
"We can see its movements and if we have a situation where the wolf is staying in an area for quite a while, then we might declare something called an area of known wolf activity, and that's when we know we have a resident wolf, not a dispersing wolf," Michelle Dennehy, a spokesperson for the ODFW, said.
At this time, the department said there is no evidence that OR125 has become a resident wolf. It was spotted in forested areas, and Dennehy says they rarely venture near residential areas.
"That's unlikely just because wolves are going to tend to avoid that kind of area. Any kind of wolf attacks of people are very rare," she said.
Dennehy says even if attacks on people are rare, there are still good things to know if one finds themselves in an area with wolf activity.
"One good practice is to know that wolves are territorial, particularly against other canines, so dogs, so if you're in an area where there could be a wolf it's good to keep your dog leashed or at least keep it under your control because you're more likely to get into trouble if a free ranging dog encounters a wolf," Dennehy said.
ODFW officials state they do not believe OR125 will be staying in the area.
Eugene Crisis Negotiation Team Receives New Van
Call outs for Eugene Police Department's Crisis Negotiation Team have been steadily increasing over the last several years; from 29 in 2018 to now averaging more than 100 call outs for the past three years. Yet even as the call load and team size has increased year by year, the CNT has still deployed from its aged, 1992 Chevy panel van originally procured and retrofitted by donations through the herculean efforts of Officer Chris Kilcullen. Officer Kilcullen, who was a well-respected and skilled crisis negotiator, was killed in the line of duty on April 22, 2011.
The original CNT van was put into service in 2008 and has served the community for 15 years. Over the past several years the CNT van has struggled to keep pace with the increasing call volume and team size, and is far beyond the end of its service life having accumulated more than 312,000 miles.
Now, thanks to the support of the Eugene Police Foundation and special efforts by Senator James Manning to secure grant funding, the CNT has the keys to a brand new, purpose-built, mobile Negotiation Operation Center, or "NOC." The new NOC adds much needed enhancements in technology, functionality, and dedicated spaces for both on-scene investigation and negotiations. In honor of Officer Kilcullen's exceptional service and beloved friendship on the CNT, his signature has been incorporated into the graphics and adorned on side of the NOC in his memory.
You can learn more about the Crisis Negotiation Team on our website at: https://www.eugene-or.gov/CivicAlerts.aspx?AID=6050
Burglary at Veneta Bar
A Veneta bar is still reeling and recovering from an overnight burglary that saw thousands of dollars stolen from a back room.
When the staff at Crazy Al's Bar and Grill arrived to open up shop on the morning of April 20, they discovered thousands of dollars missing. A review of security camera footage would reveal a man breaking in by busting open the back door before breaking open drawers where cash was kept.
According to a timestamp on the footage, the burglary occurred at around 5 a.m. on Thursday. The money stolen was from the previous night's profits. But the hurt did not just stop with that loss.
The manager said they will be taking measures to bolster security and make sure something like this cannot happen again.
The only leads they have at the moment are pictures of the suspected burglar and the truck involved caught on their security cameras. Heiken said they are actively working with the Lane County Sheriff's Office to try and find the people responsible.
Police Seek Tips in Blair Blvd Restaurant Arson Case
At 1:18 a.m. on April 16, Eugene-Springfield Fire Department (ESFD) responded to Nelson's in the Whit, 394 Blair Boulevard, after a fire was reported. They located a fire in the exterior wall on the northwest corner and extinguished it.
Based on the unknown cause of the fire, the ESFD contacted the ESFD Fire Marshal and Eugene Police who investigated. The report was routed to the Eugene Police Department Arson Team for follow-up
. The Eugene Police Arson Unit aggressively investigates arson fires occurring in the city of Eugene. Arson investigators work as a team, in cooperation with investigators from the Fire Marshal's Office, to determine fire origin and cause and to investigate incendiary fires.
The Eugene Police would like to hear from any witnesses or anyone with information about this case. Please contact Officer Dave Clark at 541-359-9835 with any information and use EPD case 23-05449.
Fatal Crash on Scravel Hill Road in Linn County
Linn County Sheriff Michelle Duncan reports on April 20, 2023, at 1:37 p.m., the Linn County Sheriff's Office Dispatch Center received several 911 calls regarding a motor vehicle crash in the 38000 block of Scravel Hill Road. It was reported that one or two vehicles were involved in the crash and at least two people were injured.
Paramedics from the Jefferson Fire Department and multiple law enforcement personnel responded to the crash and found one vehicle involved in the crash. Deputies investigated and determined a 2016 A7 Audi, operated by Nicole Carey, 36, of Albany, was traveling south on Scravel Hill Road near Cricket Lane when it left the roadway striking a tree. Witnesses described the Audi traveling at a high rate of speed and passing a vehicle when it left the roadway.
First responders arrived and found a passenger, Dallas Welsh, 42, of Hubbard, non-responsive. Life saving measures were attempted. Welsh was pronounced deceased on scene. Carey was transported to Albany General Hospital for non-life-threatening injuries.
The investigation is ongoing, but speed appears to be a factor in the crash. Linn County Sheriff's Office was assisted by Jefferson Fire Department, Salem Police Department, Oregon State Police, Linn County Medical Examiner's Office and Linn County Road Department. Anyone who witnessed the crash is asked to call Detective Kyle Connelly at (541) 967-3950.
Oregon Teen Drug-Related Deaths are Increasing Faster than Anywhere Else in the Nation
Oregon's U.S. Senators Jeff Merkley and Ron Wyden and Representatives Suzanne Bonamici, Lori Chavez-Deremer, Earl Blumenauer, Andrea Salinas, and Val Hoyle are raising concerns with the U.S. Department of Education (ED) that Oregon teens are dying of drug-related causes faster than any other state, and the lawmakers are pushing for action. The Oregon delegation members are urging the Department to work with school districts to combat the opioid crisis and substance misuse in schools.
The rate of Oregon teenagers dying due to drug-related causes is growing faster than in any other state. Adolescent drug overdose deaths have more than doubled nationwide since 2019 and more than tripled in Oregon in the same time period. This is largely due to the proliferation of illicitly manufactured fentanyl, according to the Centers for Disease Control and Prevention (CDC).
"If we are truly committed to ending the opioid crisis, then we must ensure that our students, as well as their parents and teachers, are equipped with all of the resources they need, including access to Naloxone and successful drug-prevention education programs," the members wrote in a letter sent today to Secretary Cardona. "In pursuit of combatting and eventually ending the opioid crisis, we believe that ED can play an increasingly important role in the education of students, parents, and teachers as well as in the delivery of drug-resistance education programs."
In the letter, they ask the Education Department to provide an update on their efforts to share best practices with school districts. The lawmakers highlight Beaverton School District's "Fake and Fatal" campaign, which focuses on providing resources for students, parents, and teachers on the dangers of synthetic opioids, as well as key contacts and hotlines should a student ingest these drugs. The district has also adopted a non-punitive approach to students with substance use issues, instead providing specialists and social workers to each campus to help students and families find the help they deserve.
"School districts can no longer pretend that fake pills made from potentially deadly fentanyl are not a threat to their students," said Shellie Bailey-Shah, Public Communications Officer for the Beaverton School District. "Fentanyl poisonings are a reality across the country. As educators, we have a responsibility to inform our students, parents and staff about the dangers. I implore school districts to be proactive and not wait until their communities suffer a student death that could have been prevented through education."

"There has been a seismic shift in the drug landscape in the past several years. Potent synthetics, easily and cheaply produced and distributed, are the ideal raw material for drug traffickers, so they have flooded the streets. This trend, in tandem with the deceptive marketing of fake pills as legitimate medicines, makes the street drug supply unpredictable and extremely risky. Young Americans are dying in record numbers in this environment, largely from a lack of information. We can and must address the knowledge gap among teens and young adults that puts them at risk of consuming illicit fentanyl unknowingly. We need to install updated drug education programs in our schools as part of a multipronged effort to reduce drug harms. We encourage Congress to provide funding for innovative drug education programs that reach students where they are, in relevant and resonant ways, with the goal of empowering our youth to avoid harms and develop healthy, sustainable coping skills," said Ed Ternan, President, Song for Charlie.

"The poisoning and overdose crisis is a complex issue with many different drivers and potential solutions discussed and debated. The drug landscape has drastically changed in a short amount of time, and will continue to, due to the prevalence of synthetics and the widespread counterfeiting, contamination, and deception occurring today. At the same time, in Oregon and nationally, we seem to have lost our commitment and focus on primary prevention of harmful substance use for our youth. Simple awareness programs, done broadly and repeatedly in our schools either as stand-alone efforts or integrated with existing prevention programs will go a long way towards mitigating the current harms we're seeing where the first time a teenager experiments with what they think is a legit pill could be the last decision they ever make. We lost our 18 year old son to this deadly and hidden threat. Had we and he known about it, there's a good chance he never would have made that choice. We don't defend his choice; it wasn't a good one. But kids need good information to make good decisions. And when they make a mistake, they should be able to learn from it. With fentanyl, there's no time for intervention or learning. Therefore, we are grateful to Sen. Merkley's office and the Oregon Delegation for appreciating the past efforts of the Dept of Education, and inquiring about what help is needed to do more in this area. Fighting the threat of illicit fentanyl requires an all hands on deck effort. Schools can and should play an important role in this," said Jon Epstein, Board Member, Song for Charlie.

"The introduction of fentanyl into the street drug supply has been the most dramatic shift in the drug market in our nation's history. While Monitoring the Future reports that teen illicit drug use has been trending down and is at its lowest in 20 years, since 2020 there has been a dramatic increase in teen drug deaths, primarily due to fentanyl. Schools in every state are still grappling with understanding this crisis and how to best protect our nation's youth. Synthetic drugs being delivered on social media in the form of fake pills are a dramatic change in the drug landscape that will require updates to the drug education currently being used in every district. The dynamic nature of the current drug supply makes it especially challenging for educators to find current and accurate resources. Schools still recovering from the impacts of COVID are now faced with another major challenge, finding ways to protect their students from deadly fentanyl and other synthetic drugs. Schools don't typically rely on resources provided by the U.S. Department of Education, but these are unprecedented times and kids are dying every day. We need to think differently, engage all available resources, and be open to make dramatic changes and in order to tackle this new phase of the opioid epidemic, and I am grateful Sen. Merkley's office and the Oregon Delegation are asking how U.S. Department of Education can support the schools in their effort to protect our nation's youth, and what resources they need to do so," said Jennifer Epstein, Director of Outreach and Education, Song for Charlie.
Full text of the letter can be found hereEditSignEditSign and follows below:
Dear Secretary Cardona,
We write today to express our support for the recent efforts that the Department of Education (ED) has taken to combat the opioid crisis and substance misuse in our nation's schools. The Department's two-pronged approach of education and prevention is an integral part of addressing, and eventually solving, the opioid epidemic that continues to plague communities and families across the United States.
While the ongoing efforts at ED are commendable, we remain deeply concerned with the unmitigated growth of opioid-related overdoses amongst teens. Since 2019, we have seen adolescent drug overdose deaths more than double, due largely to the proliferation of illicitly manufactured fentanyl.[1] This issue is especially acutely felt in Oregon, where drug-related deaths among teens are increasing faster than anywhere else in the nation.[2] As the widespread availability of counterfeit pills and their availability through commonly accessed social media platforms continue, there remains an unmet need to ensure students, parents, and teachers have access to the resources that will help prevent these tragic deaths.
We are aware that many effective drug-use prevention exist, however, our concern remains that we are not reaching all of our students with this life-saving information. If we are truly committed to ending the opioid crisis, then we must ensure that our students, as well as their parents and teachers, are equipped with all of the resources they need, including access to Naloxone and successful drug-prevention education programs.
In pursuit of combatting and eventually ending the opioid crisis, we believe that ED can play an increasingly important role in the education of students, parents, and teachers as well as in the delivery of drug-resistance education programs. To that end, we ask:
Can ED provide an update as to their efforts to share best practices with school districts, including information about what efforts have been most successful and where there are opportunities for improvement?
What additional resources, if any, does ED require from Congress to better address concerns with drug use and drug overdoses amongst adolescents?
More concerning than our schools' inability to react effectively to the opioid crisis, is the underutilization of drug-use prevention programs. According to a study conducted by the Center for Behavioral Health Statistics and Quality, over twenty-five percent of students aged twelve to seventeen reported not having experienced drug or alcohol use prevention messages while at school.[3]
As an example for how we think ED could help address this issue, we would like to highlight the "Fake and Fatal" campaign launched in the Beaverton School District in Oregon. The campaign focuses on providing resources for students, parents, and teachers on the dangers of synthetic opioids as well as key contacts and hotlines should a student ingest these drugs. The district has also adopted a non-punitive approach to students with substance use issues, instead providing specialists and social workers to each campus to help students and families find the help they deserve. It has been a success in our state and could be a life-saving example for other school districts across the country.
We value ED's commitment and partnership in combatting the opioid epidemic and welcome the opportunity to work with the agency to continue these efforts. (SOURCE)
Scam Jam 2023 brings awareness to fraud schemes aimed at seniors
SALEM – Representatives of Oregon's Division of Financial Regulation (DFR) will take part in Oregon Scam Jam 2023 at the Oregon Museum of Science and Industry (OMSI) in Portland on Tuesday, April 25, to help bring awareness to fraud schemes targeting seniors.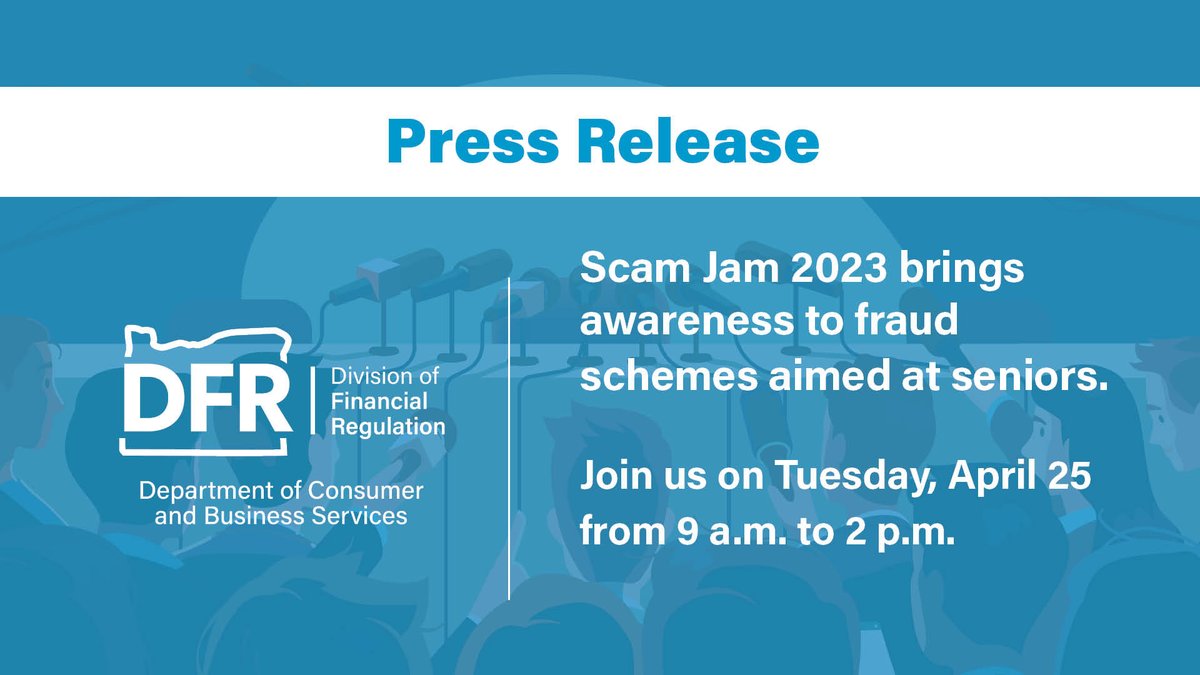 The workshop aims to educate the public on how to spot and avoid scams. The free event is hosted by AARP Oregon and is open to everyone. Scam Jam will provide attendees with information on how to recognize common scams, as well as tips on how to protect themselves from becoming victims. Joining DFR will be experts from AARP, Oregon Attorney General Ellen Rosenblum, Federal Trade Commission Director Chuck Harwood, KGW consumer reporter Kyle Iboshi, and more.
DFR will be represented by Administrator TK Keen; Tricia Goldsmith, the division's consumer education and advocacy manager; and Karla Martinez, the division's consumer liaison.
All attendees will receive complimentary admission to the museum after the event, and the first 100 guests will receive a planetarium ticket. Planetarium tickets can be used through April 30. A light breakfast and lunch will be provided.
This is an invaluable opportunity for anyone looking to stay safe from scammers in today's digital age. Don't miss out on this opportunity to learn more about protecting yourself from fraud.
What: Oregon Scam Jam 2023
When: Tuesday, April 25 from 9 a.m. to 2 p.m.
Where: OMSI, 1945 SE Water Ave., Portland, OR 97214
Those interested can register online.
### About Oregon DFR: The Division of Financial Regulation is part of the Department of Consumer and Business Services, Oregon's largest business regulatory and consumer protection agency. Visit dfr.oregon.gov and www.dcbs.oregon.gov.​​
COVID-19 outlook good as cases, deaths, hospitalizations continue declines
OHA monitoring community transmission and variants that may cause brief spring infection wave
PORTLAND, Ore. — As COVID-19 cases, deaths and hospitalizations continue their declines in Oregon and across the country, state health officials remain hopeful that an anticipated spring infection wave triggered by virus subvariants will be short-lived.
Dean Sidelinger, M.D., M.S.Ed., health officer and state epidemiologist at Oregon Health Authority (OHA), said he expects to see adjustments in the state's COVID-19 forecast over the coming months as health officials learn more about infections from XBB.1.16, an Omicron subvariant that has yet to be identified in the state. Along with another burgeoning Omicron subvariant, XBB.1.9, XBB.1.16 is forecast to cause an increase in infections that will peak in June, he said, citing Oregon Health & Science University forecasting data.
Thanks to a positive overall outlook for COVID-19 in the coming months, Sidelinger was confident the state can weather a subvariant wave and continue its preparations for winding down Oregon's pandemic response on several fronts as the federal public health emergency ends May 11.
Speaking to reporters Thursday during OHA's final monthly COVID-19 media briefing, Sidelinger said that on March 30, Oregon finally dropped below 200 hospitalizations, which the state hasn't seen since May 2022.
"On Tuesday, April 18, we had 172 hospitalized COVID-19-positive patients in Oregon, which was slightly higher than the week before, but still represents a steady downward trend from our recent hospitalization peak of 370 on November 29, 2022," he said.
"To put that number in perspective, our highest hospitalization count during the pandemic was 1,178, which occurred on September 1, 2021, during the Delta surge. We've come a long way."
A recording of Thursday's media briefing is available via YouTube at this link. Sidelinger's comments are available at this link.
Sidelinger noted that Oregon's percentage of positive COVID-19 test results has stayed relatively flat since the start of the year, with a slight jump occurring in late March. "We expect this trend to continue, particularly as new subvariants continue to evolve and enter Oregon over the next several months," he said.
The ending of the federal public health emergency means that Federal Emergency Management Agency (FEMA) funding for some COVID-19 response activities also will end. That includes vaccines and therapeutics that have been provided at no cost to everyone in the country since December 2020. After May 11, pharmaceutical companies will begin distributing and selling vaccines like other vaccines, such as the influenza vaccine; therapeutics commercialization is product-dependent with different timelines, and some are already available commercially.
This transition is likely to take place sometime early fall 2023 for vaccines and by the end of 2023 for therapeutics.
"Right now, there are many unknowns regarding the commercialization process," Sidelinger said. "For example, we don't know what COVID vaccine and therapeutics prices will be. OHA is working with other state agencies and the Centers for Disease Control and Prevention (CDC) to ensure everyone in Oregon will have continued, equitable access to COVID-19 vaccines and therapeutics once commercialization takes place."
Also ending after May 11 are FEMA-funded community vaccinations events, which were "hugely efficient at administering the many types of vaccine doses that were offered over the course of the pandemic in 2021 and 2022, including the monovalent primary and booster doses, and the bivalent booster doses," Sidelinger said. In total, more than 340,000 vaccine doses were administered at more than 6,300 vaccination events.
And access to My Electronic Vaccine Card (MEVC), at myelectronicvaccinecard.oregon.gov, will be decommissioned and archived after the federal emergency ends. People can still use the e-card as proof of their COVID-19 vaccine indefinitely, but they should add any boosters to the card before May 11. After that time, they will not be able update their information, nor will people be able to set up new accounts.
Sidelinger explained that showing the original white vaccination record card from the CDC – or a photo of the card – or showing an immunization record from a health care provider or OHA's ALERT Immunization Information System still works for proving vaccination status.
During the media briefing, Sidelinger touched on this week's announcements by the U.S. Food and Drug Administration and CDC that authorized and recommended a second dose of the bivalent COVID-19 vaccines for persons 65 years of age and older, and for people 6 and older with certain immunocompromising conditions. He said the CDC's Advisory Committee on Immunization Practices discussed simplified recommendations for the vaccines April 19 and that the recommendations were affirmed by the CDC.
The second bivalent booster doses will be available to eligible Oregonians in the coming days.
"Stay tuned for additional recommendations, including whether regular boosters will be needed," Sidelinger said. "We recommend anyone who is now eligible to get the bivalent booster do so as soon as they can. They can get the booster through their health care provider, a county public health vaccine clinic, federally qualified health centers and local pharmacies."
Governor Tina Kotek Requests Expedited Declaration of a Fishery Resource Disaster
In response to the recent Pacific Fishery Management Council's recommendation to close all commercial ocean fisheries for Chinook Salmon from Cape Falcon on the north coast, to the California border through August 2023, Governor Tina Kotek is requesting that the U.S. Department of Commerce make an expedited declaration of a federal fishery resource disaster.
A release from the Governor's office said as juvenile salmon grow to adults off the coasts of California and Oregon, they are caught in Oregon's commercial fisheries. However, due to recent droughts, returns of Chinook salmon to the Sacramento and Klamath rivers are expected to be extremely low this year. In anticipation of drought-related impacts on salmon spawning, the National Marine Fisheries Service is expected to close all commercial ocean fisheries for Chinook Salmon from Cape Falcon to the California border through August 2023 in order to stabilize the salmon population.
The Oregon Department of Fish and Wildlife forecasts an 82 percent reduction in the ex-vessel value for commercial troll fisheries in this area, compared to the recent five-year average, as a result of these expected closures.
A federal fishery disaster declaration would provide important financial assistance to impacted communities, according to the release.
Bird Flu Killing Endangered California Condors
Endangered California condors are dying from bird flu. Researchers at Oregon State University have found at least seven deceased condors from the northern Arizona population with avian influenza.
At least seven deceased California condors from a northern Arizona population were infected with highly pathogenic avian influenza this spring, the Oregon Veterinary Diagnostic Laboratory at Oregon State University has found.
As of Monday, the U.S. Fish and Wildlife Service has reported a total of 20 deceased condors in the Arizona flock, with 10 confirmed positive for HPAI, including those tested at OSU. OSU is currently testing additional deceased condor samples for HPAI. The deceased birds to date represent nearly 4% of the condor population left in the world.
The OSU laboratory detected HPAI in samples from 11 dead condors from the Arizona population. Seven of those have been confirmed by the U.S. Department of Agriculture's National Veterinary Services Laboratory, and OSU lab supervisors are awaiting final confirmation on the last four samples OSU tested.
The same virulent H5N1 strain of avian influenza has been responsible for the deaths of more than 40 million egg-laying hens in the U.S since the current outbreak began in January 2022, with the losses also contributing to rising egg prices. The virus, which has no cure, is spread via bird-to-bird contact and also affects many mammals.
There are only about 500 California condors in the world, so a highly pathogenic, highly contagious disease hitting the species is alarming, said Kurt Williams, director of the diagnostic laboratory housed in OSU's Carlson College of Veterinary Medicine.
Due to many human factors including poisoning, shooting, habitat degradation and the collection of eggs and feathers, California condors nearly went extinct in the 1980s, with a population low of 22 birds. Conservation and breeding programs have helped increase their numbers, but the birds are still at high risk, especially from lead poisoning caused by eating carcasses full of bullet fragments left by hunters.
"Their numbers are low enough that any individual leaving the population prematurely is an important event for the species," Williams said. "This is a species that has made a remarkable recovery through conservation, and now to have this disease hit is pretty devastating."
The 20 dead condors this spring were part of a population that spans several national parks in northern Arizona and southern Utah, with the first deceased female in the flock collected on March 20, according to the Fish and Wildlife Service. The carcasses were all sent to the National Fish and Wildlife Forensics Lab in Ashland, Ore., for necropsies to determine cause of death.
Spleen samples from the birds were then sent to the diagnostic laboratory at OSU, where technicians extracted RNA and conducted PCR tests to identify the virus, said Donna Mulrooney, quality assurance manager in the laboratory.
Once OSU positively identified avian influenza, the condor samples were sent to the National Veterinary Service Laboratory in Iowa for final confirmation. Seven are confirmed and four are "presumed non-negative," OSU lab supervisor Dawn Dirks said.
The disease affects several organ systems, primarily the respiratory, gastrointestinal and nervous systems. According to the Oregon Department of Fish and Wildlife, symptoms in birds include lethargy, inability to fly, erratic behavior, loss of coordination, cloudy eyes, swimming in circles and head shaking. Birds typically die within 72 hours of showing clinical signs.
Several factors have made the current outbreak much more severe than previous avian flu outbreaks, Mulrooney and Williams said.
In the past, avian flu was more seasonal, flaring during spring and fall when waterfowl migrate but then subsiding in the off-seasons. The outbreak that started in January 2022, however, has not really had an off-season, Williams said.
This outbreak is also affecting a much wider range of mammals, which carries the threat of spreading to humans, though the risk is low and only a few human cases have been reported this year, all outside the U.S.
In addition to both domestic and wild birds, in the last year the OSU laboratory has detected the virus in two feral cats, several skunks, a racoon and an American marten.
The current outbreak has also had a massive economic impact, costing the poultry industry tens of millions of dollars last year and contributing to soaring egg prices.
While the risk to humans is low, people still need to be cautious around wildlife, Williams said.
"Don't pick up sick or dead birds or mammals; just leave them be and steer clear," he said.
About the OSU Carlson College of Veterinary Medicine: The college serves the needs of Oregon, the nation and the world by training the next generation of practice-ready veterinarians, providing state-of-the-art diagnostic and clinical services and supporting the continuing education of veterinary practitioners. Biomedical research conducted at the college increasingly expands the scope of veterinary medicine to address both animal health issues and the relevance of animal diseases to public health. (SOURCE)
High Desert Museum Welcomes Baby Bobcat
BEND, OR — A male bobcat kitten, approximately 8 months old, is now in the care of the High Desert Museum. The public will begin to get to see the yet-to-be-named kitten periodically in the Museum atrium across from the permanent Spirit of the West exhibition.
News media are invited to see the bobcat and meet Museum Curator of Wildlife Jon Nelson between 12:00 pm and 1:00 pm today, Friday, April 21. Please contact Director of Communications & Visitor Experience Heidi Hagemeier to schedule a visit.
The bobcat arrived at the Museum in October weighing less than 3 pounds. Individuals near Portland, Oregon removed the kitten from the wild and reached out to Oregon Department of Fish and Wildlife (ODFW). Biologists with ODFW informed them that animals will often leave their young for a period of time to feed, only to return later. The officials placed the bobcat back where he was found in the hope that his mother would return. The kitten was brought back into ODFW six days later by another individual, prompting ODFW officials to consider other options.
It is unknown whether the bobcat was truly orphaned or was simply separated from its parents by a well-meaning citizen. In either case, the kitten could not be returned safely to the original location, and rehabilitation of bobcats is not generally allowed in Oregon to avoid releasing human-habituated predators on the landscape. Seeking other options, ODFW then placed him at the High Desert Museum.
The bobcat currently weighs 15 1/2 pounds and is thriving in his new environment. The wildlife team at the High Desert Museum has expertise in caring for feline predators, and staff are training him to voluntarily crate and to participate in husbandry and vet care.
It will take about another year for the bobcat to reach a full size of 20-25 pounds. Wild bobcats eat a wide range of prey including birds and small mammals. The Museum wildlife team does its best to mimic a wild diet for the animals in its care, and the bobcat enjoys meals that include rats, mice, rabbit, quail and other whole-animal foods. He has done well so far and is a smart animal who has taken quickly to training and working with wildlife staff.
"The best thing to do when discovering baby or injured wildlife is leave the animal there and contact the local ODFW office to report it," said Museum Curator of Wildlife Jon Nelson. "The best outcome is always to locate the mother so the animal can be raised and live in the wild, but ODFW is well-equipped to determine if the animal is legitimately abandoned or otherwise requires long-term human care."
Bobcats are very common in the High Desert and are remarkable hunters. They are solitary animals that can thrive near humans and can be seen at times in suburban habitats. We encourage people to learn about, appreciate and coexist with our native wildlife.
"Caring for young wildlife is work that requires total dedication, and once again our wildlife team has risen to the challenge to give the bobcat the best possible home," said Museum Executive Director Dana Whitelaw, Ph.D. "Although not generally a danger to humans, bobcats are also not housecats. Our team is working with him daily to ensure he will thrive here."
For the coming weeks, the bobcat will periodically be visible in the atrium where Gert the gray fox presently resides. They cannot be in the atrium at the same time, so they will rotate and visitors will have the opportunity to view and learn about a gray fox or a bobcat, both with important stories and lessons we can take home to help conserve their habitats.
The opportunity to name the new bobcat will be auctioned off on Saturday, August 26 at the High Desert Rendezvous, the Museum's largest fundraising event of the year.
The Museum cares for more than 130 animals, from otters to raptors. All the animals are nonreleasable, either due to injuries or because they became too familiar with humans. At the Museum, they serve as ambassadors that educate visitors about the conservation of High Desert species and landscapes.
ABOUT THE MUSEUM: THE HIGH DESERT MUSEUM opened in Bend, Oregon in 1982. It brings together wildlife, cultures, art, history and the natural world to convey the wonder of North
America's High Desert. The Museum is a 501(c)3 nonprofit organization accredited by the American Alliance of Museums, is a Smithsonian Affiliate, was the 2019 recipient of the Western Museums Association's Charles Redd Award for Exhibition Excellence and was a 2021 recipient of the National Medal for Museum and Library Service. To learn more, visit highdesertmuseum.org and follow us on Facebook, Instagram and Twitter.