The latest news stories and stories of interest in the Rogue Valley from the digital home of Southern Oregon, from Wynne Broadcasting's RogueValleyMagazine.com
Thursday, April 1, 2021
Willamette Valley Weather
Today- Sunny, with a high near 65. South wind 6 to 11 mph becoming west in the afternoon. Winds could gust as high as 18 mph.
Friday- Patchy fog before 7am. Otherwise, partly sunny, with a high near 61. Calm wind becoming north northwest 5 to 7 mph in the afternoon.
Saturday- Patchy fog before 8am. Otherwise, mostly cloudy, with a high near 65. Light and variable wind.
Sunday- A chance of rain, mainly between 11am and 2pm, then a chance of showers after 2pm. Mostly cloudy, with a high near 59. Chance of precipitation is 30%.
Monday- A chance of showers. Partly sunny, with a high near 57.
Oregon reports 441 new confirmed and presumptive COVID-19 cases, 2 new deaths
There are two new COVID-19 related deaths in Oregon, raising the state's death toll to 2,383. The Oregon Health Authority reported 441 new confirmed and presumptive cases of COVID-19 bringing the state total to 165,012.
The new confirmed and presumptive COVID-19 cases reported today are in the following counties: Baker (7), Benton (14), Clackamas (61), Clatsop (2), Columbia (10), Coos (7), Crook (2), Curry (2), Deschutes (13), Douglas (5), Grant (6), Harney (1), Jackson (30), Josephine (17), Klamath (14), Lake (1), Lane (35), Lincoln (3), Linn (18), Malheur (1), Marion (25), Multnomah (94), Polk (10), Tillamook (4), Umatilla (3), Union (3), Wasco (1), Washington (47) and Yamhill (5).
Vaccinations in Oregon
Today, OHA reported that 38,373 new doses of COVID-19 vaccinations were added to the state immunization registry. Of this total, 23,834 doses were administered on March 30 and 14,539 were administered on previous days but were entered into the vaccine registry on March 30.
Oregon has now administered a total of 914,067 first and second doses of Pfizer, 850,236 first and second doses of Moderna and 41,187 single doses of Johnson & Johnson COVID-19 vaccines.
Cumulative daily totals can take several days to finalize because providers have 72 hours to report doses administered and technical challenges have caused many providers to lag in their reporting. OHA has been providing technical support to vaccination sites to improve the timeliness of their data entry into the state's ALERT Immunization Information System (IIS).
To date, 1,170,585 doses of Pfizer,1,086,800 doses of Moderna and 87,400 doses of Johnson & Johnson COVID-19 vaccines have been delivered to sites across Oregon.
These data are preliminary and subject to change. OHA's dashboards provide regularly updated vaccination data, and Oregon's dashboard has been updated today.
211info to Call Landlines for Vaccine Appointments
Individuals who entered their primary or preferred contact as a landline in the Get Vaccinated Oregon tool could receive a call as early as today from staff at 211info.
Approximately 500 people registered with GVO with a landline as their primary or preferred contact. Some of these individuals also listed a cell or email contact and may have already been contacted for vaccine appointments.
211info staff will prioritize contacting the 260 individuals who have not yet had any contact from OHA.
Staff at 211info will make three attempts to contact registered people, including leaving messages or calling back at specific times if requested. During the call, 211info staff will offer vaccine information and work with eligible people to schedule vaccination appointments.
Landline registration was discontinued in the Get Vaccinated Oregon tool in response to concerns from partners about having the state create automated calls.
People receiving calls will see the number 503-416-2702 on their caller ID. Callers will also identify themselves as calling from 211info on behalf of OHA.
211info staff will not request social security numbers or financial information to schedule a vaccination and this information should not be provided. Health insurance information may be requested but is not required. The vaccine is free.
Individuals not registered with the Get Vaccinated Oregon tool can continue to reach out to 211info by dialing 211 or 866-698-6155 (toll-free). For TTY, dial 711 and call 1-866-698-6155.
LOCAL HEADLINES:
Pacific Power Helping Customers Impacted by Pandemic
Pacific Power has actively pursued ways to help customers manage through this time of economic hardship since the onset of the pandemic.
Now, with recovery on the horizon, the company is offering a range of options to help customers achieve greater economic stability and get back on track financially
New programs go into effect April 1, 2021 to help with bills and generally assist customers get what they need to return to normalcy in the coming months. Pacific Power will be reaching out to customers in general and specifically in communities greatly impacted by job losses and illness, but we also encourage anyone with concerns about their ability to pay their Pacific Power bill to contact us as soon as possible at 888-221-7070.
"This past year has been hard on our neighbors and communities and we hear that every day from our customers," said Alan Meyer, regional business manager. "We are offering this assistance to help people get back on their feet. We know that many people are still suffering hardships and we want to work with them to help them recover and, by doing so, get the communities we serve back on an even keel."
Eligible customers may receive help from one of the Assistance Plus options for their primary residence.
Instant Grant: Receive a one-time bill credit, up to $500.
Extended Payment Match: Enroll in a payment arrangement and Pacific Power will match your monthly installment payments until the arrearage is paid in full, 12 months have elapsed, the $1,000 maximum is met, or if the service is disconnected for non-payment, whichever occurs first.
To find out more and apply online, visit pacificpower.net/assistanceplus.
Assistance Plus options are available to eligible customers behind on their electric bill and have been financially impacted by COVID-19. For other resources such as rental assistance, we urge you to call 2-1-1 to connect to these services.
About Pacific Power
Pacific Power provides electric service to more than 770,000 customers in Oregon, Washington and California. Our goal is to provide our customers with value for their energy dollar, and safe, reliable electricity. Pacific Power is part of PacifiCorp, one of the lowest-cost electricity producers in the United States, with 1.9 million customers in six western states. For more information, visit www.pacificpower.net. — Pacific Power
Police Arrest Man Barricaded Inside Eugene Home with No Contact Order Against Him
A man barricaded himself inside a Eugene home Wednesday, police said. Officers took him into custody using gas and a police dog after the man refused to surrender and "made vague statements about being in a room with his hands on a bomb."
Eugene Police say the man went to the home around 2:18 a.m. The woman who lives there has a no-contact order against the man, police said. Officers got the woman and her child out of the house, then went to work trying to get the suspect to surrender.
Police said Nolan Anthony Perkins, 42, of Eugene instead barricaded himself inside as police responded to the scene.
The Eugene Police Crisis Negotiation Team responded to the home on Tarpon Street on Wednesday morning along with K9 and SWAT units. Police also obtained a warrant for the man's arrest.
There was information that Perkins had access to firearms in the past and there were weapons kept in the home.
The suspect was moving to different parts of the house and there was clutter in various rooms that made the search difficult and dangerous. At one point, the suspect made vague statements about being in a room with his hands on a bomb. He had been given admonishments to come out and advisories about possible damage to the home. Gas was deployed into numerous rooms, and the search took some time and required the use of a K9.
K9 Cwyk and Officer Owen Griffith took Perkins into custody after finding him hiding in a closet under blankers around 1:04 p.m. Medics evaluated Perkins for a dog bite and exposure to gas. He faces a charge of being a Felon in Possession of a Firearm, police said.
Bijou Art Cinemas is Closing Following Lease Disagreement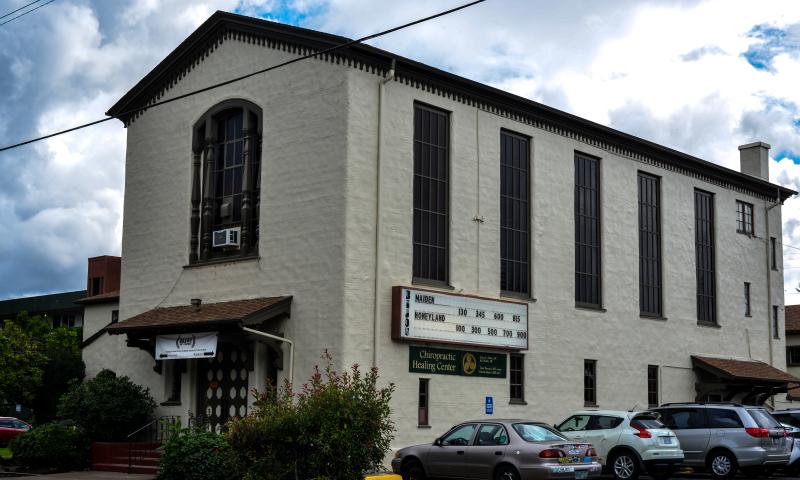 Due to a lease disagreement between Bijou Art Cinemas and the building's owner during the pandemic means the theater will be closing permanently.
Bijou owner Julie Blonshteyn said she was under the impression the closure was only for the remainder of the governor's mandate.
However, Darren Stone, partner for Jennings Group Inc. which owns the building, said the tenants didn't uphold their end of the lease agreement.
"Operators of the Bijou classic theater chose to terminate the lease back in November through a letter from their attorney," Stone said. "I dont understand why there would be confusion about that."
He also said he has the emails from Blonshteyn's business partner and their attorney saying they no longer wished to continue their agreement.
In a statement released via Facebook, Blonshteyn said: "Despite the theater being under order to remain closed, we continued to pay rent, and made numerous efforts to reach some kind of understanding or compromise that would allow us to continue operations at some future."
She also mentioned potentially taking legal action to resolve this matter.
The cinema, which was established in 1980, ran independent and foreign films.
AROUND the STATE of OREGON
Additional Savings are Available for Health Coverage
People enrolled in health coverage through the Health Insurance Marketplace can expect more savings thanks to the American Rescue Plan, signed by President Biden in March. The changes expand access to premium tax credits and increase the amount of premium tax credits that people can receive.
The new guidelines remove the upper income limit to qualify for financial assistance, and also decrease the amount of premium consumers are responsible for paying before tax credits are applied. For example, a 55-year-old individual living in La Grande who earns $63,800 per year previously would not have qualified for premium tax credits. Under the new guidelines, this individual will qualify for approximately $442 in monthly savings, lowering a Silver level plan from $876 per month to $434 per month.
People already receiving premium tax credits will also see savings, which are retroactive to Jan. 1. Enrollees can choose to receive all of the increased tax credits with their 2021 tax return or they can update their HealthCare.gov application for 2021 coverage beginning April 1 to reduce monthly premiums for the rest of the year.
The Oregon Health Insurance Marketplace offers a quick snapshot of the plans and savings to eligible Oregoninas. The tool, available at OregonHealthCare.gov/WindowShop, and has been updated to correctly calculate additional savings now available to people shopping through the Marketplace. People who are currently enrolled through the Marketplace can preview extra savings and people who are not currently enrolled can prepare to enroll for the first time.
"According to our federal partners, four out of five enrollees can get a plan for $10 or less with financial savings," said Chiqui Flowers, administrator of the Oregon Health Insurance Marketplace. "These savings are significant and affect many people in Oregon, especially those who didn't previously qualify for assistance and people who are unemployed."
To apply, go to OregonHealthCare.gov after April 1 and answer a few Oregon-specific questions to get to the right application. You can also search the "get help" directory on OregonHealthCare.gov to find an insurance agent or community partner organization to help complete the application and enroll. Insurance agents and community partners provide local, one-on-one assistance at no charge to the client. This help is available virtually and on the phone, and in person following safety protocols. Preview savings at OregonHealthCare.gov/WindowShop
The Oregon Health Insurance Marketplace, a part of state government, helps people get health insurance when they do not have job-based coverage, and do not qualify for the Oregon Health Plan or another program. The Marketplace is the state-level partner to HealthCare.gov, and a division of the Department of Consumer and Business Services (DCBS). For more information, go to OregonHealthCare.gov. — Oregon Dept. of Consumer & Business Services
3 Escaped MacLaren Inmates Captured after 3 days on the Run
The three teens who escaped from the MacLaren Youth Correctional Facility in Woodburn over the weekend were captured Wednesday, the Oregon State Police said.
The three who fled — Preston Andrizzi, 19; Anthony Fitz-Henry, 19; and Christian Goin; 17 — were spotted in a car in Lebanon around 2 p.m. They fled and a police chase followed. Authorities put down stop sticks that flattened their tires near Albany. One of them ran but was quickly caught, while the other 2 stayed in the car.
No one was hurt. All three hail from the Salem and Albany areas and are considered to be safety risks.
In the early morning hours on Sunday, March 28, the three youths reportedly assaulted a staff member, stole keys and escaped through a hole in a fence surrounding the complex. The staff member who was attacked was treated for injuries at a hospital but has since been released. MacLaren officials also said the hole in the fence has been repaired.
Unemployed Tax Filers to Get Adjusted Returns from Oregon and IRS
The Internal Revenue Service and the Oregon Department of Revenue will automatically adjust tax returns for people who received unemployment benefits and who have already filed their 2020 taxes.
The American Rescue Plan made the first $10,200 of unemployment benefits someone received tax-free, but not until after some people had already filed their taxes. Many were left wondering what to do.
KOIN 6 News learned Wednesday both the IRS and the Oregon Department of Revenue will take care of the issue and people do not need to file amended returns. However, both departments are still figuring out how the corrections will be processed and how refunds will be issued. The refunds are expected to start being delivered in May and continue through the summer.
The Oregon Employment Department has been able to pay most people benefits under the American Rescue Plan on time but some who had to file new claims are still waiting. Those claims are taking an average of 21 days to process.
"We do just still have a staggering number of people that are relying on benefits and we are focused on working through them as quickly as possible," explained David Gerstenfeld, the acting director of OED.
The OED said it's hiring more employees and focusing on additional training in order to answer 80% of calls within 15 minutes by July 1 and to respond to 90% of Contact Us inquiries within seven days.
Governor Kate Brown on Wednesday declared the state's first drought of 2021: Klamath County.
The declaration allows state agencies to coordinate and prioritize assistance to the region. Brown said she was committed "to doing everything possible to make state resources available to provide immediate relief and assistance to water users throughout Klamath County" She said she was "confident that the collaborative spirit
and ingenuity of the people in Klamath will provide lasting solutions."
As of March 31, the snow-water equivalent in Klamath County was 81 percent of a normal water year, according to NRCS. Already dry soils heading into this winter will absorb more of that snow once it melts, causing streamflow forecasts to Upper Klamath Lake to be among the lowest in decades. Forecasted water conditions are not expected to improve this spring.
The declaration unlocks a number of drought-related emergency tools for water users, including assistance to local water users. It also allows the Water Resources Department to expedite review processes and reduce fee schedules. Declarations are intended to be short-term emergency authorizations to address water supply challenges.
On March 9, the Klamath County Commission declared a drought emergency due to low snowpack, low precipitation, low streamflow forecasts and warmer than normal temperatures, and a state drought declaration was requested.
Computer Reads Nearly 100 Pages of A Bill Out Loud in The Oregon Statehouse
After Oregon House Republicans wouldn't agree to suspend a rule requiring bills to be read in their entirety, a computer read aloud 170 pages of a single bill on the floor of the statehouse.
The Oregon legislature went back into session after taking a week off due to multiple COVID-19 cases within the statehouse and did not seem to skip a beat.
House Reading Clerk Lacy Ramirez rattled off the titles of 45 bills within two and half minutes but the 170 pages of House Bill 2111 were left up to a computer to read out loud to a mostly-empty House floor.
Speaker of the House Tina Kotek asked legislatures to work from their own offices for the day as the computer read HB 2111.
The bill would rename the Oregon Liquor Control Commissioner to the Oregon Liquor and Cannabis Commission.
The readathon was sparked when Oregon Republicans, who are the minority party, wouldn't agree to suspend the requirement that every bill read out loud in its entirety.
After five hours, and only getting to section 134 on page 98, Rep. Kotek called it a day for the computer.
New Glacier Found in Oregon
Amidst the Oregon Cascade mountain fires of last fall, something novel occurred. A glacier was discovered, a mass of ice in motion covering 30 football fields. A field team from the Oregon Glaciers Institute (OGI) recently located and conducted the initial survey of this new glacier on the northern flank of South Sister Mountain.
This glacier is not new in a sense that it is recently formed but rather because it was simply missed during the mapping efforts over the last hundred years.
It has never been noted, described or mapped, with the U.S. Geological Survey and Forest Service maps showing bare ground where glacial ice exists today, as well as in the past.
Peter Clark, a professor at Oregon State University, states: "This is a very intriguing find. While OGI is conducting much needed documentation on the decay or disappearance of glaciers in Oregon and the attendant consequences, their discovery of a hitherto unknown and active glacier in the continental USA highlights the critical nature of this work. How many glaciers remain? What is their fate?"
Mapping efforts during the mid-20th century relied heavily on aerial photographs to identify features that would be included in topographic maps. It is likely that this glacier was not clearly visible in air photos due to its positioning in a shaded high mountain cirque and therefore was never mapped. The glacier probably formed during the Little Ice Age before 1850. Undoubtedly, this glacier had been seen by a select few mountaineers exploring the remote side of the mountain. However, this knowledge was never passed on to the U.S. government or glacier scientists.
OGI President Anders Carlson, Ph.D. commented that "despite more than a century of exploring the Oregon High Cascades by mountaineers and government scientists, we know very little about our own backyards. The age of discovery is not over, even here in Oregon!"
Glaciers are an important part of the mountain environment and factor heavily into the supply of freshwater streams and groundwater during the warm summer months when glaciers typically undergo some degree of melting. In particular, ranchers and farmers use glacier meltwater as an irrigation source while the near freezing meltwater cools streams for fish spawning as well as cool forests to reduce fire risk. In short, these glaciers act as natural reservoirs, or mountain water towers. This previously unmapped glacier can now be added into what is known about Oregon's water resources.
OGI co-founder and head of field operations Aaron Hartz noted that "as snowpack and glaciers decline, so too will water flowing out of the mountains into the forest and fields below. This decline will lead to drier mountain forests and increased risk of fire."
OGI has been working in recent months to document the condition of Oregon's remaining glaciers. Their fieldwork has also shown that many mapped glaciers in Oregon are now only remnants and are essentially dead ice bodies, meaning the ice is no longer flowing and deforming under their own weight. Glaciers hang in the balance of accumulating winter snow and summer melt. When summer melt exceeds snow accumulation, glaciers decline in mass. OGI's goal for the coming summer and years is to set up a proper glacier monitoring network that will inform on glacier changes and their attendant consequences. This will allow for projections of future glacier viability to determine if, or when, they may disappear from Oregon's high Cascade summits.