The latest news stories and stories of interest in the Willamette Valley from the digital home of Southern Oregon, from Wynne Broadcasting's WillametteValleyMagazine.com
Wednesday, July 20, 2022
Willamette Valley Weather
Lane County Fair Starts Today
With the World Athletics Championship in town, fair organizers said they've added more to the list of things you can do at the fair this year. The fair runs from Wednesday, July 20 through Sunday July 24.
Assistant fair manager Rachel Bivens said every year they try to pack the fair with a little bit of fun for everyone.
"The idea behind the fair is fun for all ages," Bivens said. "We just want to encourage everyone to come out and enjoy it. We work really hard on this event. We spend 12 full months every year planning it. We try to re-invent it each year."
This year she said they ramped it up a notch as visitors from all over the world come to town for the World Athletics Championships.
"We added on a number of smaller stages," Bivens said. "So, we have a couple of extra bands going on and dance performances. We have a hula group and a salsa group, some really fun different kinds of bands that are playing around our main stage, so more music, more fun."
There will be a number of main stage performers including T.I., Russell Dickerson, KC & the Sunshine Band, and Luis Angel, "El Flaco."
Bivens also said they've ramped up their security after last year's shooting. At the last County Fair, a fight broke out and a young man fired a single shot, hitting a woman in the arm.
"We've been working on our security plan basically since the day after fair last year," Bivens said. "We do have a bag check going on, we've added a lot of additional security protocols and things. Some of it you won't see and some of it you will."
There will also be a clear bag policy in place. Exceptions will be made for all medically necessary items and diaper bags that can be checked and tagged after inspection. Attendees can bring one clear plastic bag that is no larger than 12 inches wide and tall and six inches deep. Attendees are also allowed a one-gallon clear plastic bag. A small clutch, purse or wallet that does not exceed 4.5 by 6.5 inches will also be allowed. If an attendee doesn't have a bag, they can buy a clear bag at the fair for $5 at ticket booths. FOR MORE INFO: https://www.atthefair.com/
Police Investigating Theft Of World Championships Mascot's Head
The head of the World Championships' official mascot Legend the Bigfoot has become the subject of a police matter after it was stolen.
Police were called to Eugene's Hayward Field after Legend's yellow head went missing and a number of videos and photographs surfaced on social media showing people wearing it.
A spokesperson from Oregon 2022, the championship organizers, said: "This is now a police matter, and we won't have further comments at this time."
The mascot – a big yellow, furry, mythical creature – was chosen for the 2022 World Championships because of legend in this part of the United States. It was said that a mysterious creature roamed the region and it became known as Bigfoot.
Legend's replacement head was used at the Eugene venue on Tuesday after the original went missing.
Twenty-Six Cats Rescued This Month From An Abandoned Apartment In Eugene Need Homes
Eugene Police say over a week ago, someone contacted Lane County Animal Services, to let them know they were leaving an apartment due to being evicted, and were leaving behind "a lot of cats."
The property's management contacted Eugene Animal Services on July 10, and said there was no food or water left for the animals. Until animal service personnel arrived, the managers provided water and food but the apartment had only one litterbox and the interior was covered in feces and urine.
EPD Animal Services was unable to get the owner's information, because the apartment complex would not release it. The cats were described as "very frightened" but otherwise appeared healthy.
Greenhill Humane Society says the cats all have ringworm, and are under-socialized. They're looking for families to adopt the animals, and they'll provide training and supplies for treating the disease.
The cats were received July 11th, adding to Greenhill's caseload. Some will be available for adoption beginning tomorrow [Wednesday 7/20]. Details can be found on Greenhill's website or by visiting the shelter later this week.
Memorial Service for Spencer Webb on Thursday
Oregon athletics will host a public memorial service for tight end Spencer Webb, who died last week from an accidental fall at Triangle Lake.
The Webb family and Oregon football program are inviting the public to attend a celebration of Webb's life at 6 p.m. Thursday at the Autzen Stadium Club.
Webb, 22, died from a head injury he suffered in an apparent accidental fall near the rock slides at Triangle Lake on July 13th.
Several hundred people, including most of UO's football players, gathered outside Autzen Stadium for a candlelight vigil on the evening of July 14th.
World Athletics Championships Schedule
The World Athletics Championships Oregon22 will see more than 1900 athletes from 192 teams compete at Eugene's Hayward Field between 15-24 July.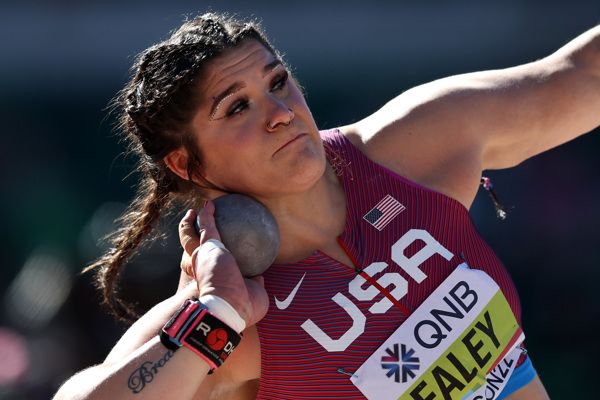 The action started with men's hammer qualifying on Friday 15 July, while the women's 4x400m final brings the competition to a close on Sunday 24 July. You can keep up-to-date with the latest on the World Athletics website, its associated platforms and via a number of broadcasters around the world.
Here's how you can follow it all: The World Athletics Championships Oregon22 will be streamed live in some territories on the World Athletics YouTube and Facebook channels. Action from each session will be shown.
The livestream will not be available in all territories.
TV channels: NBC Sports, USA Network and CNBC. Check the complete TV schedule for the 2022 World Athletics Championships in order to see when the event you want to watch is airing on broadcast TV and when. The list is subject to change, and some broadcasters may only show highlights coverage, while others will show the event live. Please check your local listings to find out more information. A detailed NBC schedule can be found here.
We want to keep you informed about COVID-19 in Oregon. Data are provisional and change frequently. For more information, including COVID-19 data by county, visit our dashboard: http://ow.ly/8QWG50JZzR3
According to a new Oregon Health Authority (OHA) report, health care costs grew 49% per person across insurance markets between 2013-2019 in Oregon, outpacing national healthcare cost growth during the same time period. By market, Medicare costs per person grew 58%, commercial market costs per person grew 45%, and Medicaid costs per person grew the slowest at 32%.
Rising prescription drug costs and the cost of professional services were the primary factors driving health care cost increases. Between 2013-2019, Oregon's health care costs grew faster than income—while per person health care costs grew 49%, per person income grew 31.5% and average wages grew 21.6%.
The report shows that for people in Oregon with commercial, employer-sponsored insurance, the cost of the average annual deductible and insurance premiums combined in 2019 was 10.1% of median income.
The report documents cost growth across six major service categories and identifies which types of services are responsible for most of the cost growth in each market. Between 2013 and 2019, per person pharmacy costs grew the most (116%). Inpatient services have the highest per person costs and grew by 22% over the six years.
OHA holds media briefing on COVID-19 tomorrow at 11:30 a.m.
PORTLAND, Ore. — Oregon Health Authority (OHA) is hosting its monthly COVID-19 media availability on Wednesday, July 20.
Dean Sidelinger, M.D. MSEd, health officer and state epidemiologist at OHA, will answer reporters' questions and provide an update on the state's pandemic response, the Novavax COVID-19 vaccine and hMPXV (human monkeypox virus) in Oregon at 11:30 a.m. via Zoom.
Interested reporters can join via this link. A livestream will be available for the public on YouTube.
Forestry department announces community information sessions about the statewide wildfire risk map
The Oregon Department of Forestry (ODF) is holding a series of community information sessions starting July 26 and 27 in southwest Oregon. Each session will include a presentation about the map's function and purpose, how wildfire risk is assessed, and how property owners may appeal their assigned risk class. Time will be available to address questions from community members.
The wildland-urban interface (WUI) and statewide wildfire risk map available through the Oregon Explorer is a tool to help inform decision making and planning related to mitigating wildfire risk for communities throughout Oregon.
Representatives from Oregon State University who produced the map based on rules adopted by the Board of Forestry will also attend the sessions.
The first set of meetings is in southwest Oregon. Two sessions are currently scheduled, one in Medford, and one in Grants Pass. Both meetings are from 7-8 p.m. Dates and locations for each community meetings are as follows:
July 26, Grants Pass— Anne G. Basker Auditorium, 500 NW 6th St.
July 27, Medford—Medford Public Library, 205 S Central Ave.
Details will soon be announced for sessions in The Dalles, La Grande, and Bend. Additional community meetings may be added.
Property owners in the high and extreme risk classes will receive written notice from ODF this week indicating the property's risk class and whether it's in the wildland urban interface. The notice will inform them if they may be subject to future defensible space or building code requirements and how to find information on those requirements. It will also provide information on the process to appeal a property's risk classification.
For properties in the WUI and a risk classification of high or extreme, Senate Bill 762 requires actions to help mitigate the risk of wildfire through adoption of defensible space and home hardening building codes. Oregon State Fire Marshal is passing defensible space code requirements through a public process. Code adoption of defensible space requirements will occur December 2022, after the map validation and appeals period is closed. Those requirements won't apply until later. Visit OSFM's website for more information. Building Codes Division (BCD) will adopt home hardening building codes through a public process. Building codes will be adopted October 1, 2022 and will be effective April 1, 2023. Visit BCD's website for more information.
Update-OSP Investigating Homicide & Requesting Public Assistance – Polk County
Investigators are updating the description of the suspect vehicle as well as releasing a third photo. The vehicle is believed to be a BMW 3 Series with a body style similar to a 2006.
We are releasing the name of the victims in this case. The deceased male victim was identified as Dennis Gerard Anderson (45). The passenger in his car was identified as Brandy Dawn Goldsbury (46).
On July 13, 2022, at approximately 9:00 P.M. OSP responded to Hwy 18 milepost 15 in Polk County to a report of a shooting.
Preliminary investigation revealed the shooting was the result of a suspected road rage incident, in which the victim pulled over and stopped to let the suspect vehicle pass. The suspect vehicle stopped next to the victim, the victim got out of his car, and multiple shots were fired from the suspect vehicle. The shots are reported to be fired by the passenger of the suspect vehicle. The suspect vehicle then left the scene.

The victim was declared dead at the scene. A passenger in the car was not injured. The passenger described the suspect vehicle and the passenger of the suspect vehicle. The description of the car is a black car with a round emblem on the hood. The description of the passenger in the suspect car was a younger male, less than 25 years old, medium complexion, and small in stature with short dark hair.
Officers from multiple agencies responded to the area but were unable to locate the suspect's vehicle. One individual matching the description was detained, interviewed, and eventually released.
OSP Detectives are urging anyone with information about this case to call the Oregon State Police Dispatch at 1-800-452-7888, OSP (677). Reference case number SP22177525.
This is an ongoing investigation.
OSP Detectives are being assisted by Detectives from the Polk County Major Crimes Team.
The Oregon Secretary of State has verified enough signatures to allow a gun control initiative to be on this November's ballot.
Lift Every Voice Oregon, which sponsored Initiative Petition 17, collected more than 130,000 signatures in support of it. That is about 20,000 more than needed to get approved.
IP 17 would require a permit to buy a gun, which includes safety training and a completed background check. It would also ban magazines that hold more than 10 rounds.
The Rev. Dr. WJ Mark Knutson, the chair of Lift Every Voice Oregon, said they've been trying to get this on the ballot for years. This is the first time they've gotten this far.
Knutson said what is different this time is "the incredible volunteer effort. Teenagers have been at the heart of this."
He added his dream is to "make communities safer." And he's hopeful this becomes law.
The Coast Guard rescued a man from a vessel approximately 57 miles offshore Newport after he suffered a medical emergency.
Coast Guard watchstanders received a report Saturday evening of a 29-year-old male who had suffered from a stroke and related medical complications aboard the vessel Malto Hope approximately 1,000 miles west of the Oregon coast.
Watchstanders at the 13th Coast Guard District Command Center recommended the ship transit closer to shore to be within range for a medical evacuation from a Coast Guard helicopter.
Once the vessel was within response range, Coast Guard watchstanders directed the launch of an MH-65 Dolphin helicopter aircrew from Coast Guard Air Facility Newport to rescue the man. The aircrew arrived on scene Monday shortly after 10:30 a.m., hoisted the man and transported him to awaiting emergency medical services at Air Facility Newport in stable condition.
Statewide initiative launched: 'Faster Internet Oregon'
A statewide effort is underway to improve internet access by engaging residents across the state.
Oregon Economic Development Districts (OEDD), Onward Eugene, SpeedUpAmerica and Link Oregon has partnered to launch the initiative, called Faster Internet Oregon.
The effort includes a quick one-minute speed test that organizers said will help identify gaps in Oregon's internet services and inform the development of broadband infrastructure initiatives.
Oregonians are being asked to test their speeds as soon as possible at www.fasterinternetoregon.org.Specifically, for Clatsop, Columbia, Tillamook, and Western Washington County region, the Columbia Pacific Economic Development District (ColPac) is leading a push to encourage residents to take the speed test.
"Currently, the only data we have for the availability and speed of internet connections is inaccurate. With enough tests in the region, we can use this data to advocate for internet infrastructure funding to improve fast and affordable internet services," a release from ColPac states. "Since federal and state funding applications are already available, it is imperative for Oregonians to take the speed test"
The internet test can be found on Faster Internet Oregon's website, www.fasterinternetoregon.org. When testing, ColPac asks that you be sure to test a home internet connection, not cellular and no VPNs. If you do not have a home internet connection, reporting no internet access at a location is also possible and can be done via a cell phone.
ColPac said data privacy is of the utmost importance to the campaign's partners.
"No personally identifiable information beyond the test participant's address will be stored and address information will not be available for public viewing nor be used for commercial or marketing purposes" the release states, adding that only the campaign partners and public decision makers who have signed a data privacy agreement can view the detailed data map created by the tests to help advocate for internet infrastructure projects.
"This mapping effort is a critical early step towards creating a compelling case for internet infrastructure development in our region," ColPac Executive Director Ayreann Colombo said. "I encourage all residents in Clatsop, Columbia, Tillamook, and Western Washington counties to take this less than one-minute speed test. Your contribution will help us strengthen our case to develop an accessible, fast and affordable fiber internet system in our region. Please also consider bolstering our efforts by sharing Faster Internet Oregon with your friends, family, and neighbors."
Take the Test at: www.fasterinternetoregon.org.
Faster Internet Oregon is supported by: Link Oregon, Lane County Government and the following Oregon Economic Development Districts: Columbia Pacific Economic Development District, Central Oregon Intergovernmental Council, Greater Eastern Oregon Development Corporation, Mid-Columbia Economic Development District, Mid-Willamette Valley Council of Governments, Northeast Oregon Economic Development District, Oregon Cascades West Council of Governments, SOREDI Foundation, and South Central Oregon Economic Development District.
For more information, visit www.FasterInternetOregon.org or email info@FasterInternetOregon.org
Women Missing Since May 1st 2022 between Medford, Grants Pass and Roseburg per Oregon State Police
MAKENNA KENDALL 5/3/2022
ERICA LEE HUTCHINSON 5/26/2022
MARIAH DANIELLE SHARP 6/12/2022
KAITLYN RAE NELSON 6/14/2022
BROOKLYN JOHNS 6/14/2022
DONNA LEPP 6/27/2022
BARBARA DELEPINE 7/4/2022
KENDRA MARIE HANKS 7/7/2022
CORI BOSHANE MCCANN 7/8/2022
SHYHAILA SMITH 7/12/2022
ALEZAE LILYANNE MARTINEZ 7/13/2022
RAVEN RILEY 7/13/2022
TAHUANA RILEY 7/13/2022
DANIELLE NEWVILLE 7/14/2022
Women Missing Since May 1st 2022 in Lane County per Oregon State Police
BREISA RAQUEAL SIKEL 5/3/2022
HANNAH MARIE RHOTEN 5/17/2022
MARISSA ALEESA DAMBROSIO 5/18/2022
ISABELLA BROSOWSKEYOUNGBLOOD 6/7/2022
LOUISA DAY AVA 5/28/2022
AMY CHRISTINA SULLIVAN 6/1/2022
NIKKI ELIZABETH ZEREBNY 6/6/2022
SHADOW STAR SEVIGNY 6/17/2022
SHAUNA LEAH HOGAN 6/17/2022
AIRIONNA CHEALSEY RHODES 6/27/2022
KARISSA RENEE ADAMS 7/6/2000
VERONICA ESSYNCE DELERIO 7/6/2022
AUBRIE HANNA STEPHENS 7/10/2022
LARA IVEY STEINMETZ 7/11/2022
SARA LINDSAY SCHAEFER 7/12/2022
This is just a small compilation of missing women's pictures in the area. There are of course women missing all over Oregon and men and children missing. Sadly most of them never get any attention. Family and friends must keep any information going and lead investigations so that they aren't just forgotten. https://www.oregon.gov/osp/missing/pages/missingpersons.aspx
​Contact – Missing Children/Adults Clearinghouse
Phone: 503-934-0188
Toll Free: 1-800-282-7155
ospmissingpersons@osp.oregon.gov​
https://www.facebook.com/pg/Have-You-Seen-Me-Southern-Oregons-Missing-People-161249961222839/posts/