The latest news stories and stories of interest in the Willamette Valley from the digital home of Southern Oregon, from Wynne Broadcasting's WillametteValleyMagazine.com
Thursday, July 19, 2022
Willamette Valley Weather
Memorial Service for Spencer Webb on Thursday
Oregon athletics will host a public memorial service for tight end Spencer Webb, who died last week from an accidental fall at Triangle Lake.
The Webb family and Oregon football program are inviting the public to attend a celebration of Webb's life at 6 p.m. Thursday at the Autzen Stadium Club.
Webb, 22, died from a head injury he suffered in an apparent accidental fall near the rock slides at Triangle Lake on July 13th.
Several hundred people, including most of UO's football players, gathered outside Autzen Stadium for a candlelight vigil on the evening of July 14th.
Adult in Custody Walks Away from Department of Corrections Work Crew Near Lebanon
Adult in custody (AIC) Jay Boyd Marsh walked away from a Department of Corrections (DOC) van while being transported back to Santiam Correctional Institution (SCI) from a work crew assignment. While the van was stopped at a stop light outside Lebanon at Berry and Main Streets, Marsh opened the door and ran away from the van. Marsh was last seen at approximately 2:46 PM. Marsh was working on an Oregon Department of Transportation (ODOT) work crew.
Marsh, 57, is a white male weighing 165 lbs., 5' 9'' tall, with brown eyes and brown hair. He was last seen wearing blue jeans and a blue shirt.
Marsh entered DOC custody on April 19, 2022, on one count of unauthorized vehicle use out of Linn County. His earliest release date is November 22, 2023.
The DOC Fugitive Apprehension Unit, Lebanon and Albany Police, and the Oregon State Police are investigating. Anyone with information regarding his whereabouts should contact the Oregon State Police at 1-800-452-7888, the non-emergency number of their local police department, or the DOC Fugitive Apprehension Unit at 503-569-0734. Do not approach Fugitive Marsh.
Marsh is housed at Santiam Correctional Institution (SCI), a minimum-security prison in Salem that houses approximately 440 adults in custody who are within four years of release. The facility concentrates on work opportunities, most of which are in the form of work crews contracting with state agencies, local organizations, and private industries within a 60-mile radius of Salem. SCI provides a range of other correctional programs and services including education, transition programs, and religious services. The building that is now SCI was constructed in 1946 and was originally used as an annex to the Oregon State Hospital for mental health patients. Over the years it was used for a variety of correctional purposes until, in 1990, it opened as SCI.
Eugene Man Pleads Guilty to Killing Grandparents – Sentenced To Serve Minimum 50 Years
A Lane County judge has sentenced a 27-year-old man to at least 50 years in prison for the murder of his grandparents in Eugene.
Nicholas Borden-Cortez was sentenced last week for two counts of first-degree murder. Borden-Cortez pleaded guilty in June to the May 2021 murder of 85-year-old Nancy Loucks-Morris and 87-year-old Gerald Morris.
As part of his guilty plea, prosecutors dropped two charges of second-degree abuse of a corpse and a charge of attempting to elude a police officer, as well as a separate but related case with two charges of unlawful firearm use.
World Athletics Championships Schedule
The World Athletics Championships Oregon22 will see more than 1900 athletes from 192 teams compete at Eugene's Hayward Field between 15-24 July.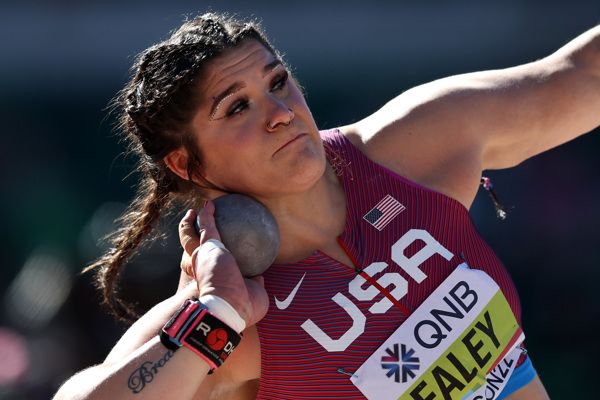 The action started with men's hammer qualifying on Friday 15 July, while the women's 4x400m final brings the competition to a close on Sunday 24 July. You can keep up-to-date with the latest on the World Athletics website, its associated platforms and via a number of broadcasters around the world.
Here's how you can follow it all: The World Athletics Championships Oregon22 will be streamed live in some territories on the World Athletics YouTube and Facebook channels. Action from each session will be shown.
The livestream will not be available in all territories.
TV channels: NBC Sports, USA Network and CNBC. Check the complete TV schedule for the 2022 World Athletics Championships in order to see when the event you want to watch is airing on broadcast TV and when. The list is subject to change, and some broadcasters may only show highlights coverage, while others will show the event live. Please check your local listings to find out more information.  A detailed NBC schedule can be found here.
We want to keep you informed about COVID-19 in Oregon. Data are provisional and change frequently. Note: This report covers the three-day period from July 15 to July 17, 2022.For more information, including COVID-19 data by county, visit our dashboard: http://ow.ly/Wekk50JYEWU
Many Pacific Northwest Hospitals at Capacity As They Struggle With Staffing
Once again, many hospitals in the Pacific Northwest are at or above capacity. As of Monday, nearly every hospital bed in the Portland metro area was spoken for.
Health care officials said rising COVID-19 cases are once again a factor, but this summer there are many other challenges, including staffing.
"We know that many levels of staff have made decisions as a result of the COVID pandemic to cut back hours, to change professions, to sometimes leave health care entirely," said Dr. Renee Edwards, chief medical officer at Oregon Health & Science University (OHSU). "Our hospital is completely full."
Like so many hospitals and health care providers, OHSU is actively recruiting for nurses and other positions. At the same time, they're competing against the growing national demand for traveling nurses and contracted labor.
It's a challenge that's not just impacting hospitals but long-term care facilities too. And therein lies another challenge; some patients are using hospital beds they no longer need while waiting for a transfer to long-term care facilities.
"When we can't move our patients from the hospital environments of care into those post-acute environments where patients need ongoing care, then it does create a backlog in the system," said Edwards.
On Monday, there were 58 non-intensive care unit hospital beds available in the Portland metro area, or 3% of capacity. There were 20 ICU beds available, or 6%, according to the Oregon Health Authority.
Dwindling hospital capacity is not just Oregon's problem. Multiple Washington hospitals noted that they too are over capacity and understaffed. That includes Harborview Medical Center in Seattle.
"We have not been under this level of stress at any point during the pandemic," said Sommer Kleweno Walley with Harborview Medical Center. "This is unprecedented at this point."
"Unfortunately, we have returned to the same level and in some cases worse level of both challenge and strain in our hospitals that we experienced during those periods of those specific surges related to those variants," added Dr. Steve Mitchell with the Washington Medical Coordination Center.
It all comes as doctors contend with the BA.5 and BA.4 variants, which account for most new cases and are believed to resist both antibodies and vaccine protections.
"When both states are at capacity, it creates an extreme situation for the Pacific Northwest," said Edwards.
Edwards pointed out that emergency rooms are also extremely busy, especially during the summer months. It's why hospitals across the region are asking people to avoid using them except for true emergencies. Instead, they encourage visits to urgent care providers or primary care physicians whenever possible.
Hospital officials also advise people to stay on top of preventive health care, get regular check-ups and don't ignore health concerns.
"Many patients who delayed seeing a doctor during COVID now need more intense care as part of their hospitalization," said Edwards.
Portland Crime Report Shows Increase In Shootings and Homicides
A new report shows significant increase in shootings and homicides in Portland since 2019. The California Partnership for Safe Communities reports shows homicides increased 144-percent and shootings were up 241-percent.
Portland Mayor Ted Wheeler says the data will help the City focus on the problem. It shows 10 groups and gangs are responsible for most of the shootings.
The highest concentration of shootings are in downtown and North Portland with pockets in Northeast and Southeast Portland. The report recommends focusing efforts on those groups and areas of the city.
Oregon Average Gas Price Drops But Still Above U.S. Level
Oregon's average gasoline price has fallen 12.3 cents per gallon in the past week, averaging $5.26 a gallon as of Monday, according to GasBuddy's survey of 1,307 stations in Oregon. Prices in Oregon are 26.1 cents per gallon lower than a month ago but stand $1.59/g higher than a year ago.
The national average price of diesel has declined 10.8 cents in the last week and stands at $5.54 per gallon.
According to GasBuddy price reports, the cheapest station in Oregon was priced at $4.55/g Sunday while the most expensive was $5.99/g, a difference of $1.44/g.
The national average price of gasoline has fallen 15.8 cents per gallon in the last week, averaging $4.51/g Monday. The national average is down 47.9 cents per gallon from a month ago but stands $1.35/g higher than a year ago, according to GasBuddy data compiled from more than 11 million weekly price reports covering over 150,000 gas stations across the country.
Historical gasoline prices in Oregon and the national average going back ten years:
July 18, 2021: $3.68/g (U.S. Average: $3.16/g)
July 18, 2020: $2.61/g (U.S. Average: $2.20/g)
July 18, 2019: $3.17/g (U.S. Average: $2.78/g)
July 18, 2018: $3.28/g (U.S. Average: $2.86/g)
July 18, 2017: $2.64/g (U.S. Average: $2.26/g)
July 18, 2016: $2.53/g (U.S. Average: $2.20/g)
July 18, 2015: $3.13/g (U.S. Average: $2.76/g)
July 18, 2014: $3.95/g (U.S. Average: $3.58/g)
July 18, 2013: $3.88/g (U.S. Average: $3.67/g)
July 18, 2012: $3.57/g (U.S. Average: $3.42/g)
Oregon cities and their current gas prices:
Eugene- $5.21/g, down 11.9 cents per gallon from last week's $5.33/g.
Salem- $5.04/g, down 19.5 cents per gallon from last week's $5.23/g.
Portland- $5.34/g, down 13.3 cents per gallon from last week's $5.48/g.
"We've seen the national average price of gasoline decline for a fifth straight week, with the pace of recent declines accelerating to some of the most significant we've seen in years. This trend is likely to reach a sixth straight week, with prices likely to fall again this week. Barring major hurricanes, outages or unexpected disruptions, I forecast the national average to fall to $3.99/gal by mid-August," said Patrick De Haan, head of petroleum analysis at GasBuddy.
"So far, we've seen the national average drop for 34 straight days, with over 25,000 stations now back at $3.99 per gallon or less, and thousands more stations will join this week. In addition, we will see several states fall back under an average of $4, the majority being in the South, but that could spread to more states in the weeks ahead."
GasBuddy is the authoritative voice for gas prices and the only source for station-level data spanning nearly two decades. Unlike AAA's once daily survey and the Lundberg Survey, updated once every two weeks based on a small fraction of U.S. gasoline stations, GasBuddy's survey updates 288 times every day from the most diverse list of sources covering nearly 150,000 stations nationwide, the most comprehensive and up-to-date in the country.
GasBuddy data is accessible at http://GasBuddy.com
Hot Air Balloons Return To The Skies Over Bend This Weekend
Balloons launch Friday, Saturday and Sunday mornings from Jewell Elementary, weather permitting. Set-up begins at sunrise, with balloons taking off around 7 a.m. Spectators can watch for free.
Aaron Switzer, with Lay it Out Events, says Friday's Night Glow is bigger and better than past years, "We moved it up to COCC to get a little more space – it was in Riverbend Park. And, we've added a music stage, so there's musical acts. There's just more to do at the Night Glow on Friday night." He adds, "We have a shaped balloon this year, so there's an apple. The apple crisp is coming and that's very cool." That's the Cosmic Crisp Apple, helping promote 2 Towns Ciderhouse.
Saturday, the Redmond Night Glow is at Sam Johnson Park, "It's the Bacon, Brews and Balloons," Switzer states, "And, they didn't do it in that fashion for a couple of years but this is back to its format from a couple years ago."
Balloons will launch each day throughout the weekend. The balloon launches are free to anyone to observe. Just make sure you wake up early enough to greet the giant balloons as they float up into the sky.
The balloons will start setting up at sunrise (about 6am), with an estimated launch time of 6:45-7am (depending on weather). We suggest showing up around 6:15am to grab a spot, and to ensure you don't miss the launch.
Visit the Balloons Over Bend website for more details. 
Have You Seen Her? The Missing Women Crisis in Southern Oregon
Just in the last week, there have been six women reported missing in Southern Oregon.
There are 88 women still reported as missing between Medford and the Eugene area since July 1st of 2019 – That's an average of 29 per year. It seems it is only accelerating now…
There are 30 women missing in just the past 2 1/2 months (May 1st to 7/15/2022) between Medford and the Eugene area. That averages out to 12 women missing per month or 3 to 4 women who go missing each week in Southern Oregon. Something needs to be done to make this a priority.
Women Missing Since May 1st 2022 between Medford, Grants Pass and Roseburg per Oregon State Police
MAKENNA KENDALL 5/3/2022
ERICA LEE HUTCHINSON 5/26/2022
MARIAH DANIELLE SHARP 6/12/2022
KAITLYN RAE NELSON 6/14/2022
BROOKLYN JOHNS 6/14/2022
DONNA LEPP 6/27/2022
BARBARA DELEPINE 7/4/2022
KENDRA MARIE HANKS 7/7/2022
CORI BOSHANE MCCANN 7/8/2022
SHYHAILA SMITH 7/12/2022
ALEZAE LILYANNE MARTINEZ 7/13/2022
RAVEN RILEY 7/13/2022
TAHUANA RILEY 7/13/2022
JAYME MURPHY 7/14/2022
DANIELLE NEWVILLE 7/14/2022
Women Missing Since May 1st 2022 in Lane County per Oregon State Police
BREISA RAQUEAL SIKEL 5/3/2022
HANNAH MARIE RHOTEN 5/17/2022
MARISSA ALEESA DAMBROSIO 5/18/2022
ISABELLA BROSOWSKEYOUNGBLOOD 6/7/2022
LOUISA DAY AVA 5/28/2022
AMY CHRISTINA SULLIVAN 6/1/2022
NIKKI ELIZABETH ZEREBNY 6/6/2022
SHADOW STAR SEVIGNY 6/17/2022
SHAUNA LEAH HOGAN 6/17/2022
AIRIONNA CHEALSEY RHODES 6/27/2022
KARISSA RENEE ADAMS 7/6/2000
VERONICA ESSYNCE DELERIO 7/6/2022
AUBRIE HANNA STEPHENS 7/10/2022
LARA IVEY STEINMETZ 7/11/2022
SARA LINDSAY SCHAEFER 7/12/2022
This is just a small compilation of missing women's pictures in the area. There are of course women missing all over Oregon and men and children missing. Sadly most of them never get any attention. Family and friends must keep any information going and lead investigations so that they aren't just forgotten. https://www.oregon.gov/osp/missing/pages/missingpersons.aspx
​Contact – Missing Children/Adults Clearinghouse
Phone: 503-934-0188
Toll Free: 1-800-282-7155
ospmissingpersons@osp.oregon.gov​
Still Waiting on Information as Douglas County Sheriff's Office Investigating Death of An Adult Female Found In Cow Creek
The Douglas County Sheriff's Office is investigating the death of an adult female found in Cow Creek near Riddle. On Wednesday, July 13, 2022, at approximately 3:30 p.m., the Sheriff's Office was notified of a deceased person found in Cow Creek in approximately the 9000-block of Cow Creek Road.
Investigators responded to the scene and confirmed the death of an adult female. The Douglas County Medical Examiner's Office also responded. Identification and next of kin notification are pending. The investigation is ongoing and no further details will be released at this time.
https://www.facebook.com/pg/Have-You-Seen-Me-Southern-Oregons-Missing-People-161249961222839/posts/