The latest news stories and stories of interest in the Willamette Valley from the digital home of Southern Oregon, from Wynne Broadcasting's WillametteValleyMagazine.com
Monday, July 18, 2022
Willamette Valley Weather
World Athletics Championships Off to a Great Start
The World Athletics Championships Oregon22 will see more than 1900 athletes from 192 teams compete at Eugene's Hayward Field between 15-24 July.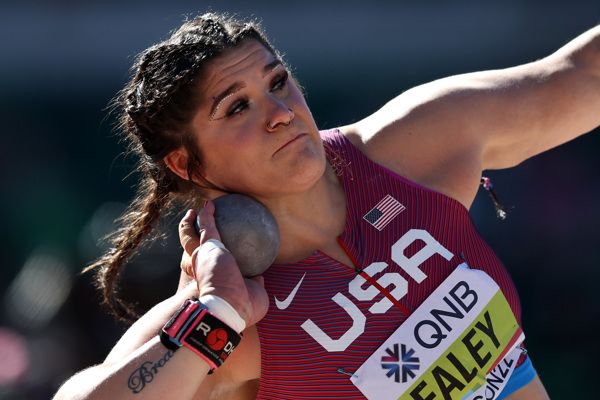 The action started with men's hammer qualifying on Friday 15 July, while the women's 4x400m final brings the competition to a close on Sunday 24 July. You can keep up-to-date with the latest on the World Athletics website, its associated platforms and via a number of broadcasters around the world.
Here's how you can follow it all: The World Athletics Championships Oregon22 will be streamed live in some territories on the World Athletics YouTube and Facebook channels. Action from each session will be shown.
Day four morning session
Day four afternoon session
Day three men's marathon
Day three morning session
Day three afternoon session
Day 2 morning session
Day 2 afternoon session
Day 1 morning and afternoon session
The livestream will not be available in all territories.
To find out where coverage may be broadcast in your country, check the list below. The list is subject to change, and some broadcasters may only show highlights coverage, while others will show the event live. Please check your local listings to find out more information.  A detailed NBC schedule can be found here.
Fire Crews Rescue 3 Cats and 3 Dogs From Burning Home In Eugene
Eugene Springfield Fire crews rescued three cats and three dogs from a burning home in Eugene on Saturday morning.  
Firefighters arrived at the scene at the 100 block of Maynard Avenue in Eugene and found the fire burning in the kitchen and attic area of the home with the owner safely outside.
The owner told firefighters that their pets were trapped inside and crews were able to rescue the animals. The cause of the fire is under investigation and there were no reported injuries.
Injury Traffic Crash on Clear Lake Road
Friday afternoon at approximately 5:48pm, the Lane County Sheriff's Office responded to a crash on Clearlake Rd. near Kirk Rd. northwest of Eugene.
Preliminary investigation reveals that a Mazda sedan was driving eastbound on Clearlake Rd. when it struck a pedestrian on the shoulder and overturned. The pedestrian and a passenger of the Mazda were transported to an area hospital in critical condition. Both of their conditions are now considered stable.
Speed and impairment do not appear to be a factor at this time.
Statements on scene indicate that a westbound vehicle had possibly drifted into the eastbound lane in front of the Mazda before it crashed.  Anyone who witnessed the crash that has not already spoken to investigators is asked to contact the Lane County Sheriff's Office at 541-682-4150 opt.1.
OSP Says Truck Driver Showed Signs Of Impairment After Crash On Highway 20 Near Sweet Home 
Oregon State Police say they believe a truck driver was impaired when he crashed on Highway 20 near Sweet Home.
On Friday just before 6 p.m., troopers and emergency crews were called to Highway 20 near milepost 33. Troopers said the truck was going west on Highway 20 when it left the road, crashed down a steep embankment on the north side of the road, and stopped near the Santiam River.
The driver, 41-year-old Timothy Wade Shockey of Sweet Home, was rescued and taken by ambulance with non-life-threatening injuries. His passenger, who was under 18, was seriously hurt and transported by life flight to a Portland hospital.
The driver of the truck showed signs of impairment, according to Oregon State Police. OSP is continuing the investigation. The vehicle was recovered the next day.
OSP was assisted on the scene by the Linn County Sheriff's Office, Sweet Home Fire, and the Oregon Department of Transportation.
COVID-19 remains widespread across Oregon. Consider spending more time outside with friends and family as much as possible over indoor activities. If you are indoors, wearing a well-fitting mask – such as a KF94, KN95, N95 or a cloth mask over a surgical mask – offers additional protection. The current COVID-19 vaccines remain effective at preventing severe illness and death. COVID-19 vaccines are available to everyone 6 months and up; COVID-19 boosters to everyone 5 years and up. To learn more and find a COVID-19 vaccine near you, visit http://ow.ly/nnSn50JXhWb.
The new 988 Suicide & Crisis Lifeline is easy to remember – just like 911 – and offers compassionate care and support for anyone experiencing thoughts of suicide or self-harm, substance use, or any other kind of behavioral health crisis.You can also dial 988 if you're worried about a loved one who may need crisis support.Trained crisis counselors are available 24/7. Available on every landline, cell phone and voice-over-internet device in the United States, call or text 988 or chat 988lifeline.org.
Fire Officials Warn Wildfire Fuels Are Dangerously Dry
Even though this spring made history by being one of the wettest on record in Oregon, now that summer has arrived in full force, fire crews say that an extra dose of precipitation is already drying out.
Local fire crews, along with the Oregon State Climatologist, are calling it a false sense of security. All that rain the Pacific Northwest has been boasting about during spring is now running low.
Now, the fuels firefighters watch so closely during the summer are dangerously dry. When you're in the forest, you're walking on what's called the duff layer. This is where you'll find pine needles, small sticks, and other build-ups. About two inches below that is the surface soil layer. Even further down is the root layer. It's about three feet deep.
This is where the concern lies for fire crews. According to the most recent wildland fire potential outlook, parts of eastern Washington and Oregon are at a higher-than-normal risk for a wildfire.
Looking at the U.S. Drought Monitor, about a third of Oregon is still under extreme drought.
The Oregon Department of Forestry reminds the community as temperatures heat up this week, it takes all Oregonians to prevent wildfires.
Officials say to not park your car over tall or dry grass, know the burn bans before you spend time outdoors, and safely dispose of cigarette butts.
Road Rage Victim Killed Near Grand Ronde
(Grand Ronde, OR) — Oregon State Police need the public's help to find a suspect in a road rage incident that left a man dead on Highway 18 in the Coast Range west of Grand Ronde. It happened Wednesday night around 9 p.m.
The victim stopped to let the suspect vehicle pass when a passenger in the vehicle fired multiple shots, killing the driver. A passenger in the victim's vehicle escaped injury. Investigators are looking for a black car with a round emblem on its hood. The shooting suspect is described as a young man in his early 20s, small in stature with short, dark hair.
Juvenile Killed In Officer Involved Shooting in Salem
(Salem, OR) — Police say a wanted juvenile was killed in an officer-involved shooting Wednesday afternoon in Salem. The suspect was wanted for a shooting at Salem Center Mall in March and a shooting in a parking lot at Columbia Bank last month.
Police found the suspect in a car on Oak Park Drive Northeast and claim the suspect pulled a gun, leading to an exchange of gunfire. The suspect died at the scene. An officer was also injured, but he's expected to survive. The officers are identified as Brian Frazzini, Eric Hernandez, Ryan Morris and Adam Waite. They're on administrative leave during the investigation.
Klamath County Sheriff's Office Busts Illegal Marijuana Grow Near Sprague River
Another illegal marijuana grow has been busted in Southern Oregon, this time in Klamath County near Sprague River.
According to the Klamath County Sheriff's Office, on Wednesday Klamath County Sheriff's detectives, deputies, and members of the Basin Interagency Narcotics Enforcement Team (BINET) served a search warrant on a marijuana grow operation near Sprague.
According to police, the property, located on Curry Street, contained multiple illegal cannabis plants in temporarily placed "hoop-style" greenhouses.
During the search several illegal cannabis plants were seized and destroyed on site.
The Klamath County Sheriff's Office has informed us that Kenneth Wilson, a suspect, who was on scene at the time the search warrant was served was interviewed and later arrested and lodged at the Klamath County Jail for Unlawful Possession of Marijuana, Unlawful Manufacturing of Marijuana, and Unlawful Use of Ground Water.
According to police this case was the result of an extensive investigation of illegal/black market marijuana growing operations. For this site, police say there was no licensing for any type of cannabis growing, handling, or processing. Klamath County Code Enforcement responded to the scene as did the Oregon State Water Master and Klamath County Solid Waste.
In addition to the criminal charges, Oregon State Water Master and Code Enforcement found the grow operation in violation of their enforcement code.
If you have information on illegal marijuana grow operations please contact us at mjtipline@klamathcounty.org
Fatal Crash Hwy 97- Klamath County
On July 16, 2022, at approximately 4:12 p.m., Oregon State Troopers and emergency personnel responded to a multi-vehicle crash on Hwy 97 near milepost 230.
A Suburban was traveling south on Hwy 97 when the vehicle in front of them rapidly decelerated. The driver of the Suburban, Andrew Castricone (58) from San Carlos, CA, swerved into the northbound lanes striking an FJ Cruiser head-on. The FJ Cruiser, driven by Ramsey Mohammed Mahmoud Shanbaky (43) from San Mateo, Ca. hit the vehicle behind it, a Subaru, driven by Kevin Richard Smith (34) from Medford. Another vehicle, a Lexus, driven by Robert Brian Anderson (63) from Chico, Ca., sustained damage from the crash debris.
The driver, Andrew Castricone, and one of the passengers, Nicole Lindeman (20) from San Carlos, Ca, of the Suburban were pronounced deceased at the scene. The driver of the FJ Cruiser, Ramsey Mohammed Mahmoud Shanbaky, was also pronounced deceased at the scene.
All other occupants of the Suburban and FJ Cruiser were transported to an area hospital with serious injuries as well as the driver of the Subaru.
The crash blocked Hwy 97 for approximately 3 hours. OSP was assisted by Chiloquin Fire and Rescue, Chemult Rural Fire, and the Oregon Department of Forestry.
Cattlemen Disburse Wildfire Grant Funds to Affected Ranchers
2021 was another disastrous year of large and dangerous wildfires that swept through rangelands in many areas of Oregon. The loss of grazing ground and timberland were devastating but farm structures were also destroyed. We deeply thank the many dedicated folks that risk their lives fighting these fires and protecting people, livestock and property.
OCA Wildfire Assistance fund has been a gathering place for receiving and disbursing donations for Wildfire Assistance to affected cattle producers. In 2019 and 2020 over $45,000 was distributed for wildfire losses to affected producers. OCA received over $37,000 in donations to assist cattle producers and other entities covering losses and expenses caused by 2021 Wildfires.
Cattle producers were eligible for funds to reimburse losses incurred from 2021 wildfires. Applications were taken through May 31, 2022 to allow producers time to assess losses and costs. The majority of the funds will go to replacing fencing, burned working/loading facilities, costs of relocating cattle and horses to other grazing areas and purchasing additional feed to replace burned range land. The majority of the losses were as a result of the Bootleg and Cougar Peak fires in Lake and Klamath Counties and wildfire in Douglas County.
The applications were reviewed by the OCA Private Lands – Wildfire Assistance Committee and approved for disbursement. Total loss applications received were $128,886. 100% of the funds totaling $37,790 will be distributed to 7 applicants approved for funding.
Major donors were Grange Co-op, Northwest Farm Credit Services, BL & RA Hjort, Aaron Borror and Malott Livestock, LLC. A total of 34 individual and business donors contributed to the fund and many more donated at the OCA fund raiser. OCA appreciates every donation to help producers recover some of their losses. Oregon Cattlemen's Association
AAA Survey Shows Car Shoppers Still Hesitant to Buy Electric Vehicles
Despite improved technology and a reduction in purchase prices, Americans aren't rushing out to buy electric vehicles. "Gas and diesel prices soared to record highs this spring, and that has made electric vehicles more attractive to about a quarter of all consumers, especially younger generations," AAA's Marie Dodds states, "But other factors, including the higher purchase cost of an EV, concerns about access to charging, and range anxiety, are still holding consumers back from going electric."
In the survey, about 25% of respondents say they're next vehicle is likely to be electric, "The number one reason is to save money on fuel – 77% say that's why they'd want an EV," says Dodds. But, 24% weren't sure about buying an EV, while 51% thought it was unlikely or very unlikely they'd buy one.
The numbers haven't changed much since a 2019 survey. Dodds says consumers are worried about the higher price tag for EVs, access to charging and, there's what she calls range anxiety, "60% of Americans think electric vehicles can travel between 100 to 350 miles before running out of charge, which is true. These findings suggest the increase in range over the last several years isn't enough to completely address consumer concerns."
No surprise, younger drivers are more likely to buy EV: 30% of Millennials compared to 16% of Baby Boomers.
Women Missing Since May between Medford, Grants Pass and Roseburg per Oregon State Police
MAKENNA KENDALL 5/3/2022
ERICA LEE HUTCHINSON 5/26/2022
DANIELLE MARIAH SHARP 6/12/2022
KAITLYN RAE NELSON 6/14/2022
BROOKLYN JOHNS 6/14/2022
DONNA LEPP 6/27/2022
BARBARA DELEPINE 7/4/2022
KENDRA MARIE HANKS 7/7/2022
CORI BOSHANE MCCANN 7/8/2022
RAVEN RILEY 7/13/2022
TAHUANA RILEY 7/13/2022
Women Missing Since May in Lane County per Oregon State Police
BREISA RAQUEAL SIKEL 5/3/2022
HANNAH MARIE RHOTEN 5/17/2022
MARISSA ALEESA DAMBROSIO 5/18/2022
ISABELLA BROSOWSKEYOUNGBLOOD 6/7/2022
LOUISA DAY AVA 5/28/2022
AMY CHRISTINA SULLIVAN 6/1/2022
NIKKI ELIZABETH ZEREBNY 6/6/2022
SHADOW STAR SEVIGNY 6/17/2022
SHAUNA LEAH HOGAN 6/17/2022
AIRIONNA CHEALSEY RHODES 6/27/2022
KARISSA RENEE ADAMS 7/6/2000
VERONICA ESSYNCE DELERIO 7/6/2022
AUBRIE HANNA STEPHENS 7/10/2022
LARA IVEY STEINMETZ 7/11/2022
SARA LINDSAY SCHAEFER 7/12/2022
That's 26 women missing in 2 1/2 months between Medford and the Eugene area. Four more just over the last couple of days. That averages out to 8 women missing per month in Southern Oregon. https://www.oregon.gov/osp/missing/pages/missingpersons.aspx
https://www.facebook.com/pg/Have-You-Seen-Me-Southern-Oregons-Missing-People-161249961222839/posts/