The latest news stories and stories of interest in the Willamette Valley from the digital home of Southern Oregon, from Wynne Broadcasting's WillametteValleyMagazine.com
Friday, March 24, 2023
Willamette Valley Weather
Governor Tina Kotek Visits Benton County on 'One Oregon Listening Tour'
In the latest stop on her "One Oregon Listening Tour," Governor Tina Kotek visited locations in Benton County to talk about career and technical education, semiconductor manufacturing, and healthcare.
Thursday, Governor Tina Kotek visited communities in Benton County for the fourth stop of her One Oregon Listening Tour.
Governor Kotek and First Lady Aimee Kotek Wilson participated in three sessions with community members to hear their perspectives on education, advanced manufacturing and the CHIPS Act, and behavioral health and housing.
"Today was inspiring, starting with an incredibly impressive group of high school students in Philomath who are getting hands-on career and technical learning experience that is putting them on the path for long-term success," Governor Kotek said. "My trip to Hewlett Packard in Corvallis showcased a company that is ready to grow, innovate, and bring more good-paying jobs that will build our economic future. And I valued my conversation with local housing and behavioral health providers. Direct communication like we had today with advocates on the ground is invaluable to tackle challenges of statewide concern."
After breakfast at The Dizzy Hen in Philomath, the day started with a conversation with more than 20 students at Philomath High School about their experience with the school's career and technical education (CTE) programs. The school has CTE programs in forestry, industrial shop, early child development, culinary arts, computer programming, and health occupations. The students spoke about how the programs have helped them and what it means for their futures.
This was followed by a roundtable with Philomath School District administrators and educators who spoke about their successes and challenges. They highlighted their above-average graduation rates and strong reading scores in their elementary levels. They also discussed the need for enhanced mental health supports for students.
The Governor and First Lady then traveled to Corvallis for a tour of the Hewlett Packard (HP) Campus facilities. The tour was followed by a working lunch with HP executives, Oregon State University President Jayathi Murthy and Benton County Commissioner Xan Augerot to discuss workforce and economic development opportunities from federal CHIPS Act funding.
The day concluded with a visit to Coffee Culture Annex in Corvallis for a discussion with local behavioral health and housing providers. The group spoke about the benefits of Measure 110 funding, the growing challenge of food insecurity with the end of pandemic-era SNAP benefits, and the positive impact that supportive housing is providing for formerly homeless Oregonians in the area. Corvallis Housing First, which operates the city's Project Turnkey transitional housing site, noted they have permanently housed more than 40 people since last July.
Governor Kotek will visit every county in Oregon within her first year in office through the "One Oregon Listening Tour" to foster trust and build strong partnerships across the state to get results for Oregonians, with a focus on housing and homelessness, mental health and recovery, and early learning and education. https://www.oregon.gov/newsroom/pages/NewsDetail.aspx?newsid=87819
Jackknifed Semi Truck Closes I-5 Southbound South Of Cottage Grove Early Friday
UPDATE 8:45 a.m.: ODOT reports backed up traffic is being diverted onto the shoulder around the crash at milepost 166, about eight miles south of Cottage Grove. It may take several hours before lanes can reopen and for the backed-up traffic to clear. Travelers are still advised to postpone trips southbound on I-5 near the crash site.
On this busy Friday morning when spring break kicks off and many people are traveling, the southbound lanes of Interstate 5 were blocked by a crash involving a jackknifed semi as of 7:30 a.m. Friday.
The Oregon Department of Transportation said the crash is blocking all southbound lanes and there is no current estimate of when lanes will reopen. The crash is at milepost 166, about eight miles south of Cottage Grove.
There are no alternate routes or detours in that area. With winter weather dropping snow over much of Oregon's higher elevations, ODOT Region 2 communications manager David House suggests travelers delay or reschedule their trips for several hours to avoid being stuck in the backup.
ODOT also warns of trying to use mapping software to find detours in the area. Detours off established highways, especially in winter weather conditions, can be dangerous. Northbound lanes are not affected. Check TripCheck
BCSO Seeks Information from the Public in Infant Death Investigation
CORVALLIS, Ore. – The Benton County Sheriff's Office is continuing to investigate the circumstances surrounding the death of an infant, Opal Oaks, on February 26, 2023.  
The Sheriff's Office is seeking information regarding the welfare and location of two-month-old Opal Oaks from her birth, on December 16, 2022, to her death on February 26, 2023.
If between these dates you saw any of these individuals – Andrew Oaks, Barbara Oaks, or Deborah Albin – in the presence of an infant, or have any information about the health, welfare, or location of Opal, the Sheriff's Office urges you to call their anonymous tipline at 541-753-8477 or email the Benton County Sheriff's Office at entonCoSheriff@bentoncountyor.gov%20″>BentonCoSheriff@bentoncountyor.gov, referencing case #2023-526.
Search Warrant Service — Lane County Sheriff's Office
Lane County Sheriff's deputies served a search warrant shortly before 9:00am Wednesday morning at a residence in the 1500blk of Adelman Lp. in Eugene pursuant to a robbery investigation they are conducting. 
The Sheriff's Office's Special Response Team initially responded to assist with the warrant as there was information to believe that the suspects could be armed and dangerous. 
Deputies are still processing the scene and the investigation is ongoing. One person was detained for questioning without incident. More information will be released as it becomes available.
Douglas Co. Sheriff's Office to Conduct Training at Green and Sunnyslope Elementary Schools
ROSEBURG, Ore. – The Douglas County Sheriff's Office will be holding an in-service training for Sheriff's Office deputies and staff from all divisions during Roseburg School District's Spring Break. The training will take place Tuesday, March 28th -Thursday, March 30th.

The training will be held at Green and Sunnyslope Elementary schools. DCSO staff will receive instruction in First Aid/CPR and ethics. Deputies will also participate in scenario based training. These continuing education hours keep deputies current with their certification requirements mandated by the Oregon Department of Public Safety Standards and Training and to maintain a professional level of service.

In the interest of public notification and awareness, community members should be aware that the scenario based training will look like an active shooter/active threat response. Simulated gunfire, yelling and a general police presence may be observed by community members in the area. Signage will be present indicating a training exercise is in session.

"We believe it is vitally important to train our deputies in the response of active threats. The use of scenario based training provides the deputies with the most realistic training possible and helps to develop them professionally in order to better serve our communities," said Lt. Brad O'Dell. "We are thankful to the Roseburg School District for their support and hospitality in hosting this important training session.

Roseburg School District Superintendent Jared Cordon said he is grateful for the ongoing partnership between the district and local law enforcement agencies.

"We appreciate the opportunity to support the Douglas County Sheriff's Office in their training efforts," Cordon said. "The more we work together to plan and prepare for potential emergencies, the safer our schools and community will be."

For the safety of the community and deputies, the school campus will be closed to the public during the training sessions each day, which start at 7:00 am and end at 5:00 pm.

Any public questions should be directed to the Douglas County Sheriff's Office at 541-440-4450 or dcso.pio@co.douglas.or.us.
Lane County Sheriff's Office Seeking Applicants for Cadet Program
Interested in serving your community and learning more about a career in law enforcement?
The Lane County Sheriff's Office Cadet Program is for young adults between the ages of 18 and 21 who have an interest in law enforcement. The Cadet Program provides an opportunity to get first-hand experience working in the criminal justice field. Cadets are able to develop skills and knowledge in order to prepare for full-time employment in a very important and fulfilling career.
Requirements:
Must be a U.S. Citizen
Must be between 18 and 21 years of age
Must be enrolled in high school / GED program, or have a high school diploma / GED
Cadets Will:
Participate in law enforcement ride-alongs
Receive training in law enforcement procedures, legal issues, use of force, corrections operations and patrol operations
Learn about the services provided by the Sheriff's Office and work with special teams including Marine Patrol, Dunes Patrol, And Forest Patrol
This is a competitive process that will be closing soon! Apply today at:
Additional information may be found at: http://www.LaneCountyOr.gov/Sheriff_Cadet_Program or by contacting Sgt. Alex Speldrich at ich@lanecountyor.gov">alex.speldrich@lanecountyor.gov
$200 Million Housing and Homelessness Package Clears Legislature
Oregon lawmakers passed a $200 million bipartisan housing and homelessness package Tuesday night, sending it to Gov. Tina Kotek's desk for final approval.
The $200 million outlay, encapsulated in House Bills 2001 and 5019, will bolster rent assistance, expand shelters, protect homeless youth and catalyze housing development, among other initiatives. The package also makes several policy changes intended to defray the affordable housing crisis, including giving tenants more time to pay overdue rent and holding local jurisdictions accountable for producing more housing.
The Senate passed both bills on a 21-7 vote Tuesday evening, less than a week after the package was overwhelmingly approved by the House. The package is among Kotek's top policy priorities for the session.
The rapid and lopsided passage of the first bill represents a major victory for Kotek, a Portland Democrat who made housing her signature issue during her record-setting nine years as speaker of the House. The fact the money measure passed the Legislature in March, with millions slated to be pumped out to communities starting this week, is highly unusual and shows the sense of urgency in both parties to address the state's pressing housing shortage.
The Senate passed both bills on a 21-7 vote Tuesday evening, less than a week after the package was overwhelmingly approved by the House. The package is among Kotek's top policy priorities for the session.
The rapid and lopsided passage of the first bill represents a major victory for Kotek, a Portland Democrat who made housing her signature issue during her record-setting nine years as speaker of the House. The fact the money measure passed the Legislature in March, with millions slated to be pumped out to communities starting this week, is highly unusual and shows the sense of urgency in both parties to address the state's pressing housing shortage.
Knopp and Sen. Daniel Bonham, R-The Dalles, both said more mental health and addiction resources need to be created throughout the state as well.
Kotek is slated to sign the package quickly, allowing $30 million to be pushed out to local communities immediately. Those initial funds will go to eviction prevention, rent assistance and some state staffing costs. The remainder of the funding will become available July 1, the start of the next fiscal year.
The money will be on top of any funding that makes its way into the general housing and homelessness budget for the coming two years. Service providers view the emergency funding as a down payment that will allow them to quickly scale up their work while they wait on typical state funding.
The largest portion of money, $55 million, will be used to secure apartments for unhoused people. That money will go to nonprofits and landlords to help 1,200 unsheltered people become housed, largely by paying the rent for them to live in privately owned apartments.
Multnomah County plans to use its portion of the funding to resurrect a pilot program it initiated last summer that paid landlords to house unsheltered people while providing landlords assurances such as landlord-tenant mediation and money to repair damages. They hope to house 300 people through that.
The next largest portion of money, $34 million, will go toward rent assistance aimed at preventing evictions. State officials project the rent assistance will prevent 8,750 families and individuals who are currently housed from becoming homeless. That equates to nearly $3,800 per household.
Multnomah County aims to prevent 2,000 households from becoming evicted.
The bill also brings back some pandemic-era renter protections that have since expired. It will require landlords to give tenants 10 days' notice instead of 72 hours before initiating an eviction, provide tenants with information about their rights and resources upon notice of eviction and accept payment of rent after eviction court proceedings have started.
Policy changes will also require judges to throw out an eviction case if a landlord refused to accept rent payments, including through a rent assistance program. Judges will also be required to seal some eviction records to avoid causing barriers to future housing for individuals.
Another $25 million in the bill is earmarked for to support youth through housing, shelter, behavioral health care and other supportive services. Most of the funding will expand the state's host home programs that are like foster homes but are for older teens and grant them more independence. Some money will also be used to expand local youth housing and shelter programs and add emergency housing funds for families with school-age children.
The package calls for $23.8 million to expand low-barrier shelters statewide to serve those who aren't able to immediately access housing. The funding will add 600 beds across a state that has an estimated 12,000 people experiencing unsheltered homelessness, according to the last federal count of homeless individuals.
Multnomah County will get 150 of those new shelter beds, though the city of Portland will not be allowed to use the funds for the planned mass city-run tent encampments, the first of which is slated to open this year.
In addition, $27 million will go to 25 rural counties, enabling them to create 100 new shelter beds and house 450 people. It is estimated there are about 5,000 unsheltered people across the 25 rural counties.
But Bonham and Sen. David Brock Smith, R-Port Orford, said more funding for rural communities needs to be considered in the future.
The package will also allocate $20 million to produce affordable modular homes. The factory-built homes are intended to avoid the delays that typically come with building homes and apartments from scratch. The projects could be tiny homes, backyard dwelling units, duplexes or full apartment complexes.
The bills will also relax land use restrictions to allow for more rapid construction of housing in urban and rural areas. That includes eliminating some permitting requirements and prohibiting appeals to housing development plans if the local government has followed the state's plans.
In a push for more local accountability, the state will now have some increased authority over local development plans. State officials will annually assess and set housing production targets for cities with more than 10,000 residents and can intervene if those cities fall behind.
The bill also provides $5 million to develop housing for agricultural workers. (SOURCE)
Oregon Legislature Proposes Tight Budget As COVID Cash Runs Out
Legislative budget writers plan to trim many state agency budgets while increasing overall spending in the next two years.
Co-chairs of the legislative budget-writing committee on Thursday shared the broad strokes of their $31.6 billion spending planEditSign for the two years beginning July 1. It starts with 2.5% reductions to current agency spending, cuts that would primarily be achieved by not filling vacancies.
The planned cuts come as lawmakers and Gov. Tina Kotek envision spending hundreds of millions more to address the state's most pressing issues, including a housing shortage, a dearth of public defenders that has left Oregonians without their constitutional right to representation in criminal cases and a rollback of Medicaid benefits expanded earlier in the pandemic that could leave up to 300,000 Oregonians uninsured.
It's larger than the $29.3 billion the state spent in the current budget cycle, but it still represents a haircut for state agencies who will be asked to hold positions vacant. One key factor making budgeting decisions harder this year: The billions of dollars in federal COVID funding that helped grow state programs and provide one-time boosts for schools and housing isn't available.
"We no longer have that federal fund buffer, so things will be a little tighter," said Rep. Tawna Sanchez, D-Portland and one co-chair of the Joint Ways and Means Committee.
Like a $32.1 billion plan Kotek proposed in January, the plan Sanchez and the other budget-writing co-chair, Sen. Elizabeth Steiner, D-Portland, unveiled calls for increasing school funding and prioritizing education, housing and human services.
Unlike the governor's plan, which called for diverting hundreds of millions of dollars intended for the state's reserves to meet those goals, the legislative proposal would maintain a 1% distribution to the state's rainy day fund of close to $300 million.
The framework includes almost $200 million in early spending on a $217 million housing package that Kotek is expected to sign soon and a $210 million set of incentives for semiconductors and advanced manufacturing that's working its way through the Legislature. Some of the money for those packages will come from the current budget.
Beyond that, the plan anticipates spending $325.6 million toward top state priorities, including managing Medicaid eligibility and preserving basic health and dental coverage for low-income adults who risk losing Medicaid coverage. Public defense services, literacy programs, housing and behavioral health and reproductive health are also included in that $325.6 million pot – but the state doesn't have enough money to meet those needs, according to the framework.
The state's next economic forecast in May could follow recent trends of showing higher-than-expected revenue, meaning lawmakers will have more flexibility to increase spending on priorities or decrease cuts.
But if that doesn't happen, Steiner said they'll face tough decisions when crafting the full budget. They may have to dip into the money allocated for reserves, make additional cuts to state agencies or limit new spending.
"This is my fifth year doing this, and it's going to be the hardest," Steiner said. "People have become accustomed to having lots and lots and lots of resources. The combination of the uncertain economy and inflation are putting us in a very different place than we were two or four years ago."
The proposal released Thursday is a high-level look at state finances, with many details left to negotiate. Sanchez and Steiner shared it with other lawmakers shortly before releasing it to the public with a clear message for the 88 other legislators: There won't be enough money for everything they want to do.
"There really isn't a whole lot of room for a whole lot," Sanchez said. "We did deprioritize new things. We're not going to move into new things really right now because we don't know where we're going to be. We don't know what the May forecast is going to look like."
The proposal calls for increasing the State School Fund, which covers most of the state's K-12 budget, from $9.5 billion to $9.9 billion. That's the same increase as Kotek's proposal, though lower than the $10.3 billion education groups say is necessary to maintain current service levels for students.
Education advocates widely panned the legislative proposal, saying it doesn't do enough to fund K-12 education and universities. Jim Green, executive director of the Oregon School Boards Association, said in a statement that districts project widespread cuts in programs and staff.
"We appreciate that legislators are trying to address budget pressures," he said. "But schools are facing a crisis in serving students' increasing social and emotional needs, as well as workforce shortages."
University leaders, meanwhile, noted that Oregon spends less per student than most other states. Nagi Naganathan, president of the Oregon Institute of Technology and chair of the Oregon Council of Presidents, said students need more support after the stresses of the pandemic.
"Our students, both current and future, have been hit hard by the pandemic," she said. "They require more wraparound and behavioral health services, stronger academic advising, greater financial aid, and more support than ever on their path toward a degree."
The legislative proposal calls for most state agencies to keep a certain number of vacant positions open to save costs, though it also calls for about $120 million in recruitment and retention benefits to keep corrections workers and behavioral health caregivers on the job.
"Those are areas where we have experienced particularly acute staff shortages," Steiner said.
The framework also includes $330 million for state employee raises expected to result from future collective bargaining agreements.
The human services budget includes nearly $109 million to comply with a federal court order that requires the Oregon State Hospital to treat and release patients back to their communities on a set schedule, and for related needs. That order applies to patients who face criminal charges and need treatment so they can aid in the defense of their case.
The initial plan doesn't include state-issued general obligation bonds, which lawmakers continue to negotiate. Kotek has called for issuing about $770 billion in bonds to build new affordable homes for renters and homeowners, while universities seek bond funding for campus construction projects.
Bonds also could come into play for Oregon's portion of the Interstate 5 bridge replacement between Portland and Vancouver, Washington: Oregon's northern neighbor expects the state to match Washington's $1 billion commitment to the bridge, which could cost as much as $7.5 billion.
In a statement, Kotek praised the chairs' "thoughtful approach" to developing a budget proposal.
"We share a mission-focused vision: rather than scores of new programs, we need to prioritize investments that will deliver meaningful results on housing and homelessness, behavioral health, and education," she said. "As the budget process moves forward, I urge the Legislature to exhaust every possible funding option in order to make the visible and measurable progress that Oregonians are demanding on these issues of statewide concern." (SOURCE)
Bill Looks To Address Source Of Oregon Water Pollution
A new bill introduced into the Oregon Legislature last week is hoping to address Oregon's water pollution issue, with some people believing that the unhoused population play a contributing role.
If passed, Senate Bill 1086 would, "authorize any person to submit a complaint to the Department of Environmental Quality if the person reasonably believes that the camping site of homeless individuals is causing discharge of wastes into state waters."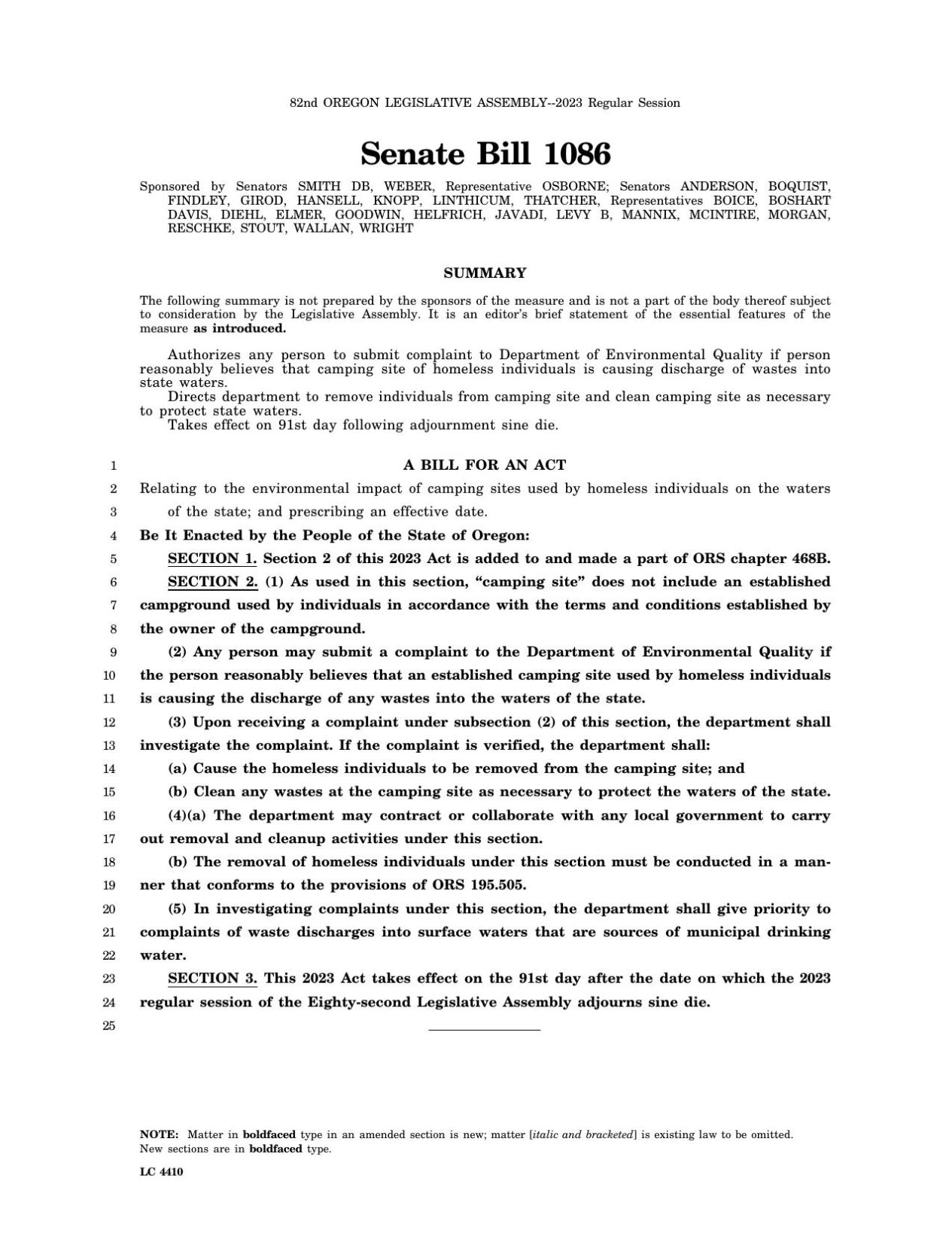 The bill would also direct the department to remove those from the camping site and clean the camping site as necessary to protect state waters.
"We cannot allow the homeless to continue to impact the waters of the state," said Sen. David Brock Smith, a chief sponsor of the bill and Republican representing District 1, which represents all of Curry County and parts of Coos and Douglas counties.
According to the bill's text, the DEQ may contract or collaborate with any local government to carry out removal and cleanup activities. But it states that the "removal of homeless individuals under this section must be conducted in a manner that conforms to the provisions of ORS 195.505," which is the state's camp removal & unclaimed personal property policies.
"These homeless camps don't have any consequences, and yet they're some of the most polluting," Smith said.
During the removal process in affected areas, Smith said outreach services will be provided to those that want to get off the streets. However, for those who decide to stay on the street, Smith said, there is no solution on how to stop them from polluting again.
"That's the billion dollar question," he said.
During his interview with NewsWatch 12, Smith claimed the state has spent millions of dollars over the last six years to clean up Oregon's waterways, but with little success. He also claimed that the unhoused, over the years, have been polluting Oregon's water with trash, fecal matter and even drugs, which has been slowly contaminating Oregon's water.
Although the bill is still in its very early stages, Smith said he hopes the bill will receive bi-partisan support.
"I look forward to other colleagues signing on," Smith said. "This isn't a partisan issue. This is a bipartisan issue to protect waters of the state, regardless of who is doing the polluting." (SOURCE)
Oregon Psilocybin Services issues state's first licenses
PORTLAND, Ore. –Oregon Health Authority (OHA) has issued the state's first psilocybin license as part of the nation's first regulatory framework for psilocybin services. The manufacturer license was issued to a woman-owned business, Satori Farms PDX LLC, owned by Tori Armbrust. As the nation celebrates Women's History Month, this woman-owned business will bring communities one step closer towards accessing psilocybin services in Oregon.
"We congratulate Tori Armbrust of Satori Farms PDX LLC for being issued the first psilocybin license in Oregon's history and for representing women leading the way for the emerging psilocybin ecosystem," says Oregon Psilocybin Services Section Manager Angie Allbee. "We are committed to fostering an inclusive partnership with our regulated community to ensure safe, effective and equitable psilocybin services throughout the state."
The role of Oregon Psilocybin Services (OPS) is to license psilocybin facilitators, manufacturers, service centers and laboratories, while ensuring that those licensees and their workers comply with Oregon law. OPS began accepting applications for the four license types on January 2, 2023. OPS expects to issue additional licenses to laboratories, service centers and facilitators in the coming months.
Anyone interested in accessing psilocybin services can find service centers and facilitators once they are licensed on the OPS Licensee Directory website. The directory will contain licensee names and contact details for all licensees that have requested to have their information published. This may also provide opportunities for licensed psilocybin businesses to connect.
Oregon Psilocybin Services (OPS) has also begun publishing a Weekly Report on Applications for Licenses and Worker Permits. The new weekly report includes information about total number of applications received by type and status. OPS will update the report on a weekly basis.
OPS encourages the public to visit the OPS website for more information and to sign up for updates on the section's work. For the latest updates, subscribe to the Oregon Psilocybin Services distribution list at: oregon.gov/psilocybin
Four Sisters Claim Oregon Lottery's $1 Million Raffle Prize
Salem, Ore. – A retired Wood Village woman and her three sisters are planning a fun vacation together after winning the $1 million top prize in Oregon Lottery's annual St. Patrick's Day Raffle.
Carol Serbick bought the winning ticket at Bumpers Grill & Bar in Fairview on March 2, 2023 – about a week before tickets were sold out.
"I went to the restroom, walked past the bar and said to the bartender, 'just give me one ticket,'" she said. "Between us sisters, we purchased a total of nine tickets."
The sisters had agreed to split the prize money before the winning numbers were drawn. The plan was for each sister to buy two – but Serbick picked up the ninth ticket on a whim. A first time Raffle player, Serbick is the oldest sibling and all four are retirees looking forward to a sisters' trip.
To check the winning numbers for all 1,801 Raffle prizes, players can use the Lottery's smart phone app, go to www.oregonlottery.org or visit a participating Oregon Lottery retail location.
The $500 and $100 prize winners can claim their prizes at any Oregon Lottery retail location. In addition, players can claim their prize by mail – visit www.oregonlottery.org/claim-a-prize/ for instructions.
The Raffle offers the best odds of any Oregon Lottery game of winning $1 million – 1 in 250,000. Overall odds of winning a prize are 1 in 138.8. This was the 23rd time a Raffle was offered by the Oregon Lottery.
The Oregon Lottery reminds players to always sign the back of their Lottery tickets, regardless of the game. In the event of winning a jackpot, they should consult with a trusted financial planner or similar professional to develop a plan for their winnings.
Since the Oregon Lottery began selling tickets on April 25, 1985, it has earned nearly $15 billion for economic development, public education, outdoor school, state parks, veteran services, and watershed enhancements. For more information on the Oregon Lottery visit www.oregonlottery.org.
Senate Passes Bill To Recognize Potato As Official Oregon Vegetable
The Oregon Senate has passed a bill that will make the potato the state's official vegetable. It's the state's most widely cultivated vegetable crop on 44-thousand acres. Two-and-a-half billion pounds of potatoes are sold bringing in 216-million dollars to the state's economy.
Senator Bill Hansell says Oregon is also the state where a favorite potato product was created, "The iconic tater-tot was developed by two brothers in Ontario, Oregon who also created the OreIda potato company."
Potato farmers donate a million pounds of potatoes to the Oregon Food Bank each year. Oregon is the fourth largest potato producing state behind Idaho, Washington and Wisconsin. The bill now moves to the House.