The latest news stories and stories of interest in the Willamette Valley from the digital home of Southern Oregon, from Wynne Broadcasting's WillametteValleyMagazine.com
Friday, September 2, 2022
Willamette Valley Weather
East Waldo area moved to Level 1 (Be Ready) evacuation level due to Cedar Creek Fire
The Lane County Sheriff's Office has issued a Level 1 (Be Ready) evacuation notice for the following areas:
Islet Campground, North Waldo Campground and Harralson Horse Camp
All dispersed camping and recreation in the area east of the Waldo Lake shoreline between the United State Forest Service forest closure to the north, and south to just north of Shadow Bay Campground, and east to the Charlton Lake and Taylor Lake areas.

At this time, Shadow Bay Campground is not included in the evacuation notice.
Additionally, Deschutes County Sheriff's Office has approved adding the following areas adjacent to the Lane County evacuation notice as Level 1 (Be Ready):
Irish and Taylor Lake campgrounds and dispersed camping in the Charlton and Taylor lakes areas.
Level 1 (Be Ready) means you should be aware of the danger that exists in your area, monitor local media outlets and telephone devices to receive further information.
This is the time for preparation and precautionary movement of persons with special needs, mobile property, pets and livestock. People should make the best possible decisions for their safety.
Campers, hikers and other people planning to visit during the holiday weekend should consider making alternate plans.
Man Arrested After Series of Assaults in Eugene
A 26-year-old Portland man was arrested Wednesday after a series of assaults in Eugene, according to the Eugene Police Department. At about 9:30 a.m., police responded to reports of a man trying to stab the tires of a patrol vehicle. The police did not provide the location.
At the scene, employees of a nearby business told police that the man had first thrown a knife at a business employee who had been working on a customer's vehicle parked in an alley, police said. The knife had "narrowly missed" the employee's head and lodged in the side of the vehicle.
Police said the man then left that scene and proceeded to try and push a man from a motorized scooter, struck a woman near west 11th Avenue and Lincoln Street and then tried to take another man's phone by force, "poking" him in the side with a knife. The man was not injured.
Police say they were able to find and arrest reed at 12th Avenue and Lincoln Street at about 9:35 a.m. Reed was taken to the Lane County Jail on two charges of second-degree attempted assault, one charge of first-degree attempted robbery, two charges of unlawful use of a weapon, two charges of menacing, and one charge each of second-degree criminal mischief and disorderly conduct.
Arrest Made For Arson In Bethel Drive Fire
Update September 1, 2022: A suspect has been arrested in this case. Avery Jerome Boyle, age 47, of Eugene, was arrested on the following: Arson in the First Degree, five counts of Reckless Endangering, Criminal Mischief in the First Degree, Felon in Possession of a Restricted Weapon.
PREVIOUS INFORMATION FROM EUGENE SPRINGFIELD FIRE AUGUST 2, 2022:
Eugene Springfield Fire crews arrived to an apartment fire in the 200 block of Bethel Drive around 7:15 am on Tuesday morning. Staff from a neighboring business heard shouting that there was a fire and quickly set up ladders for residents to use to evacuate from the second story. These individuals and other responsive community members also pulled a resident out of the building from a first floor apartment.
ESF crews had the fire under control quickly but there is extensive damage to the building. One resident was transported to the hospital. There are cats that are unaccounted for. This incident is currently under investigation with Eugene Police Department's Arson Team.
Sweet Home Getting New Medical Clinic and a 48-Bed Memory Care Facility
People in Sweet Home will no longer have to travel to Lebanon for urgent medical care. Construction is ready to begin for Samaritan Health Services' new Sweet Home Family Medicine Clinic.
The nearest emergency care is in Lebanon, making it inconvenient for many Sweet Home residents to get care.The new 17,000 square foot facility will include a helipad, drive-thru pharmacy, 18 family medicine exam rooms, seven urgent care exam rooms, and a lab.In addition to the future clinic.
Just a few feet away at the Wiley Creek Senior Living, they are adding a 48-bed memory care facility. Both facilities are expected to open their doors to patients in the fall of 2023.
Authorities Seek Help in Finding Missing Teenager from Cottage Grove
The Oregon Department of Human Services Child Welfare Division asked the public Wednesday to help find Chloe Brinegar, a 15-year-old in foster care who went missing from Cottage Grove on Aug. 9 and is believed to be in danger.
ODHS asked the public for help in the effort to find Chloe and to contact 911 or local law enforcement if they believe they see them.
DHS said "Chloe likes to spend time in the Central Oregon communities of Bend, Sunriver, Deschutes River Woods, La Pine, Klamath Falls and Christmas Valley."
Name: Chloe Brinegar
Pronouns: She/they
Date of birth: Oct. 11, 2006
Height: 5-foot-1
Weight: 115 pounds
Hair: Brown
Eye color: Brown
Other identifying information: Chloe wears their hair cut short but often wears colored extensions. They have a hoop nose piercing and a tattoo of an eye on their wrist.
Lane County Sheriff's Office case #2204458
National Center for Missing and Exploited Children #1457931
Sometimes when a child is missing, they may be in significant danger, and ODHS may need to locate them to assess and support their safety. As ODHS works to do everything it can to find these missing children and assess their safety, media alerts will be issued in some circumstances when it is determined necessary. Sometimes, in these situations, a child may go missing repeatedly, resulting in more than one media alert for the same child.
Report child abuse to the Oregon Child Abuse Hotline by calling 1-855-503-SAFE (7233). This toll-free number allows you to report abuse of any child or adult to the Oregon Department of Human Services, 24 hours a day, seven days a week and 365 days a year.
We want to keep you informed about COVID-19 in Oregon. Data are provisional and change frequently. For more information, including COVID-19 data by county, visit our dashboard: http://ow.ly/EL9x50KymTM
Be advised: the recreational use health advisory issued August 17 for the Willamette River near Cathedral Park in Portland has been expanded to include upstream (south) to the Willamette Cove area near the SP&S Railroad Bridge. The expanded advisory is due to the presence of a cyanobacteria bloom and cyanotoxins above recreational use values for human exposure.
People should avoid swimming and high-speed water activities, such as water skiing or power boating, in areas of the river where blooms are, as the major risk of exposure is from ingesting water. Skin exposure may also result in a puffy red rash. Read the full press release: http://ow.ly/2YAf50Kx4vg"
Travel in Oregon Over Labor Day Weekend
It's the last big fling of the summer, the three-day Labor Day weekend is upon us. Gas prices are continuing to fall in Oregon, but that doesn't mean drivers will see many bargains at the pump this Labor Day weekend.
The average price has fallen 11 weeks in a row, according to the latest figures from AAA Oregon/Idaho. But that's not the entire story.
The statewide average in Oregon is $4.78 a gallon, down nearly 80 cents from the all-time state record set in mid-June. Still, Dodds said that's far more than the previous Labor Day record of $4.02, set in 2012.
Oregon's prices remain well above the national average of $3.84 per gallon. The highest gas prices can be found in Portland and Medford, according to AAA, while the cheapest average prices are in Salem. Eugene is near the middle of the pack at around $4.66 per gallon.
Despite the high prices, officials expect the highways to be packed with motorists as Oregon suffers through a heat wave with temperatures on average running 10-15 degrees hotter than normal. AAA Oregon says the Oregon coast will likely get hit the hardest with travelers wishing to get out of the hot weather inland.
Four National Forests in Oregon will open the 2022 commercial harvest season for Matsutake mushrooms following Labor Day weekend.
Matsutake mushroom season opens Tuesday, Sept. 6 in the Fremont-Winema, Deschutes, Umpqua and Willamette national forests. The 2022 season runs from Sept. 6 to Nov. 6.
A commercial permit must be purchased to pick any Matsutake mushroom in National Forests that is harvested for resale.
Permits cost $200 for the 62-day season, $100 for a half season permit (valid for 31 consecutive days) or $8 per day with a three-day minimum purchase (picking days do not need to be consecutive). Harvesters must be 18 years of age or older and have a valid ID to purchase a permit.
Permits may be purchased beginning Sept. 6 from 8 a.m. to 2 p.m. Mondays through Thursdays at the Crescent Ranger District Office, 136471 US Hwy 97 North in Crescent or from 7:45 a.m. to 4:30 p.m. Mondays through Fridays at the Chiloquin Ranger District office, 38500 US Hwy 97 North in Chiloquin.
Roseburg Headquarters Office — Monday through Thursday
Glide North Umpqua District Office — Wednesday and Friday
Diamond Lake District Office — Thursday and Friday
Tiller Ranger District Office — Thursday and Friday
Office hours at above locations are 8 a.m. to 4:30 p.m.
Contact other ranger district offices on the Deschutes, Fremont-Winema, Umpqua and Willamette national forests for permit availability.
Harvesters must be 18 years of age and older and have a valid ID to purchase a permit. Each permit purchase includes information and a map of areas open to harvest. Permits are not valid on state or private property.
Areas closed to harvest include Crater Lake National Park, Newberry National Volcanic Monument, HJ Andrews
Experimental Forest and Research Natural Areas, Wilderness areas, Oregon Cascades Recreation Area (OCRA), campgrounds and other posted closed areas.
The Forest Service requires commercial harvesters to have written permission from the agency to camp on any National Forest lands, except in designated camping areas. A campground for commercial harvesters opened Tuesday, Aug. 30 at Little Odell Industrial Camp near Crescent Lake. The Crescent Ranger District manages the camp. Site occupancy allows up to eight persons and two vehicles. There are firepits, garbage service andportable restrooms. Water is not available. Current Public Use Restrictions must be followed.
For more information about the Little Odell Industrial Camp, you can contact Crescent Ranger
District at 541-433-3200.
Public invited to comment on proposed rule change for archaeological permits on public lands
SALEM, Ore — The State Historic Preservation Office (SHPO) is requesting public comment on a proposed Oregon Administrative Rule change for archaeological permits on public land. The deadline is 5 p.m. Sept. 30, 2022.

State law requires a permit for archaeological excavation or collection of archaeological objects on public land. The agency received comments on the process for issuing permits on public and private lands earlier this year.
One comment led to additional changes that are now open for comment. The proposed changes in OAR 736-051-0080(3) create a process for the State Physical Anthropologist with the Legislative Commission on Indian Services (LCIS) to receive a permit.
Comments may be submitted:
• Online: https://www.oregon.gov/oprd/PRP/Pages/PRP-rulemaking.aspx
• Mail: Oregon Parks and Recreation Department, attn: Jo Niehaus, 725 Summer St. NE, Suite C, Salem, OR 97301
• Email: D.publiccomment@oprd.oregon.gov?subject=RE:%20″>OPRD.publiccomment@oprd.oregon.gov

A full copy of the proposed amendments is available: https://www.oregon.gov/oprd/PRP/Pages/PRP-rulemaking.aspx

After reviewing public comments, agency staff will present final amended rules for consideration by the Oregon Parks and Recreation Commission later this year. SHPO is part of the Heritage Division of Oregon Parks and Recreation Department.
Oregon economists are on a recession watch, according to the September Economic and Revenue Forecast released
In an analysis posted online, Economist Joshua Lehner says, "Inflation remains the key issue. Even as headline inflation slows in the months ahead, the underlying inflation trend is likely to remain above the Federal Reserve's target. As such, the Fed is raising interest rates further to cool the economy. Given the impact of rate increases is generally felt one to two years down the road, getting policy just right is extremely difficult."
That being said, if the policy isn't just right, Oregon could be headed into a recession.
"In our office's recent forecast advisory meetings, there was a strong consensus that the risk of recession was uncomfortably high. The outlook is essentially a coin flip between the soft landing and a recession. For now, our office is keeping the baseline, or most probable outlook as the soft landing and continued economic expansion. Employment, income, and spending continue to grow, but at a slower pace than assumed in previous forecasts. This slower growth is needed for inflation to subside. However, if inflation does not slow as expected, and the Federal Reserve raises rates even further, our office's alternative scenario of a mild recession beginning in late 2023 is more likely," Lehner added.
Lehner says if the state does hit an economic dip at the end of next year, it is expected to be mild and nothing like 2008.
"There's not imbalances, there's not like major sectors that need to be fixed or having issues or anything like that," Lehner said. "Inflation needs to slow back down from these really high rates. That's the entire challenge with the economy today."
In the short term, Oregon looks to be well off. The report says that growth in Oregon's revenue streams continues to outpace expectations. Both personal and corporate tax collections remain strong, keeping with income gains seen in the underlying economy. The state's forecast for the 2021-2023 biennium has been forecast upward.
Lehner says Oregon has $1.7 billion in reserves.
"That's like a 7% cushion in terms of the size of the general fund," Lehner explained. "That'll go a long way to helping stabilize the budget again, whenever that next recession does come."
Recessions are a regular part of the economy. Since 1950, the U.S. has had 11 recessions, which equates to more than one a decade.
The state, however, is quick to tame expectations saying that the near-term growth will be offset in future budget periods by a more pessimistic outlook. Growth in wages and spending will need to slow to tame inflation. If that happens, that will mean less state revenue growth across a wide range of taxes.
The Oregon kicker, a refund to taxpayers and corporations, will be at a record level for the 2023-2025 biennium. The state says the projected personal kicker is $3.5 billion. That will be credited to taxpayers when they file their taxes in the spring of 2024. The corporate kicker is $1.1 billion, which the state keeps to help fund education.
The full analysis is available on the Oregon Economic Analysis website.
Governor Kate Brown issued the following statement on the September Revenue Forecast:
"Thanks to the fiscally responsible decisions the State of Oregon has made over the last several years, we are well positioned with significant reserves to weather any economic challenges that lie ahead. Now, we must continue to make investments to benefit Oregon's working families, so that all Oregonians can feel the benefits of our strong economic recovery. With rising costs of living continuing to impact Oregon families and businesses, the Legislature can, in the budget for the next biennium, build on the investments we made in the last session––particularly in housing, workforce development, behavioral health, and child care. And, thanks to the work of Oregon's congressional delegation and the Biden-Harris administration to pass the Inflation Reduction Act and the Bipartisan Infrastructure Law, we can continue to invest federal dollars to lower costs and create jobs for working families."
Fatal hit and run crash on Interstate 5 – OSP Seeking public assistance – Marion County
On Tuesday, August 30, 2022 at approximately 12:42 PM, Oregon State Police Troopers responded to a report of a deceased individual located on southbound Interstate 5 near milepost 253.
Preliminary investigation revealed a pedestrian, identified as Cassandra Sullivan (35) of Salem, was struck by a vehicle. Sullivan sustained fatal injuries and was discovered by a litter crew on the shoulder of the road. It is believed that she was struck sometime during the evening of August 29 or the morning of August 30.
OSP investigators are seeking public assistance in locating the vehicle that struck her. The suspect vehicle is believed to be a:
Subaru: 2012-16 Impreza, 2013-2017 Cross Trek or a 2014-2018 Forrester
crystal white pearl in color
damage to the right front
was traveling southbound on Interstate 5 on evening of August 29 to morning of August 30, 2022.
Witnesses or anyone with information are encouraged to contact the Oregon State Police Dispatch Center at 800-442-0776 or OSP (677) from your mobile phone. Reference case number SP22-229957.
Wildfire Closed Interstate 84 near the Oregon / Idaho Border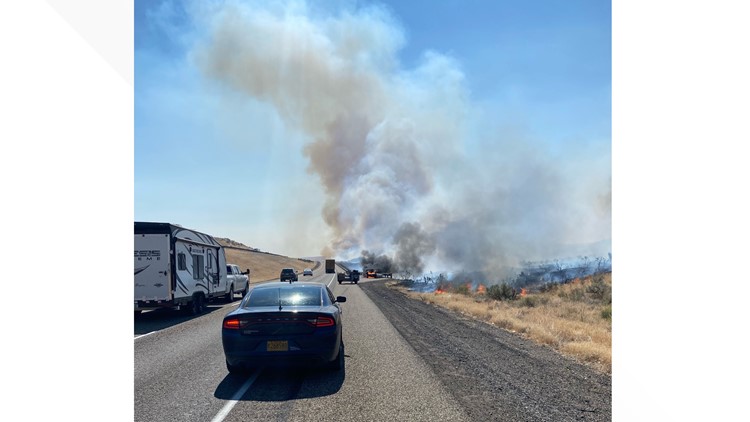 The eastbound lanes of Interstate 84 near the Oregon, Idaho border are back open following a wildfire Thursday afternoon.
The Oregon Department of Transportation (ODOT) reported the closure about miles east of Pendleton and into Ontario. Officials said the westbound lanes were closed between Ontario and Baker City.
Oregon Department of Transportation officials said the interstate's eastbound lanes were closed 6 miles (9.6 kilometers) east of Pendleton and into Ontario. Officials said the westbound lanes were also closed between Ontario and Baker City.
Officials said crews worked to fight the blaze, but high winds created challenges.
Traffic was backed up on the interstate and officials urged people to refrain from blindly following apps that could lead people onto unsuitable remote roads.
For the latest traffic conditions, check TripCheck.com.
Oregon Coalition Will Get $41.4 Million From The 'Build Back Better Regional Challenge' For The Timber Industry and Housing
An Oregon group that is working to produce affordable housing and boost the state's timber industry will get a big infusion of federal funds, the White House announced Friday.
The Mass Timber Coalition, a group that's helmed by the Port of Portland and includes several Oregon state agencies, will get $41.4 million from the "Build Back Better Regional Challenge," an economic development competition funded by President Joe Biden's coronavirus relief program.
That money will go toward a manufacturing facility at the Port of Portland, which will build and supply highly processed wood panels for modular homes to be used as affordable housing around the state.
The program is proposed to expand the state's "mass timber" industry, advancing construction techniques that use treated and reinforced wood for projects that wouldn't be possible with regular lumber.
More than $10 million will go toward building a manufacturing facility at Terminal 2, a little-used marine dock near downtown.
Other funds will go toward forest restoration projects in the Willamette National Forest. And some will go toward rewriting local building codes, including in areas of Oregon damaged by wildfires, to allow for mass timber construction.
And the University of Oregon and Oregon State University will use some of the funds to research the use of mass timber in housing.
Curtis Robinhold, executive director of the Port of Portland, said the facility will eventually produce about 2,000 modular homes a year.. But construction won't start until 2024, he said, and it likely won't be ready to produce homes until a year or two after that.
But, he said, the influx of funds will allow the coalition to quickly start in on work to bring mass timber into the mainstream use, and to fund forest restoration projects.
"We are transitioning from talk to action. That's always bumpy," he said. "The bigger question is the longer-term demand for more money to make this work."
But he said he's excited at the chance to get the projects started. "It's a massive investment in a space that's really cutting edge," he said.
The federal government is distributing $1 billion among 21 regional entities for business and workforce development projects. The winners, across 24 states, will each receive between $25 million and $65 million.
According to a statement from the White House, the administration officials who oversaw the competition paid special attention to rural, Tribal and low-income communities, as well as communities that previously relied on coal for job opportunities.
Oregon Emergency Management emphasizes the urgent need for Oregonians to prepare for disasters
The state's theme for September's National Preparedness Month is "Plan Today. Ready Tomorrow."
People in Oregon continue to feel the impacts of a changing climate, through larger wildfires, hotter days, intense storms and worsening drought conditions. These recurring events, coupled with the ever-present threat of a 9.0+ magnitude Cascadia Subduction Zone earthquake and a resulting tsunami, emphasize the urgent need for everyone in the state to be prepared. September is National Preparedness Month, and the state's theme – Plan Today. Ready Tomorrow. – urges everyone to take active steps to plan and prepare today to be ready for future emergencies and disasters.
"Every Oregonian can be ready for emergencies, and it doesn't have to be expensive or happen all at once," said Oregon Emergency Management (OEM) Director Andrew Phelps. "I know it can feel overwhelming, but it's about doing what you can, where you are, with what you have, to keep yourself and your family safe."
Being ready means having an emergency plan, staying informed and aware of risks, and knowing how to get information during an emergency. There are many effective low-cost and no-cost actions Oregonians can take today to be ready for tomorrow, including signing up or updating contact information for local emergency alerts, reviewing community evacuation routes, enabling Wireless Emergency Alerts (WEA) on cell phones, making copies of important documents, watching preparedness videos, learning how to perform first-aid, and getting to know neighbors and community resources.
"A big part of OEM's mission is to empower Oregonians to be as prepared as possible in an emergency," said Phelps. "A disaster can happen anywhere at any time, and once it occurs, it may take days or even weeks for responders to reach everyone impacted. For every one person that's prepared, that's one less person first responders need to assist, saving precious time and allowing them to prioritize life-threatening situations and our most vulnerable people. Doing our part to ready ourselves and our loved ones truly helps save the lives of others."
OEM suggests people with disabilities and their caregivers consider individual circumstances and specific needs when planning for emergencies and create a support network of people who can help during a disaster. Part of being ready involves neighbors helping neighbors. People should talk to others in their community to determine who has what supplies and who might need extra help in an emergency.
OEM's "2 Weeks Ready" program recommends Oregonians have an emergency plan and enough food, water and supplies to survive for at least two weeks following any large-scale emergency. Knowing disasters disproportionately affect marginalized communities, the department offers several downloadable equitable and accessible readiness resources to help inform all Oregonians of their risks and ways to help one another prepare. People are encouraged to contact their county emergency management office✎ EditSign✎ EditSign to request printed copies.
OEM is partnering with Governor Brown's Office – which has proclaimed September as National Preparedness Month in Oregon – and fellow state agencies and key partners to message National Preparedness Month throughout September. The agency is also teaming up with the American Red Cross Cascades Region to promote its Emergency: Alerts app. Learn more at OEM's website and social media platforms.
# # # You can get this document in other languages, large print, braille, or a format you prefer. For assistance, email licinfo@oem.oregon.gov">OEM_publicinfo@oem.oregon.gov or dial 711.
https://www.oregon.gov/osp/missing/pages/missingpersons.aspx
This is just a small compilation of missing women and their pictures in the area. There are of course women missing all over Oregon and men and children missing too. We don't mean to dismiss that, however, there is an inordinate amount of women who go missing each week and there could possibly be a connection with an anomaly or two here and there. Sadly most of them never get any attention. Family and friends must keep any information going and lead investigations so that they aren't just forgotten.
https://www.facebook.com/pg/Have-You-Seen-Me-Southern-Oregons-Missing-People-161249961222839/posts/