The latest news stories and stories of interest in the Willamette Valley from the digital home of Southern Oregon, from Wynne Broadcasting's WillametteValleyMagazine.com
Friday, November 3, 2023
Willamette Valley Weather
Daylight saving time for 2023 ends this weekend, when places observing it set their clocks "back" an hour.
Daylight saving time (DST) officially ends 2:00 a.m. Sunday, November 5, for 2023.
Lawmakers at state and federal levels have offered measures to keep DST year-round, making it permanent. In March, Oregon's senior U.S. Senator Ron Wyden and some of his Senate colleagues from both parties reintroduced legislation to end the practice of changing clocks twice a year. Their Sunshine Protection Act would apply to states observing DST, which Oregon and most states observe eight months of the year as Standard Time is observed the other four months from November to March.
Wyden said the bill would negate a need for people to change clocks twice a year, with benefits for the nation's health and economy. DST in the U.S. starts the second Sunday in March annually when clocks are set forward by one hour, ending the first Sunday in November when clocks are reset to standard time.
Springfield Receives Funding For Streetlight Replacement Throughout The City
The City of Springfield has received funding for streetlight replacement throughout the city. All streetlights within Springfield that are not currently Light Emitting Diode (LED) fixtures will be converted to LED lighting. This lighting is up to 70% more energy-efficient, lasts 4-5 times longer, and allows for better control over light output. The funding was received from the American Recovery Plan Act that was passed during the COVID-19 pandemic.
The city has already begun installing LED lights on all its streets and there are over 3,000 to go. Maintenance costs on the old lighting in Springfield have skyrocketed, and some fixtures aren't on the market any more, said Scott Miller, an engineer with the city.
The City has been planning for streetlight replacement for several years of all 4,557 lights within the City with work being done in phases as money was available. Now that federal money has been provided for this project, they are beginning the work immediately.
"The other big reason that we're doing this is the new lights are quite a bit more efficient," he said. "We estimate about a 50% to 70% energy savings and about 70% maintenance savings because the lamps don't need to be changed out every couple of years."
Miller said the city is also installing a new control system, so lights can be monitored remotely and repaired faster.
Miller said it takes 15 to 20 minutes to swap out each streetlight. Two crews will be at work throughout Springfield for the next four to five months.
Drivers should see minimal disruption, but some locations such as roundabouts may require more extensive traffic control. For more information, see the city's website here.
Albany Man Indicted in Federal Court for Sexually Abusing a Toddler
An Albany, Oregon man has been indicted in federal court for sexually abusing a toddler on at least five separate occasions, announced the U.S. Attorney's Office for the District of Oregon.
Kevin Walter Taylor, 33, has been charged with five counts of using a child to produce a visual depiction of sexually explicit conduct, four counts of distributing child pornography, and one count of possessing child pornography.
According to court documents, on the morning of September 8, 2023, special agents from Homeland Security Investigations (HSI) discovered material online depicting child sexual abuse and determined that Taylor was likely committing the abuse from his home in Albany. Within hours, HSI agents and officers from the Albany Police Department obtained and executed a federal search warrant on Taylor's residence. The same night, HSI and Albany Police arrested Taylor and rescued the toddler victim. When taken into protective custody, the toddler victim was still wearing the same clothes as those depicted in the abuse images allegedly produced and distributed by Taylor hours earlier.
Taylor was arraigned in federal court today by a U.S. Magistrate Judge. He pleaded not guilty and was ordered detained pending a jury trial scheduled to begin on December 27, 2023.
Using a child to produce a visual depiction of sexually explicit conduct is punishable by up to 30 years in federal prison with a 15-year mandatory minimum sentence. Distributing and possessing child pornography are punishable by up to 20 years in prison with a 5-year mandatory minimum sentence.
This case was investigated by HSI in conjunction with the Albany Police Department. It is being prosecuted by William M. McLaren, Assistant U.S. Attorney for the District of Oregon.
An indictment is only an accusation of a crime, and a defendant is presumed innocent unless and until proven guilty.
Anyone who has information about the physical or online exploitation of children are encouraged to contact HSI at (866) 347-2423 or submit a tip online at report.cybertip.org.
Federal law defines child pornography as any visual depiction of sexually explicit conduct involving a minor. It is important to remember child sexual abuse material depicts actual crimes being committed against children. Not only do these images and videos document the victims' exploitation and abuse, but when shared across the internet, they re-victimize and re-traumatize the child victims each time their abuse is viewed. To learn more, please visit the National Center for Missing & Exploited Children at www.missingkids.org.
This case was brought as part of Project Safe Childhood, a nationwide initiative launched in May 2006 by the Department of Justice to combat the growing epidemic of child sexual exploitation and abuse. For more information about Project Safe Childhood, please visit www.justice.gov/psc.
Traffic on Interstate 5 near Goshen was stopped for several hours on Tuesday while Oregon State Police troopers investigated a crash that turned out to be fatal.
According to Oregon State Police, troopers responded to a reported two-vehicle crash in the northbound lanes of Interstate 5 near Goshen at 2:59 p.m. on October 31. OSP said troopers arrived to find a northbound Kenworth semi-truck had slowed down due to traffic congestion. Troopers said a northbound Ford Cargo van, operated by Edward Norman Guidry, 70, of Cottage Grove, approached the slowed traffic at full highway speed and slammed into the back of the semi-truck's trailer.
OSP said Guidry was declared deceased at the scene. The driver of the semi-truck suffered minor injuries, OSP said. The highway was closed for about three hours while police investigated the scene of the crash.
Late Night Semi Crash on I-5 Near Cottage Grove
A semi truck crashed around midnight, on November 1, 2023. The driver lost control for unknown reasons on a straight stretch of the highway, flipping the truck on it's side.
The truck was hauling boxes of fruit, high end meat, salmon, chicken and other meats.
The driver was taken to an area hospital with minor injuries. Three tow trucks were on scene trying to upright the semi and trailer in order to clear the highway. Crews are on scene to clean up the cargo and remove the truck from the highway into the morning.
City Of Eugene Seeks Participants In Rental Experience Survey 2023
The City of Eugene wants to know about the place you're renting, your experience finding a place to rent, and a little bit about you.
The responses we receive will be used to inform the rental housing program in Eugene. What you share is confidential. Who you are and where you live will not be identified in the survey results.
The City will be hosting this survey every two years, along with a survey of Landlords/Property owners to gain a better understanding on the full rental housing experience in our community.
Watch your mailbox in late October – early November for an invitation to participate in the 10-minute survey about your rental experience in Eugene.
You must be a renter in Eugene to participate; if you rent and haven't received an invitation in the mail by Nov. 3, 2023, or prefer to take the survey on paper, there's a form to fill out on the website: https://www.eugene-or.gov/5180/Rental-Experience-Survey-2023
Enter to Win!
At the end of the survey, enter into a FREE drawing to win a gift card to a local grocery store of your choice!
State Health Officials Take Steps To Preserve Mental Health Services And Medical Care In Downtown Eugene
Regulators approve changes at PeaceHealth's Sacred Heart University District Hospital to avert closures at Gov. Kotek's direction
Oregon Health Authority (OHA) officials have ruled on a waiver request from PeaceHealth that will enable it to continue delivering inpatient mental health care to patients in downtown Eugene at PeaceHealth's Sacred Heart University District Hospital.
This is the first of a multi-step process involving both state and federal requirements that PeaceHealth must meet. OHA's Public Health Division and Behavioral Health Services will have other decision points in the future as PeaceHealth works toward a permanent solution.
In August, PeaceHealth announced plans to close its Sacred Heart University District Hospital (SHUD) facility and the emergency department, and relocate its rehabilitation unit to Sacred Heart Riverbend in Springfield. State officials were concerned that this closure would impact the mental health treatment beds, and could lead to full closure of all services in Eugene.
PeaceHealth has indicated it will open and operate an urgent care center in downtown Eugene. It is offering expanded urgent care services separate from the waiver and the hospital license.
In response, Gov. Tina Kotek directed her staff and OHA officials to work with PeaceHealth to avoid a full closure of all services on the University District campus. While state regulators do not have authority to prevent a hospital's decision to close, Gov. Kotek's office and OHA listened to community concerns, including those expressed by local officials about a potential closure's impact on access to services in Eugene and emergency preparedness.
Gov. Kotek's priorities, driven by Oregon's behavioral health crisis and feedback from the Eugene community, were to preserve behavioral health capacity on the University District campus, ensure transitional access to medical services and ensure greater communication with the community.
Following discussions between state officials and PeaceHealth, regulators have issued a waiver regarding operations of the emergency department and radiology services at Sacred Heart University District Hospital. The waiver sets terms that will enable PeaceHealth to:
Consolidate its emergency medical care resources at the Sacred Heart Riverbend for a period of six months beginning Dec. 1, 2023.
Continue to operate behavioral health beds at Sacred Heart University District Hospital under a modified hospital license.
Continue to operate 27 acute rehabilitation beds at Sacred Heart University District Hospital under a modified license.
State regulators also outlined conditions for the approvals. To maintain the waivers and variances, PeaceHealth will be required to notify community members about the changes; ensure adequate patient transportation in close coordination with emergency medical services and law enforcement officers in Eugene and Springfield; and report patient data on a monthly basis to state health regulators.
OHA Interim Director Dave Baden said, "I appreciate Gov. Kotek's urgent focus on preserving vital mental health and medical care in Eugene and PeaceHealth's willingness to work with us to find viable solutions. These steps will preserve access to care for Eugene residents in coming months, at a time when we cannot afford to lose health care capacity in our state, especially for people experiencing a mental health or substance use crisis."
"Make no mistake. The costs of this decision are high. Eugene Springfield Emergency and Rescue make approximately 4,500 trips to the emergency room every year. Consider the impact to our response time and cost. Our estimates are that every round trip transport will increase by 27 minutes. Think about what that means to people in West Eugene who have a heart attack or a house fire or another life-threatening crisis. Lives will be lost," said Eugene Mayor Lucy Vinis.
Use this easy tool to email OHA and ask them to save Eugene's hospital and protect Lane County residents: https://actionnetwork.org/letters/save-eugenes-hospital?source=direct_link&
1st press conference was livestreamed on the Oregon Nurses Association's (ONA's) Facebook page here.
The Oregon Nurses Association (ONA) is the state's largest and most influential nursing organization. We are a professional association and labor union which represents more than 16,000 nurses and allied health workers throughout Oregon. ONA's mission is to advocate for nursing, quality health care and healthy communities. For more information visit: www.OregonRN.org.
Lane County voters: remember to sign the return envelope and return your ballots early
Voters are urged to return their ballots as early as possible to ensure they are received at Lane County Elections by the 8:00 p.m. deadline on Tuesday, November 7.
In order to be counted, ballots must be received at Lane County Elections by:
Regular mail. Ballots must be postmarked no later than November 7, 2023 and received no later than November 14, 2023 to be counted.
A 24/7 ballot drop box.
Lane County Elections. Ballots can be turned in directly to the Lane County Elections Office during business hours.
"We have wonderful, secure elections that allow all eligible voters the opportunity to return their ballots in the way most convenient for them," said Lane County Clerk Dena Dawson. "Every voter should make a plan for how they plan to return their ballot and ensure their ballot is received on time."
Voters must also remember to sign their ballot return envelopes before mailing or returning their completed ballot to Lane County Elections.
The signature is a security measure used to verify identity. Election workers who have received training in handwriting analysis compare it to signatures in the voter registration record. A ballot may only be counted if the signatures match.
If you forget to sign the envelope or your signature does not match, you will receive a notice from Lane County Elections advising you of the issue and how to fix or "cure" it. You have until the 21st day after the election to cure your signature issue and have your ballot counted.
What can you do to ensure your signature matches?
Sign your natural signature. If you don't usually sign with a middle initial don't sign your ballot envelope with it. Election workers are trained to look for specific characteristics within each signature. If you think your signature has changed significantly, contact Lane County Elections.
Don't sign another person's name. Even if someone gives you permission to sign, or you have power of attorney, it is against the law in Oregon to sign another person's name on a return envelope. It's forgery.
Request help if you have difficulty signing. If it is difficult for you to sign, on either a temporary or permanent basis, you can complete a signature attestation form and return it to Lane County Elections along with a new voter registration form. Completing these forms will allow you to use a signature stamp or other indicator that represents your signature.
Correct a mistake if you accidentally sign your name on someone in your household's envelope. If you and another person in your household sign each other's return ballot envelopes, simply place a line through the incorrect signatures and sign the correct envelopes.
Voters with questions can email elections@lanecountyor.gov or call 541-682-4234.
Voters may return their voted vote-by-mail ballots in one of the following ways:
Regular mail. Ballots must be postmarked no later than November 7, 2023 and received no later than November 14, 2023 to be counted.
A 24/7 ballot drop box.
Lane County Elections. Ballots can be turned in directly to the Lane County Elections Office during business hours.
Ballot drop box locations can be found online at www.LaneCountyOR.gov/elections.
Voters with questions can email elections@lanecountyor.gov or call 541-682-4234.
About the Lane County Elections Office: The Elections Office, located at 275 W. 10th Avenue in Eugene, is responsible for conducting elections in Lane County. The elections office manages voter registration, the processing of mail ballots, recruitment and training of election workers, and certification of elections.
Nov. 5 is Mushroom Day at Beazell Memorial Forest and Education Center
Join Benton County Natural Areas & Parks, Corvallis Parks & Recreation, Corvallis Environmental Center, Oregon State University Dept. of Botany & Plant Pathology, and The Mushroomery for an introductory exploration of Pacific Northwest mushrooms where participants can learn to identify different mushrooms in a natural setting.
The program is catered to beginners and all ages are welcome. Engage in mushroom themed activities or join a guided walk to identify mushroom species on trails. Activities include a Kid Zone specially designed for young explorers aged 12 and under. Please note that while the event emphasizes learning and appreciation, mushroom collection will not be a part of the activities.
The morning session is 9:00 to 11:30 a.m., and the afternoon session is 1:00 to 3:30 p.m.
Register by phone at 541-766-6918.
Date: November 5, 2023
Time: 9:00 to 11:30 a.m. and 1:00 to 3:30 p.m.
Admission: adults $25 ($31 out-of-city). Children 12 and under are free.
Location: Beazell Memorial Forest and Education Center, 37283 Kings Valley Hwy., Philomath, OR 97370
More info: view the City of Corvallis' website.
Benton County is an Equal Opportunity-Affirmative Action employer and does not discriminate on the basis of disability in admission or access to our programs, services, activities, hiring and employment practices. This document is available in alternative formats and languages upon request. Please contact Cory Grogan at 541-745-4468 or pioinfo@bentoncountyor.gov.
Operation Winter Survival Supply Stockpile Needs Your Life Saving Donations
Lane County Health & Human Services, in partnership with the First Christian Church of Eugene's Helping Hearts program and White Bird, today announced the launch of Operation Winter Survival Stockpile. The operation is an effort to create a stockpile through donations of clothing and other supplies that will help those in our community experiencing homelessness better brave the elements.
"Every winter those in our community who are without shelter are faced with life-threatening temperatures and weather," said Maria Cortez, Lane County Human Services Program Coordinator. "These donations will be absolutely crucial to helping these community members stay warm and stay alive."
To help kick off Operation Winter Survival Stockpile, the First Christian Church (located at 1166 Oak St. in downtown Eugene) and Cahoots are hosting a one day donation drive event where community members can drop-off donations and enjoy refreshments this Wednesday, November 8th from 12 P.M. to 6 P.M.
"Having access to the severe weather stockpile is an indispensable resource for service providers in our county," said White Bird Clinic Nest Program Interim Coordinator, Theresa Bordreau. "Having both hot and cold weather supplies, fills a much-needed gap for survival gear that are often in short supply. For any community member looking for ways you can support the most vulnerable in our community, I would encourage you to look at donating to this very important resource. It has been of great value to our clients here at the White Bird Clinic."
After the donation drive, items can continue to be dropped off on weekdays between 10 A.M. and 2 P.M. or by appointment. Items can also be purchased on Amazon and sent to First Christian Church at 166 Oak St. Eugene, OR, 97402.
The Operation's Amazon Wish List can be found at: https://www.amazon.com/hz/wishlist/ls/2XR33GS1ULV8Z?ref_=wl_share
Distribution of items will be prioritized to homeless outreach providers such as CAHOOTS that come into direct contact with individuals who are unhoused and unsheltered.
Items needed for Operation Winter Survival Supply Stockpile include:
• Tents – preferably 2 person
• Blankets – preferably wool
• Rain ponchos
• Sleeping Bags
• Hand Warmers
• Socks – preferably wool
• Tarps
• Gift Cards
• Laundry Cards
• Footwear
• Thermal Underwear
• Flashlights/ Batteries
• Beanies/Warm Hats
• Gloves
• Other survival supplies
For more information on Operation Winter Survival Stockpile, please contact Maria Cortez at ia.Cortez@lanecountyor.gov">Maria.Cortez@lanecountyor.gov
PART 2 – Newsweek Podcast Focusing on The Disappearance of Fauna Frey From Lane County
Here One Minute, Gone the Next —-– PART 2 – Josephine County Sheriff Dave Daniel joins investigative journalist Alex Rogue to speak with Here One Minute, Gone the Next about the disappearance of Fauna Frey, the growing friction between citizen investigators and law enforcement, and the lack of resources in missing persons cases. https://podcasts.apple.com/us/podcast/the-disappearance-of-fauna-frey-pt2-feat-sheriff/id1707094441?i=1000630100040
PART 1 – John Frey joins Newsweek to discuss exclusive details about the case of his missing daughter that until now have been unavailable to the general public.
READ MORE HERE: https://www.newsweek.com/exclusive-what-happened-fauna-frey-new-clues-uncovered-1827197?fbclid=IwAR3Z3Glru5lIgqiYXbs_nA1Fj8JuCIzM11OHSVHfwIucfq2f_G5y9y5bnmQ
If you have any information on the whereabouts of Fauna Frey, call the anonymous tip line at 541-539-5638 or email FindFaunaFrey@gmail.com. — Help Find Fauna Frey #FindFaunaFrey FACEBOOK GROUP
Eugene, Springfield and Lane County to begin leaf pickup
Lane County and the cities of Eugene and Springfield are preparing to kick-off their annual leaf collection efforts. Removing leaves from catch basins, grates and gutters allows storm water to run off and prevents flooding.
Keeping leaves out of the drainage system also improves water quality because decomposing leaves use up oxygen that is needed by aquatic life in local streams and rivers. And removing slippery leaves from streets and sidewalks makes travel safer for people walking, biking and driving.
In all three jurisdictions, property owners are responsible for leaves that are placed improperly in the street or cause safety or localized flooding hazards.
Eugene and Lane County allow residents to pile leaves in the street, while Springfield only allows bagged leaves to be set out for collection.
Leaves are the only items collected. Piles with branches, pine needles, trash, grass and other lawn debris are not accepted and will not be collected.
To get the best information for your property, determine which jurisdiction provides service in your area, and then contact that agency. Here are the details for each jurisdiction:
City of Eugene – Eugene's leaf collection and delivery program begins Nov. 6. Eugene's leaf program is funded by storm water fees because proper use and disposal of leaves keeps decaying leaves out of local creeks and rivers and helps prevent localized flooding caused by blocked storm drains.
After an initial focus on the central Eugene area, City crews will break into three groups to focus on designated sections of the city. Each crew has the staffing and equipment needed to collect and deliver leaves and sweep streets after the leaves have been picked up. This puts resources closer to neighborhoods and improves service on unimproved streets.
Online features allow Eugene residents to look up their address and see when they should pile their leaves neatly in a row parallel to the curb, order leaf deliveries, or report hazards such as leaves in a bike lane. People should place their leaves in the street the weekend before crews are scheduled to be in their neighborhood. The second round of leaf collection will start January 2. Safely pile remaining leaves in the street between December 31 and January 1.
For more information about Eugene's leaf collection and delivery services, go to www.eugene-or.gov/leaf or call Eugene Public Works Maintenance at 541-682-4800.
City of Springfield – In Springfield, the City provides a leaf pickup service to residents within the city limits to help prevent flooding, protect water quality, and keep neighborhood streets safe for people walking, biking, and driving. Leaves are collected in two rounds in two areas — the west and east sides of town with 28th/31st Street as the dividing line.
Sanipac is contracted to pick up, haul, and recycle bagged leaves for residents within the city limits. Leaves must be put in medium-sized bags that contain only leaves. Bags containing other yard debris cannot be used for compost and will not be picked up.
Bags need to be placed curbside, not in the street, by 7:00 a.m. on Monday of the scheduled week for collection in that area. Not all bags will be picked up first thing Monday; it may take several days. Additionally, severe weather may cause delays. Landscaping, yard maintenance companies, property management companies, and residents are not allowed to blow or rake leaves into the streets.
Springfield residents can also pledge to properly dispose of their leaves for a chance to win one of two $100 gift cards from a local home improvement store. Residents can view this year's informational flier for more details on how to enter.
The first round of leaf collection in Springfield starts November 27 west of 28th Street/31st Street, then December 4 east of 28th Street/31st Street. The second round starts January 8 west of 28th Street/31st Street, then January 15 east of 28th Street/31st Street.
For more information about leaf pickup in Springfield, visit www.springfield-or.gov/leafpickup, call 541-525-2658 or email ogram@springfield-or.gov">leafpickupprogram@springfield-or.gov.
Lane County – Lane County Public Works will begin its annual leaf pick-up program on Monday, November 13. The County collects leaves in two rounds in two general areas: Santa Clara north of Beltline Highway and several Springfield locations generally just outside the city limits. Lane County crews may be working in your zone prior to official collection dates if time allows; however, crews will return to your zone as scheduled.
Lane County provides a leaf collection information line (541-682-8565) updated at 5:00 p.m. each Friday. It describes where leaf pickup begins on a weekly basis. For more information go to www.LaneCountyOR.gov/LeafPickUp, call 541-682-6905 or e-mail leafcollection@lanecountyor.gov.
Leaf Preparation Guidelines – Two priorities that are the same in all three jurisdictions are public safety and operational efficiency. Here are some tips to help meet those objectives:
In Eugene and Lane County, leaves must be in the roadway but piled at least 15 feet away from parked vehicles. Do not bag leaves.
In Lane County leaf pickup will be provided for paved curb-and-gutter streets only. In Eugene, unimproved streets are picked up during both rounds but equipment must be able to reach the leaves from the hard road surface.
In Springfield, leaves need to be put in medium-sized bags that contain only leaves. The bags should be placed curbside, not in the street.
Do not pile leaves in bike or traffic lanes or on curbs or sidewalks.
Keep storm drains and gutters clear to prevent localized flooding.
Do not mix in other debris such as branches, rocks, lawn clippings, pine needles, or trash.
Leaves are not picked up in private yards.
Wait to put leaves in the street until the weekend prior to collection.
Consider recycling leaves as compost or mulch material.
Schedule Information
Eugene Leaves Out For First Round First Round Second Round
Central/Core Nov. 4 to Nov. 5 Nov. 6 to Nov. 10 Starts Jan. 2
Zones 1 Nov. 11 to Nov. 12 Nov. 13 to Nov. 17 Starts Jan. 2
Zones 2 Nov. 18 to Nov. 19 Nov. 20 to Dec. 1 Starts Jan. 2
Zones 3 Dec. 2 to Dec. 3 Dec. 4 to Dec. 8 Starts Jan. 2
Zones 4 Dec. 9 to Dec. 10 Dec. 11 to Dec. 15 Starts Jan. 2
Zones 5 Dec. 16 to Dec. 17 Dec. 18 to Dec. 29 Starts Jan. 2
| | | |
| --- | --- | --- |
| | | |
| | | |
| Springfield (Leaf Pickup Dates) | First Round | Second Round |
| West of 28th Street/31st Street | Nov. 27 | Jan. 8 |
| East of 28th Street/31st Street | Dec. 4 | Jan. 15 |
| Lane County (Leaf Pickup Dates) | First Round | Second Round |
| Zone A (Santa Clara west of River Road; see map) | Nov. 13 to Nov. 16 | Dec. 4 to Dec. 7 |
| Zone B (Santa Clara east of River Road; see map) | Nov. 20 to Nov. 22 | Dec. 11 to Dec. 14 |
| Zone C (Springfield area (see map) | Nov. 27 to Nov. 30 | Dec. 18 to Dec. 21 |
Attached Media Files:Full press release with maps , 2023-10/6775/167460/Spfld_leaf_collection_zones.png , Lane County leaf map , Eugene leaf map
Permalink
Portland Teachers Still On Strike
No classes through Friday for Portland Public Schools as teachers strike underway
The district confirmed that schools would be closed through the rest of the week due to the strike. Friday was already a planned day without classes for students. The closure will delay report cards, officials said.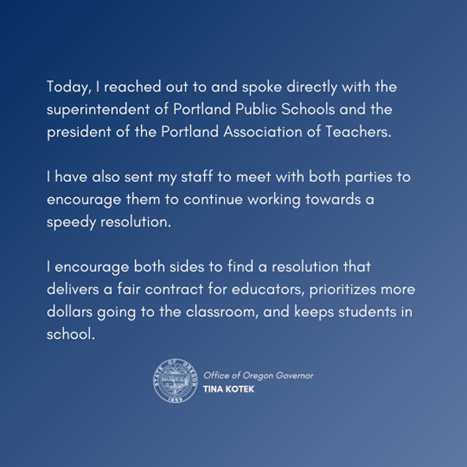 Amid strained eleventh-hour contract negotiations with the district, the Portland Association of Teachers announced Tuesday night that teachers would go on strike the next day, shutting down the district's 81 schools and impacting about 45,000 students.
The top issues include compensation, student discipline, class size and the use of school resources to provide housing for students experiencing homelessness, according to Portland Public Schools.
Among the points of contentionis the union's request for a 23% cost-of-living increase over the next three years, according to the district, which is countering with a cumulative 10.9% cost-of-living increase over the same period.
The closure will delay report cards, officials said.
Amid strained eleventh-hour contract negotiations with the district, the Portland Association of Teachers announced Tuesday night that teachers would go on strike the next day, shutting down the district's 81 schools and impacting about 45,000 students.
Oregon is nationally recognized for its groundbreaking 1115 Medicaid Waiver set to transform housing and health
Oregon Housing and Community Services (OHCS) was presented with a 2023 Award for Program Excellence at the National Council of State Housing Agencies (NCSHA) annual conference. Oregon was recognized for achieving "first in the nation" provisions that set the tone for housing and health innovation through the approval of the 1115 Medicaid Waiver.
The work to get the state waiver approved was led by the Oregon Health Authority (OHA) and OHCS. OHA included game changing components around food assistance, climate change and major expansions in continual coverage for young children, while OHCS formulated and envisioned the housing components of the waiver application.
"As the state's Housing Finance Agency (HFA), we know firsthand that housing is a clear determinant of health outcomes," said OHCS Director Andrea Bell. "Now is the time to step outside the typical 'lanes' of an HFA and traditional healthcare models."
"As our communities grapple with the challenges of housing insecurity, Oregon will have more capacity to help people," said Dave Baden, interim director at OHA. "Approval of the waiver provides an opportunity for health care and housing systems to coordinate and create groundbreaking strategies in our state."
The state received approval for the first-its-kind waiver to provide Medicaid funding for housing and food supports to vulnerable populations. This means that qualified Oregon Health Plan members who are facing certain life challenges will have social supports available to them to stay healthy at times in their lives when they are experiencing a greater need.
Over the next five years, Oregon will utilize more than $1 billion of federal resources to serve populations vulnerable to experiencing homelessness. These services and supports will be coming online in November 2024.
New OHA dashboard details status of 5,061 new and existing housing units, residential treatment and housing support for people in behavioral health treatment
SALEM, Ore. —Oregon Health Authority (OHA) has released an online, interactive dashboard that will provide ongoing updates on efforts to extend the statewide inventory of behavioral health residential treatment beds, housing units, rental assistance, and other housing assistance.
Oregon aims to increase capacity to 5,061 total housing units, residential treatment beds, and rental assistance in housing capacity for people who are recovering from mental illness or substance use.
The comprehensive and robust dashboard provides details of actual and anticipated investments, broken down by county and by program, along with an estimated occupancy timeline.
"Housing is a vital part of treatment and recovery for people with serious mental health and substance use issues. We need more housing for people in recovery to reduce homelessness. This new dashboard will allow people to see where and how we are spending the dollars we've been entrusted to invest in much-needed housing investments throughout Oregon," said OHA Behavioral Health Director Ebony Clarke.
More than 1,000 new residential and supportive housing units and beds are expected to come available by July 2025, filling a critical need in communities throughout the state, according to OHA estimates.
Once completed, OHA expects the new projects to increase the state's behavioral health housing capacity by about 20 percent.
The emerging capacity springs from more than $220 million in behavioral health investments made by the 2021 Oregon Legislature. OHA has distributed these funds to housing providers over the past two years to bolster residential treatment capacity throughout the state.
Timelines for behavioral health residential housing projects can typically take years to complete due to logistical considerations. The calculations include development costs such as purchasing real estate, facility renovations, not operating revenues.
OHA is currently conducting a study to determine adult residential mental health and substance use treatment capacity throughout the state, identify gaps and guide future investments.
Preliminary findings and recommendations are expected by the end of the year.
DEA Investigations Result in Three Southern Oregon Drug Traffickers Pleading Guilty in Federal Court
Defendants include the head of a Klamath Falls drug trafficking organization
MEDFORD, Ore.—The U.S. Attorney's Office for the District of Oregon announced today that three southern Oregon drug traffickers, including the head of a Klamath Falls, Oregon, drug trafficking organization, have pleaded guilty in federal court following investigations by the U.S. Drug Enforcement Administration's (DEA) Medford resident office.
Juan Jessie Martinez-Gil, 59, a former resident of Reno, Nevada, pleaded guilty today to conspiring to distribute and possess with intent to distribute methamphetamine and fentanyl. Candice Nadine Mckee, 31, a distributor in Martinez-Gil's network and resident of Lakeview, Oregon, pleaded guilty Monday to possessing with intent to distribute fentanyl.
Also on Monday, in a separate criminal case, Jessie Cole Merkel, 31, of Redding, California, pleaded guilty to one count of distributing fentanyl.
U.S. v. Martinez-Gil et al. — According to court documents, between August 2019 and September 2021, Martinez-Gil, the head of a Klamath Falls area drug trafficking organization, conspired with various associates, including McKee, to possess and distribute large quantities of methamphetamine and fentanyl, in the form of counterfeit Oxycodone pills, in and around Klamath Falls. A coordinated law enforcement operation conducted in September 2021 led to the arrests Martinez-Gil and several of his co-conspirators. Federal search warrants were executed on five locations and two vehicles. Over the course of the investigation, DEA special agents, working with other southern Oregon law enforcement agencies, seized approximately 17 pounds of methamphetamine and 700 counterfeit Oxycodone pills.
Martinez-Gil will be sentenced on February 22, 2024, by U.S. District Court Judge Michael J. McShane. He faces a maximum sentence of life in prison with a 10-year mandatory minimum sentence. Mckee will be sentenced the same day and faces a maximum sentence of 25 years in prison.
U.S. v. Merkel — According to court documents, between February and April 2022, Merkel, a known northern California drug dealer responsible for trafficking quantities of fentanyl from California to Oregon, sold fentanyl to undercover law enforcement officers on two separate occasions. On April 14, 2022, Merkel was arrested while traveling from California to Oregon.
Merkel will be sentenced on February 22, 2024, by Judge McShane. He faces a maximum sentence of 20 years in prison, a $1 million fine, and three years' supervised release.
Martinez-Gil et al. was investigated by the DEA Medford Resident Office with assistance from the Basin Interagency Narcotics Enforcement Team (BINET), a Klamath Falls area narcotics task force comprised of Oregon State Police, the Klamath Falls Police Department, and Oregon National Guard.
Merkel was investigated by the DEA Medford Resident Office with assistance from Homeland Security Investigations (HSI), Oregon State Police, and the Central Point Police Department.
Both cases were prosecuted by the U.S. Attorney's Office for the District of Oregon.
Work On Copco No. 2 Dam Removal Completed
Crews put the final touches on the removal of the Copco No. 2 Dam this week.
Removal of the dam structure was completed in September, and crews spent the past month removing the remaining diversion infrastructure, grading the river channel, and performing erosion control.
That work prepared the river canyon for consistent river flows, likely commencing within 30 days, which the canyon hasn't seen in 98 years.
Currently, flows in the canyon are fluctuating due to work being done to prepare Copco No. 1 for drawdown.
"Copco No 2 is the first dam to be removed due to its small stature, location, and lack of reservoir," said Mark Bransom, CEO of the Klamath River Renewal Corporation (KRRC), the entity tasked with the removal of the four lower Klamath hydroelectric dams. "However, while Copco No. 2 was significantly smaller than the other dams slated for removal, it still had a significant impact on the river."
Copco No. 2 was located right below Copco No. 1 in a steep river canyon, commonly known as Ward's Canyon, named after Kitty Ward, a Shasta woman who lived in the valley now submerged by the reservoir created by Copco No 1.
Completed in 1925, Copco No. 2 was a diversion dam that funneled the river's flows out of the canyon and into a tunnel system that sent the water to the Copco No. 2 powerhouse located downstream, essentially dewatering the 1.7-mile-long canyon.
Without the river's presence in the canyon, trees grew in the riverbed which, when exposed to consistent river flows, would have died off creating a hazard for future recreationists. Those trees were removed in September in collaboration with area tribes.
"Seeing the Klamath River flow through this canyon after being diverted for nearly a century is inspiring," said Laura Hazlett, COO of KRRC. "It makes me excited for everything else that is to come with the removal of the other three dams."
The remaining three dams, Copco No. 1, Iron Gate, and JC Boyle are slated for removal next year.
In January, KRRC will implement the drawdown, the slow draining of the reservoirs, which is expected to take 3-5 months, depending on the amount of water entering the system as a result of spring runoff.
Once the drawdown is complete, restoration and deconstruction activities will begin in earnest. All three dams are expected to be completely removed by November 2024.
In a related story, Researchers at Oregon State University have concluded that a large-scale dam removal and restoration project currently underway on the Klamath River in southern Oregon and northern California will help salmon populations, according to college officials.
The college said a group of scientists published their findings in a new paper that concludes salmon populations devastated by disease and other factors will be aided by the removal of four hydroelectric dams along the river. The project will not, however, fully alleviate challenges faced by the species, OSU said.
The researchers said that factors that affect salmon health include stream-flow levels, water temperature, and pathogens. Opening up habitat and creating longer fish migration routes by removing the dams will decrease fish disease risk by flushing out pathogens and unclogging a pathogen hot spot that formed below the Iron Gate Dam about five miles south of the California-Oregon border east of Interstate 5, OSU officials said.
Suspect Surrenders Peacefully After Hours-Long Standoff
Lincoln City Police – 11/02/23 11:47 AM
On Wednesday, November 1, 2023 at about 11:57 AM, Lincoln City Police responded to a reported disturbance and possible hostage situation at a residence in the 4900 block of SE Keel in Lincoln City. It was reported that several persons inside the residence had barricaded themselves inside a room away from a suspect who was threating to harm them with edged weapons. Once officers arrived, they made entry into the residence and the suspect had quickly retreated to an upstairs room and barricaded himself inside while threatening to kill officers if they came after him. The officers took the opportunity to escort the three victims out of the house to safety.
Officers secured the perimeter around the house as additional units from the Lincoln County Sheriff's Office arrived to assist, including a certified crisis negotiator who began talking with the suspect. Nearby residents were asked to leave the area or shelter in place as the negotiator tried to talk the suspect, who was identified as 20-year-old Albert A. Fletemier Brown of Lincoln City, into peacefully surrendering. Additional resources were requested and members of Oregon State Police SWAT unit responded to the location. After briefing the OSP team on the situation, they took control of the scene and their crisis negotiator began talking with Fletemier Brown. At about 4:55 PM, after several hours of dialog with Fletemier Brown by both the Lincoln County Sheriff's Office Negotiator and then the OSP Negotiation team, Fletemier Brown peacefully surrendered and was taken into custody without injury.
Lincoln City Police Officers transported Fletemier Brown to the Lincoln County Jail where he was lodged on the following charges: Attempted Kidnap in the second degree, Domestic Menacing, Domestic Harassment, Domestic Strangulation, two counts of Menacing, Unlawful Use of a Weapon, and Interfering with Police Officers.
The Lincoln City Police Department would like to express our thanks and gratitude to the Lincoln County Sheriff's Office and the Oregon State Police SWAT unit for their valuable assistance in bringing this incident to a to a peaceful conclusion. We also thank North Lincoln Fire & Rescue and Pacific West Ambulance for standing by during the incident to provide medical assistance if needed. Last, but not least, LCPD would like to thank all the neighbors affected or inconvenienced during the incident for their patience and understanding and allowing Law Enforcement to work to bring this incident to a peaceful conclusion without any injuries to the suspect, the public, or any officers.
Oregon Drivers Reminded to Watch for Migrating Wildlife
Oregon wildlife and transportation officials are reminding drivers that it's migration season for elk and deer. That leads to increased reports of vehicle collisions in October and November because the animals are more likely to cross the roads.
Fewer daylight hours and rainy weather, reducing driver visibility, don't help.
The Oregon Department of Transportation says its crews collect about 6,000 deer carcasses each year after deer are struck and killed by vehicles. That doesn't include the ones who are able to walk away from the scene and die or that die on city, county and private roads.
Oregon Department of Fish and Wildlife says research with GPS-collars shows mule deer will follow their migratory route no matter how many roads or other obstacles get put in the way.
Here are some tips from ODOT and ODFW to avoid wildlife collisions:
Animal crossings signs are placed in known crossing hotspots. Be on the lookout when you see one.
Be alert in areas with dense vegetation along the road or while going around curves. Wildlife near the road may be hard to see.
If you see one animal, stay alert because others are likely nearby.
If you see an animal on or near the road, slow down and stay in your lane. Many serious crashes are the result of drivers losing control when they swerve.
Always wear your seat belt. Even a minor collision could result in serious injuries.
This is also the time of year when the most road killed deer and elk are salvaged for meat. If you hit a deer or elk (or see one that is struck) don't forget, you must fill out a free permit and turn the head in within five days so ODFW can test for Chronic Wasting Disease. More info can be found here.
The state has added wildlife undercrossings in an effort to give animals as safe way get across highways. One was built last year under Highway 97 at Vandevert Road near Sunriver.
Audit Reveals Lack of Response to Domestic Violence in Oregon
An audit released Tuesday by the Oregon Secretary of State's office reveals a lack of response to domestic violence and suggests lawmakers develop a better approach and release barriers to funding services.
According to the audit , domestic violence — which the state defines as interpersonal, family, and intimate partner violence that can include physical, mental, and emotional abuse — is "widespread" in Oregon.
The audit comes as more than one-third of adults in Oregon will experience domestic violence in their lifetimes, according to the Oregon Secretary of State's office.
The audit also cites data from the Centers for Disease Control and Prevention , which shows from 2009-2019, Oregon's 393 fatal domestic violence incidents resulted in 532 deaths.
The audit found there are several barriers that can impact whether a domestic violence victim or survivor receives support. For example, the audit says victims may not seek help as they may face stigma, isolation, transportation, or childcare barriers. The audit also states that a lack of housing is a "principal reason" victims and survivors feel they cannot leave.
Additionally, the report found barriers within state agencies that provide services for victims and survivors of domestic violence. According to the audit, resource providers may not have the capacity to serve victims and say agencies face issues with retaining staff — citing low pay and burn-out among employees.
Next, the audit reported that "available domestic violence services do not meet existing needs." According to the Secretary of State's office, little financial help goes directly to domestic violence victims. Officials also note that grant funding requirements can be a barrier to addressing community needs.
Oregon also lacks central leadership when it comes to addressing domestic violence, the audit says. While providers and state agencies collaborate, officials said the state could do more to create a centralized approach and could provide data-gathering for domestic violence prevention and intervention-related action.
In a statement, Audits Director Kip Memmott says Oregon can do more to address domestic violence as the audit points out that "domestic violence in Oregon is widespread and damaging."
The audit reports that in 2019, 15 out of Oregon's 36 counties had at least one fatal domestic violence incident.
"Domestic violence is pervasive, immensely harmful, and often fatal," Memmott said. "This is an area where state government can do more to help. As auditors, we are uniquely positioned to provide state leaders with information and offer potential solutions on critical issues of public health and safety."
The audit says services for domestic violence victims and survivors should be widespread — including emergency housing, help navigating the legal system, childcare, and mental health care.
The audit offers several solutions aimed at policymakers — saying Oregon needs an "overarching strategy" to successfully address domestic violence.
"Currently, many state agencies have roles to play. Unfortunately, there is no single state agency or entity responsible for coordinating a comprehensive statewide response or measuring the overall impact of ongoing efforts," the audit said.
The audit recommends policymakers develop a statewide strategy to centralize resources and collect data on regional police reports, hospital injury and fatality data, civil protection orders, and agency outputs.
The audit also suggests lawmakers make flexible state funds permanent budget items rather than addressing needs through one-time funding.
"I am horrified at the numbers in this report showing how pervasive and dangerous domestic violence is, both nationwide and in Oregon. October is Domestic Violence Awareness Month, a time to recognize and reflect on what we can do to address this violence, and the auditors have done just that with this report," Secretary of State Lavonne Griffin-Valade said in a statement.
She continued "I would like to express my gratitude to the Oregon Audits Division staff for their work, and I encourage state leaders to read the report and consider the actions suggested."
The Oregon Department of Human Services offers a list of resources for shelters and legal support from the Oregon Coalition Against Domestic and Sexual Violence website.
Additionally, the Oregon Department of Justice has resources for shelters and other crisis centers.
The National Sexual Assault Hotline is also available at 1-800-656-HOPE. (SOURCE)
Be Alert For Landslides Across Southern And Western Oregon
The National Weather Service has issued a flash flood watch for portions of southern and western Oregon, including eastern Curry and Josephine Counties. The watch is in effect from Friday evening (11/3/23) through Saturday afternoon (11/4/23).
Heavy rain may result in landslides in areas of steep terrain, as well as debris flows in and near burned areas from recent wildfires, including the Smith River Complex.
Find the latest information here: https://alerts.weather.gov/cap/or.php?x=1
Debris flows are rapidly moving, extremely destructive landslides. They can contain boulders and logs transported in a fast-moving soil and water slurry down steep hillsides and through narrow canyons. They can easily travel a mile or more. A debris flow moves faster than a person can run. People, structures, and roads located below steep slopes in canyons and near the mouths of canyons may be at serious risk.
If your home, work, or route is in a watch area:
• Stay alert. Track the flood watch by radio, TV, weather radio, or online. If told to evacuate, do so immediately.
• Listen. Unusual sounds might indicate moving debris, such as trees cracking or boulders knocking together. A trickle of falling mud or debris may precede larger landslides. If you think there is danger of a landslide, leave immediately.
• Watch the water. If water in a stream or creek suddenly turns muddy or the amount of water flowing suddenly decreases or increases, this is a warning that the flow has been affected upstream. You should immediately leave the area because a debris flow may soon be coming downstream.
• Travel with extreme caution. Assume roads are not safe. Be alert when driving, especially at night. Embankments along roadsides may fail, sending rock and debris onto the road.
For more landslide and debris flow information: https://www.oregon.gov/dogami/landslide/Pages/debr…
OSP Fish and Wildlife Division reminds hunters to have the appropriate tags on hand when hunting
Oregon Hunting Licensing and Tag Requirements
OSP Fish and Wildlife Division reminds hunters to have the appropriate tags on hand when hunting
– Oregon big game hunting seasons are well underway and the Oregon State Police Fish and Wildlife Division is reminding hunters how to keep their hunt legal. In Oregon, hunters must have a valid big game tag in their possession for the species and area they are hunting. Both paper and electronic tags are recognized.

Over the past few months, troopers have encountered numerous hunters without big game tags in their possession. In many situations, the hunters utilizing the Oregon Department of Fish and Wildlife (ODFW) electronic licensing app had failed to redeem their tag voucher. The most common issues are hunters with a Sports Pac who forget to redeem the appropriate tag voucher or hunters who had successfully drawn a controlled hunt and then failed to purchase the electronic big game tag for that hunt or species.

With Oregon's general and controlled rifle elk seasons coming up in November, OSP is reminding hunters to double-check the electronic licensing app for the correct tags for their planned hunts. Within the app, valid big game tags will be displayed within each hunter's recreation portfolio.

For those opting to use paper licenses and big game tags, be sure the tag is legible and in their possession when hunting. Successful hunters must immediately validate the tag per the instructions on the paper tag, or within the ELS application. The MyODFW app is available for download for both iOS and Android phones and allows hunters to validate their tag even when outside of cellphone reception areas.
ODFW license requirements include:
Valid hunting license.

Hunting licenses are valid beginning January 1, or from the time of purchase if after January 1, through December 31 of the document year.

No one may possess more than one valid annual hunting license.
To hunt big game, an individual must have in their possession a big game tag, either electronic or paper, valid for the dates, area, and species being hunted.
Any documents in possession, either electronic or paper, must be accessible immediately upon request by ODFW staff or law enforcement.
For additional information about big game hunting and hunting and angling regulations, visit the ODFW website or OSP's Fish and Wildlife website.
Oregon Parks and Recreation To Discuss Drone Rules And Maps
The Oregon Parks and Recreation Department (OPRD) will livestream a virtual meeting Nov. 8 at 6 p.m. to present draft drone take-off and landing classification criteria to be used in future park drone use maps. The agency will then invite the public to share their views on the criteria from Oct. 23 through 5 p.m. on Dec. 29.
The meeting will be livestreamed on YouTube for the public here.
Attendees who want to ask questions during the Q&A portion of the meeting must register beforehand here.

Although the formal rulemaking process for drone take-off and landing began in 2021, the agency temporarily stopped in April 2022 to form a work group and explore the matter in more detail.
The work group included various partners including conservation groups, drone users, state and federal agencies and met from June 2022 through the summer of 2023.
OPRD's region resource and Geographic Information Services (GIS) staff, alongside park managers reviewed the draft criteria and applied them to three sample areas, one from each region of state parks.
Feedback will be reviewed by agency staff and the work group as part of a final report to the OPRD Director Lisa Sumption, who will then decide whether to direct staff to resume public administrative rulemaking or do more work on the proposals.
Individuals who require special accommodations to view the meetings should contact Jo Niehaus at least three days in advance of the meeting at 503-580-9210 or jo.niehaus@oprd.oregon.gov .
Oregon is Searching for its Next Poet Laureate
Oregon is searching for its next Poet Laureate. Over the two-year-term, the Poet Laureate promotes the art of poetry, encourages literacy and learning, addresses issues relating to the humanities and reflects on public life in Oregon.
Information about the Poet Laureate program, how to nominate the next Poet Laureate, Anis, and how to request an appearance can be found on this website. Please also check out our Facebook page.
Nominations are accepted through January 8th, and poets are welcome to nominate themselves. The next Poet Laureate term begins in May. MORE INFO: https://culturaltrust.org/oregon-poet-laureate/?fbclid=IwAR0O-Gx81HjAKwXHwyrEVtxpgyXma9XRb5xwacG_o57ga3_lKUwIbPRMXks
Missing Yachats Man's Vehicle Found in North Lane County
On 08/25/2023, Dustin Steyding was reported missing to the Lincoln County Sheriff's Office after he left work on 07/22/2023 and hadn't been located since. Dustin was living and working in the Yachats area.
Dustin was reported to be in good physical condition, having previously worked as a hot shot firefighter in New Mexico. Dustin is very experienced in the woods and commonly goes out for hikes to stay in shape. Without means to locate Dustin, Deputies entered Dustin as a missing person in a national database.
On 09/04/2023, the Lincoln County Sheriff's Office received a call from Dustin's family after they located his vehicle on Keller Creek Rd, just outside of Lincoln County in Lane County. Lincoln County Sheriff's Office Deputies contacted the vehicle and determined it had been at the location for some time. Deputies were unable to determine Dustin's direction of travel from the vehicle.
The vehicle having been located in Lane County, Lincoln County Deputies contacted the Lane County Sheriff's Office Search and Rescue Team and arranged for their response the next day to started searching the area. After two days of searching, no clues to Dustin's have been found.
Anyone with information on the whereabouts of Dustin Steyding should contact the Lincoln County Sheriff's Office at 541-265-0777 and reference case number 23S-07321.