The latest news stories and stories of interest in the Willamette Valley from the digital home of Southern Oregon, from Wynne Broadcasting's WillametteValleyMagazine.com
Friday, October 20, 2023
Willamette Valley Weather
Lane County Seeking Applicants for Public Safety Funding Task Force
Lane County is seeking applicants for a limited-duration public safety funding task force that will explore possible long-term public safety funding solutions. 
"Our public safety system is a critical part of creating a safe and healthy county," said Lane County Administrator Steve Mokrohisky. "This task force will take on the important work of helping us identify solutions to a longstanding lack of funding for some of the most basic public safety services provided by Lane County, including our Sheriff's Office, District Attorney, Community Justice and other programs."
The task force will be made up of 9­–11 residents. Each commissioner will appoint one task force member who lives within their district, with the remaining selected by the County Administrator.
Interested applicants should apply online at www.LaneCountyOR.gov/PublicSafetyTF.
If an interested resident cannot apply online, assistance is available from the Lane County Public Information Office at 541-682-4526. Applications will be accepted until all positions are filled. First review will begin on December 1, 2023. 
"Volunteer committee members make a tremendous contribution to our community by sharing their time and expertise," said Mokrohisky. We look forward to working with the members of this task force to focus on solutions to our community safety challenges."
Applicants must:
be full-time residents of Lane County.
be at least 18 years of age.
provide a cover letter addressing their interest in the task force and qualifications to serve.
The task force is expected to meet through spring of 2024, although the exact timeline will be determined by the task force members. 
Eugene police are seeking tips on a suspect involved in a vehicle versus pedestrian hit-and-run crash that happened on Wednesday evening.
Police said they responded at about 8:12 p.m. on October 18 to the crash in the 3300 block of West 11th Avenue in west Eugene. The pedestrian victim was crossing the street when hit and was transported to a local hospital for treatment of non-life-threatening injuries, Eugene police officials said.
Police said the driver of the involved vehicle did not stay on scene and was last seen driving eastbound on West 11th Avenue. The vehicle is described as possibly an older model green Toyota Camry while the driver is described as a white male with short hair and beard who was last seen wearing a black jacket, dark-colored pants, and dark-colored shoes with lighter soles. If you have any info: (541) 682-5111
BLM seeks comment on future of Hult Reservoir and Dam in Oregon
SPRINGFIELD, Ore. — The Bureau of Land Management is accepting public comment on future management options at the Hult Reservoir and Dam near Horton in Lane County. The BLM is assessing management options to address the risk of dam failure as the structure ages, in response to studies suggesting the dam may be at risk in the coming years.
Crews constructed the earthen Hult Dam about 80 years ago from loose rock and logs, which are now rotting underground. In 2017, a U.S. Army Corps of Engineers inspection found the dam in danger of failure, citing risks from large floods and ground instability. If the dam gave way, it would release an uncontrolled rush of water downstream toward the community of Horton, destroying homes and infrastructure and risking loss of life.
Hult Dam, which impounds the 41-acre Hult reservoir, serves no flood protection or water retention purposes. If no action is taken, the existing dam will likely fail in coming years, or the reservoir will likely have to be drained to protect people and property downstream. The BLM recognizes that the area is a popular recreation destination, and proposed management options under consideration would continue to provide recreation opportunities, including fishing, camping, hiking and horseback riding.
Following a public meeting at the dam in September 2021 and open comment periods in January and April 2022, the BLM developed three management options for consideration in a Draft Environmental Impact Statement. These options address community safety, recreational use, habitat protection, and historical preservation:
Remove and replace the existing dam in the same location;
Remove the dam and build a new dam downstream, creating a "Little Log Pond" for recreational use; or
Remove the existing dam and allow Lake Creek to flow naturally through the area.
"Public input proved instrumental in helping develop these alternatives and we are looking forward to hearing more from members of the community," said Dennis Teitzel, BLM Northwest Oregon District Manager. "We're also planning to announce an open house soon where the public may discuss options with experts and submit comments."
The comment period opens Oct. 20, 2023, and closes Dec. 7, 2023. The public can submit written comments through the "Participate Now" option on the BLM National NEPA Register (preferred); via email to LM_OR_NO_SIU_Hult_Dam_EIS@blm.gov">BLM_OR_NO_SIU_Hult_Dam_EIS@blm.gov; or delivered to Bureau of Land Management, Northwest Oregon District, ATTN: Hult Reservoir and Dam Safety EIS Team
3106 Pierce Parkway, Springfield, OR 97477.
To view associated documents please visit the BLM National NEPA Register. For additional information, to receive quarterly updates or to be notified when an upcoming open house has been scheduled, please contact the project team at 971-213-4970 or LM_OR_NO_SIU_Hult_Dam_EIS@blm.gov">BLM_OR_NO_SIU_Hult_Dam_EIS@blm.gov.
-BLM-
The BLM manages more than 245 million acres of public land located primarily in 12 western states, including Alaska, on behalf of the American people. The BLM also administers 700 million acres of sub-surface mineral estate throughout the nation. Our mission is to sustain the health, diversity, and productivity of America's public lands for the use and enjoyment of present and future generations.
Eugene Considering Ban on Construction of New Gas Stations
The Eugene City Council is considering a ban on the construction of new gas stations within city limits. Beyond Toxics, a local environmental non-profit, released a report on the harms of petroleum contamination if gas stations are abandoned and underground storage tanks are left behind.
The group argues gas stations pose a threat to public health and safety. DEQ data indicates that there have been more than three hundred underground gas storage tank leaks, which can contaminate the soil, air and groundwater in the impacted area.
Beyond Toxics says this report comes as the sales for electric vehicles rise; the need for new gas stations will decrease and be unprofitable by 2035.
According to Beyond Toxics, their effort is beyond just the move to electric vehicles, it's about controlling possible contaminations as result of gas leaks.
"The electrification revolution is well underway, which is great news for the city's climate goals and our efforts to fight climate change," said Mason Leavitt with Beyond Toxics. "But it also should help us think about the way we might think about our land use in the future." MORE INFO: https://www.beyondtoxics.org/
UPDATE: Save Eugene's Hospital
PeaceHealth shares that its Eugene Hospital location has been losing nearly 24 million dollars a year, citing the profit loss as its primary reason for the closure. Further, PeaceHealth named  the hospital location as "underutilized" and "unsustainable."  
PeaceHealth hospital administration announced on October 10 that it would be moving its main urgent care clinic from West Eugene to University District Campus, at the site of the current hospital. The news comes in light of the August 22 announcement that PeaceHealth would be closing  its emergency department, inpatient rehabilitation, and other related medical services at the University District hospital, Eugene's only hospital.  
The decision to move the urgent care clinic to a more centrally located part of Eugene came after two months of backlash from the local community following the announcement of the hospital closure
The hospital also cited that nearly one-third of patients who travel through the Emergency Department are not in need of routine medical-care but rather in need of services from the new Lane County Crisis Stabilization Center that is planned to open by 2025.
Since PeaceHealth announced its closure plans Aug. 22, frontline health care workers, elected leaders, unions, allies and activists have formed the "Save Eugene's Hospital" coalition to demand PeaceHealth reconsider its disastrous decision and save lives by keeping University District open.
However, the promises we've won from PeaceHealth still fall short of fulfilling our community's needs. Oregon's second-largest city needs a full-service hospital to serve our citizens.
"Make no mistake. The costs of this decision are high. Eugene Springfield Emergency and Rescue make approximately 4,500 trips to the emergency room every year. Consider the impact to our response time and cost. Our estimates are that every round trip transport will increase by 27 minutes. Think about what that means to people in West Eugene who have a heart attack or a house fire or another life-threatening crisis. Lives will be lost," said Eugene Mayor Lucy Vinis.
The Save Eugene's Hospital coalition has also received local and state support from:
The Oregon Nurses Association (ONA)
Lane Professional Firefighters IAFF-851
CAHOOTS (Crisis Assistance Helping Out on the Streets)/Teamsters Local 206
White Bird Clinic
Graduate Teaching Fellows Federation (GTFF) at the University of Oregon
The local chapter of HealthCare for All Oregon (HCAO)
Eugene-Springfield DSA
Eugene Springfield Solidarity Network
Operating Engineers Local 701
SEIU 49
The Oregon Federation of Nurses and Health Professionals (OFNHP)
Eugene Mayor Lucy Vinis
Lane County Commissioner Laurie Trieger
State Senator James Manning
and many others.
Learn more at www.SaveEugenesHospital.com.
Save Eugene's Hospital
Join us in asking the Oregon Health Authority (OHA) and Governor Tina Kotek to do everything in their power to prevent PeaceHealth's from closing Eugene's only hospital!
Use this easy tool to email OHA and ask them to save Eugene's hospital and protect Lane County residents: https://actionnetwork.org/letters/save-eugenes-hospital?source=direct_link&
1st press conference was livestreamed on the Oregon Nurses Association's (ONA's) Facebook page here.
The Oregon Nurses Association (ONA) is the state's largest and most influential nursing organization. We are a professional association and labor union which represents more than 16,000 nurses and allied health workers throughout Oregon. ONA's mission is to advocate for nursing, quality health care and healthy communities. For more information visit: www.OregonRN.org.
The Eugene Film Society is reviving the 72-Hour Horror Film Competition for an 8th season. Local and regional filmmakers will compete to produce the best 3-minute horror film within 72 hours incorporating a specific line of dialogue and prop.
Venue: Art House
Address: Art House 492 E 13th Ave, Eugene, OR
Date: Thu, Oct 19 – Sat, Oct 21
Click here to learn more.
The 'Run for Your Life! 5k' is a Zombie-themed race event organized by ShelterCare in partnership with Thrill the World Eugene, featuring 100+ hidden zombies on the course.
Venue: Alton Baker Park
Address: Alton Baker Park 200 Day Island Rd, Eugene, OR
Date: Sun, Oct 22, 3 – 5 PM
Click here to learn more.
PART 2 – Newsweek Podcast Focusing on The Disappearance of Fauna Frey From Lane County
Here One Minute, Gone the Next —-– PART 2 – Josephine County Sheriff Dave Daniel joins investigative journalist Alex Rogue to speak with Here One Minute, Gone the Next about the disappearance of Fauna Frey, the growing friction between citizen investigators and law enforcement, and the lack of resources in missing persons cases. https://podcasts.apple.com/us/podcast/the-disappearance-of-fauna-frey-pt2-feat-sheriff/id1707094441?i=1000630100040
PART 1 – John Frey joins Newsweek to discuss exclusive details about the case of his missing daughter that until now have been unavailable to the general public.
READ MORE HERE: https://www.newsweek.com/exclusive-what-happened-fauna-frey-new-clues-uncovered-1827197?fbclid=IwAR3Z3Glru5lIgqiYXbs_nA1Fj8JuCIzM11OHSVHfwIucfq2f_G5y9y5bnmQ
If you have any information on the whereabouts of Fauna Frey, call the anonymous tip line at 541-539-5638 or email FindFaunaFrey@gmail.com. — Help Find Fauna Frey #FindFaunaFrey FACEBOOK GROUP
2023 Fire Season Comes to an End
With temperatures cooling and widespread rain soaking the state, all Oregon Department of Forestry (ODF) protection districts have terminated fire season restrictions, marking the end of the 2023 Oregon fire season declarations. 
Year to date, there have been 975 fires on ODF-protected lands resulting in 17,968 acres burned. Three ODF Type 1 Incident Management Teams (IMT) were deployed this season: one to the Golden Fire in the Klamath-Lake District, and two to the Tyee Ridge Complex in the Douglas Forest Protective Association district. Statewide to date, regardless of jurisdiction, there have been 1,909 fires that have burned 190,507 acres.
"This year, I would say was the year of partnership," Mike Shaw, Protection Division Chief, said. "We had several opportunities this year to help to our local, state, and federal partners keep Oregon safe from wildfire, and vice versa," said Shaw.
Starting in May this year, ODF deployed firefighter IMT members to Alberta, Canada through the Northwest Compact—an agreement created to facilitate assistance in wildland fire pre-suppression and suppression efforts between member agencies. In August, an ODF Type 3 IMT was deployed to manage the Wiley Creek Fire to assist our partners at The Willamette National Forest. ODF also supported local fire service agencies and the Oregon State Fire Marshal multiple times throughout the summer by deploying aircraft when called upon and sharing personnel and other resources. Lastly, the department remained engaged with partners during long-term fire events and offered resources or advice wherever needed.
ODF and association firefighters responded to nearly the same number of fires this year as the 10-year average, but kept the acres burned at approximately 16% of the 10-year average, which was 119,526 acres burned. This is due to the agency's aggressive approach to initial attack to preserve natural resources, protect communities, and increase firefighter safety, as well as investments of additional staffing and aircraft resources from the 2021 Legislature.
Overall, the department put out 94 percent of fires at 10 acres or fewer this year.
The start and end of fire season restrictions and regulations are set by each forest protection district based on the conditions in their area including drought, climatic forecasts, and season trends. These restrictions and regulations of activities prone to start wildfires, such as debris burning and certain equipment use, are intended as preventative measures during times with elevated wildfire risks. The arrival of steady, soaking rain coupled with cooler temperatures and shorter days usually triggers the closure of fire season. The end of fire season removes ODF imposed fire restrictions on ODF-protected lands. However, many structural fire departments in Oregon still require a permit for debris and slash burning, so check with your local fire department before starting a burn.
As Oregon transitions out of fire season, ODF districts across the state are shifting their attention to wildfire prevention and mitigation efforts. Clearing vegetation, creating defensible space around homes, and safely burning debris piles are just a few ways ODF is working with local landowners, members of the public and fellow fire response agencies to mitigate wildfire risk.
For more tips on how to keep yourself, your loved ones and your property safe from wildfire at any time of year, visit ODF's Fire Prevention website or Keep Oregon Green's website.
ODF protects about 16 million acres of private, county, state and federal forest and grazing lands in Oregon.
Federal Energy Regulatory Commission Approves Controversial Pipeline Expansion Project In The Pacific Northwest
The Federal Energy Regulatory Commission approved a controversial natural gas pipeline expansion project in the Pacific Northwest on Thursday, despite opposition from Democrats who said the project would imperil their states' climate goals.
The $335 million Gas Transmission Northwest XPress Project from TC Energy was one of several natural gas projects approved by FERC at its monthly meeting. Commissioners also advanced the Plaquemines LNG terminal project in Louisiana, as well as a new rule to protect grid reliability amid an influx of renewable resources.
The gas project known as GTN Xpress would expand an existing pipeline system in parts of Idaho, Washington state and Oregon to export natural gas from British Columbia, increasing the system's capacity by 150 million cubic feet of gas per day. The developer says the expansion is necessary to meet growing fuel demand, while some elected officials from the region have expressed concerns about greenhouse gas emissions.
The project was approved by all four commissioners.
Sen. Jeff Merkley (D-Ore.) said in an interview that the GTN Xpress decision showed that FERC was a "completely captured agency" that is "one huge rubber stamp" for fossil fuel projects. Merkley said he intends to hold conversations in Congress about changing FERC, which is an independent commission whose members are appointed by presidents and confirmed by senators.
"I think they need to be scrapped so we can start over with an agency that actually exists in sync with our need to take on climate change," Merkley said. "If our national policy is that we are going to take on climate change, we have to dump an agency that greenlights fossil fuel project after fossil fuel project."
FERC has been blasted by Republicans and Democrats over the years over which projects were approved or rejected and whether climate-warming emissions were adequately considered. Currently, the two parties each have two seats on the commission. One spot is vacant.
Merkley — along with Sens. Patty Murray (D-Wash.), Ron Wyden (D-Ore.) and Maria Cantwell (D-Wash.) — sent a letter this week asking FERC to reject the project, citing the climate impacts, potential safety risks and a lack of consultation with tribes. In previous comments on the pipeline docket, the attorneys general of California, Oregon and Washington said FERC had not done enough to evaluate the pipeline's climate change impacts by not accounting for emissions associated with natural gas after it is shipped.
"It's just inconsistent with what the West Coast is doing in trying to develop a clean energy economy," Washington Gov. Jay Inslee (D) said in an interview Thursday. "It strikes right at the heart of our West Coast plans."
Speaking to reporters after the meeting, FERC acting Chair Willie Phillips said that the commission understood the concerns but had to "act on the record." There was nothing in the agency's environmental review, he said, that indicated the project would "significantly increase greenhouse gas emissions" since there were agreements to purchase all gas going through the pipeline.
Idaho, which will purchase at least half of the gas, supported the project, said Phillips, a Democrat. "We considered and balanced all the information on the record, and the commission determined this project was needed and therefore we supported its approval," he said.
FERC spokesperson Mary O'Driscoll said the agency did not have a response to Merkley's comments.
Some Republicans from the region applauded the decision, which was delayed after being put on FERC's agenda in July. Rep. Lori Chavez-DeRemer (R-Ore.) said in a statement that the pipeline "will support domestic energy production, which boosts our energy security while also helping lower utility bills for Oregon families."
The current GTN pipeline is 1,377 miles long and transports natural gas from Canada to communities in Washington, Oregon and California. Canada-based TC Energy has said the project will deliver enough gas to serve half a million homes and meet regional demand that has grown more than 26 percent since 2014.
"The GTN XPress project will play a critical role in keeping energy affordable and reliable for consumers in California and the Pacific Northwest," said TC Energy spokesperson Michael Tadeo in an email. "We appreciate FERC's bipartisan action today to approve the project and will work diligently to place it into service as soon as possible." 
In a statement Thursday, several environmental groups led by Columbia Riverkeeper said they intended to file a petition for rehearing to challenge FERC's ruling. Inslee likewise said he is talking with his state's attorney general about legal options. (SOURCE)
Klamath River Dam Removal Project Update
The dam removal project along the Klamath River is running on schedule, according to the Klamath River Renewal Corporation. It marks the largest dam removal project in world history.
Copco 2 was the first of four dams to be removed. The KRRC said the three remaining dams, Copco 1, Iron Gate Dam and the J.C. Boyle Dam will be removed by November of 2024.
"About a year from now, we will have re-established a free flowing condition throughout the hydroelectric reach on the Klamath River for the first time in over 100 years," said Mark Bransom, CEO of the KRRC.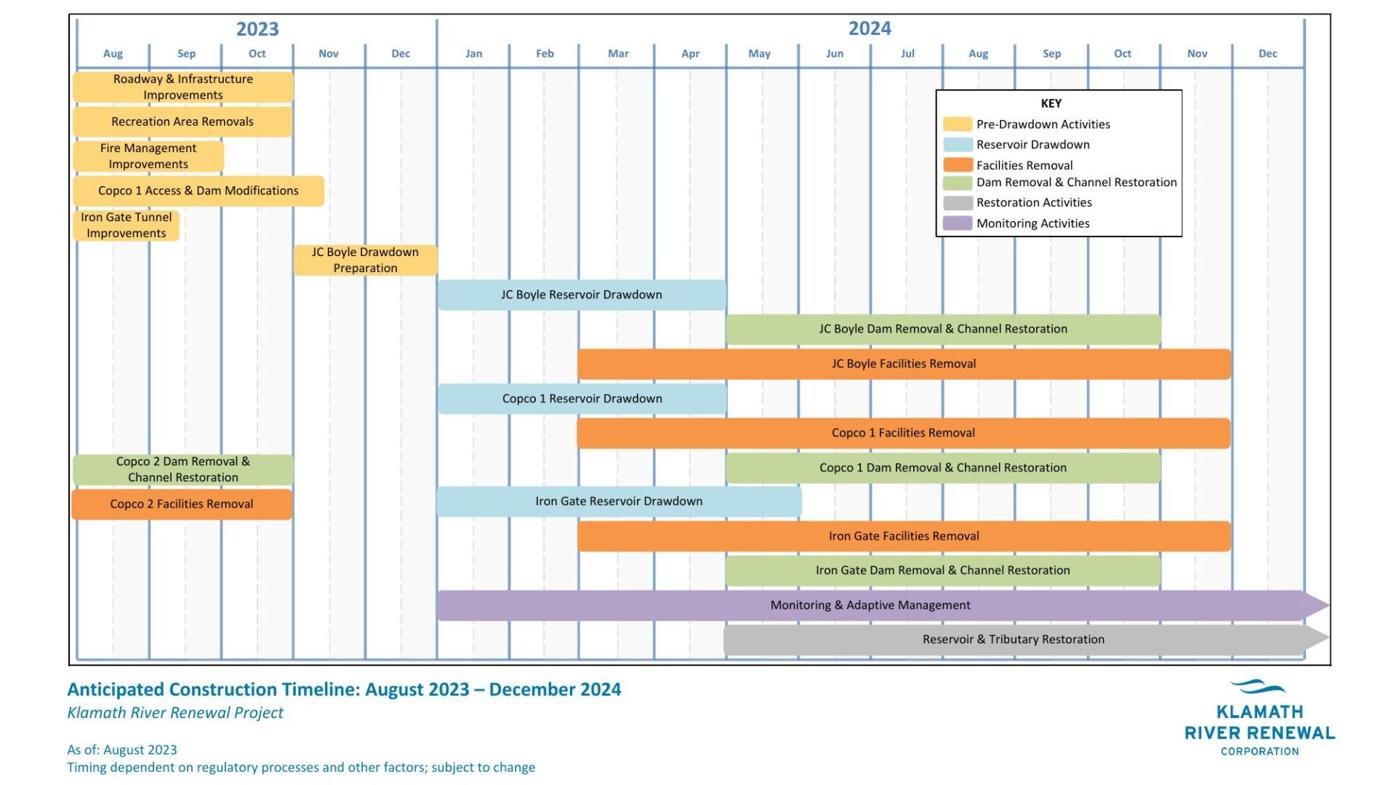 Bransom said there are two main goals for the project: Re-establishing a fish passage that runs both upstream and downstream of the river, and improving overall water quality.
Native tribes along the Klamath River have been advocating for dam removal for generations, hoping to see the salmon population return to the river. Bransom said the relationship between the tribes and the KRRC is an extremely important element of the project.
"We are simply standing on the shoulders of the tribes that have been advocating for and active on this work for two decades in some cases," he said.
Right now crews are focusing on drawdown preparation. This means crews will lower the water levels of the reservoirs, before they start chipping away at the dams.
"In order to create a safe condition, we need to slowly reduce the level of water in the reservoirs until they're completely drained out," Bransom said. "By May or June of 2024, after we return to a low, summer flow condition, then we can begin the removal of the dams."
Explosives will be used to help break up Copco 1 and the J.C. Boyle Dam. However, that won't be necessary for the Iron Gate Dam. Iron Gate Dam is made up of organic material that will be taken apart and returned to the area it originally came from.
Aside from removing the dams from the river, the KRRC said environmental restoration work will continue for several years, possibly until 2031.
"Dam removal is the first phase of this overall project, and we expect to be around for at least another seven to eight years," Bransom said. (SOURCE)
Rescue At Crater Lake National Park
A man and his dog were rescued after being stuck 300 feel below the caldera at Crater Lake National Park on Wednesday.
Jackson County Fire District 3 says its Technical Rescue Team helped rescue the man and his dog thanks to assistance from park officials.
The Technical Rescue Team has been responding to incidents at Crater Lake for a while now, with crews taking shifts as to who was in the park and who was back at the main station in White City.
According to Battalion Chief Bryan Cohee, the man went to rescue his dog after the animal fell down the caldera. The man and his dog were at a part of the park where pets were not supposed to be.
"The dog was in an area that dogs were not supposed to be in and he was also off his leash," said Chief Cohee. "Which you know is kind of the double whammy on that one."
Chief Cohee says the dog had minor injuries to his paw and face but overall everyone involved was okay.
He added it's a good reminder when visiting the park to keep pets on a leash and only allow them in approved pet areas.
New OHA tool connects people with latest COVID-19, influenza, RSV trends
PORTLAND, Ore.—New Oregon data dashboards will allow people to better track trends in activity of respiratory viruses – including COVID-19, influenza and respiratory syncytial virus (RSV) – in communities.
Oregon's Respiratory Virus Data dashboards, published on Oregon Health Authority's (OHA) website, have been updated for the 2023-2024 respiratory virus season to help connect people with the latest COVID-19, influenza and respiratory syncytial virus (RSV) trends in Oregon. The agency's Acute and Communicable Disease Prevention Program (ACDP) launched the interactive data dashboards, which include reported data for all three respiratory viruses.
Understanding these trends will help the public, state and local agencies, and community organizations prepare for and respond to COVID-19, influenza and RSV activity this season, said Melissa Sutton, M.D., medical director for respiratory viral pathogens at the OHA Public Health Division.
"Every respiratory virus season is a bad respiratory virus season," Sutton said. "But this data puts us in a position to more quickly assess what is happening in Oregon, and direct resources appropriately, including assisting local public health authorities with outbreak response."
OHA continues to report on COVID-19 hospital bed use, COVID-19 variants and COVID-19-associated deaths. Links are provided to COVID-19, influenza and RSV hospitalization rate and emergency department visit data for Oregon, as reported by the Centers for Disease Control and Prevention (CDC).
Among the new Respiratory Virus Data dashboards is an updated version of the Oregon Respiratory Viral Pathogen Wastewater Monitoring Dashboard. The dashboard displays information from wastewater samples that wastewater treatment facilities submit to Oregon State University scientists for testing for traces of influenza, RSV and SARS-CoV-2, the virus that causes COVID-19. The dashboard includes a map of Oregon with locations of participating wastewater treatment facilities, virus concentrations and trends in virus levels – ranging from "sustained decrease" to "sustained increase," indicated by color – found at those sites.
"These wastewater data really give us a good sense of where community transmission is dropping or rising and help us know what's coming in terms of community spread and disease severity, such as hospitalizations. This helps individuals decide when to take additional precautions such as masking in crowded indoor settings," Sutton said.
For more on these respiratory viruses read The flu, COVID-19 and RSV: What you need to know.
To subscribe to the weekly influenza and RSV reports, visit the FluBites and RSV-Oregon websites.
Trial for Klamath Kidnapper Pushed to December
The trial for a Klamath Falls man accused of kidnapping a woman and locking her inside a makeshift cell will now start in December.
Negasi Zuberi's original trial date was set to begin yesterday, but it has since been delayed because his attorney asked for a continuance.
Zuberi faces charges of felony kidnapping and transporting a woman with sexual intent from Seattle to his home in Klamath Falls. The home he was reportedly renting is owned by Klamath Falls mayor Carol Westfall. The new trial date is set for December 12 at 9am. It will be held in Federal court in Jackson County.
Oregon To Receive Federal Funds To Modernize Power Grid
Senators Ron Wyden and Jeff Merkley said they welcomed the Biden administration announcement that Oregon will receive $449.5 million in federal assistance to modernize the power grid, bolstering its ability to withstand fires, bad weather, natural disasters and more:
Wyden said, "Whether its been wildfires, windstorms, ice storms or other calamities, Oregon communities in recent years have suffered prolonged power outages among the dangers that arise when the gird goes down". Wyden's Disaster Safe Power Grid Act became law in 2021 as part of the bipartisan Infrastructure Investment and Jobs Act. Wyden said he is glad the legislation will make the power grid more resilient and help to bring more renewables online. Wyden said, "This major federal investment means Oregonians can feel more secure that they won't freeze in the winter, bake in the summer and able to count on electricity year-round in their homes and small businesses".
Merkley said its crucial for power grids to remain up to date, especially as summer droughts and intense winter storms become more common and severe. Merkley said, "Oregonians shouldn't have to worry about their health and lives being at risk due to power outages leaving them stranded without electricity for days or weeks, or because a stray power line sparked a catastrophic wildfire". Wyden said the funding is a critical investment to modernize the power grid and help reduce the chance of outages or sparks.
The federal funds will be distributed with:
*$250 million to a partnership between Portland General Electric and the Confederated Tribes of Warm Springs to upgrade transmission capacity between PGE's load centers, and renewable generation resources east of the Cascades – including those on the Warm Springs reservation
*$99.6 million to PacifiCorp for grid resilience and equitable workforce development in the west
*$50 million to Portland General Electric to accelerate and deploy grid-edge computing for about 10 percent of PGE's distribution system
*$49.9 million to PacifiCorp to create a holistic ecosystem that reduces and mitigates wildfires and improves grid flexibility, reliability and resiliency.
Press Release from PacifiCorp: selected for federal infrastructure funding to enhance wildfire mitigation
Projects increase resilience and reliability
PacifiCorp is pleased to announce it has been selected for award negotiations on two major, competitive infrastructure grants by the U.S. Department of Energy's Grid Deployment Office. These Grid Resilience and Innovation Partnerships grants, funded by the federal Infrastructure Investment and Jobs Act, support wildfire mitigation projects that will greatly benefit our customers and communities.
The U.S. Department of Energy will be investing roughly $150 million in key PacifiCorp grid resilience projects that touch the six western states within the company's service area.
Just under $100 million in federal funding will support PacifiCorp's Equity-aware Enhancement of grid Resiliency (PEER) project, which is designed to reduce the impact of extreme weather events on portions of the electrical grid serving disadvantaged communities in areas at highest risk for wildfire.
An additional $50 million in funding will go toward the company's Resiliency Enhancement for Fire mitigation and Operational Risk Management (REFORM) project, which enhances control center capabilities with technological improvements and improves situational awareness through sophisticated weather forecasting models and artificial intelligence-enabled cameras that detect wildfires.
Both grants include community benefits managed in collaboration with labor unions and local organizations – including skilled workforce training, supplier diversity and community engagement.
"This is a once-in-a-generation opportunity to secure significant federal funding for programs that support our customers, especially those in historically underrepresented and marginalized communities," said Rohit Nair, PacifiCorp's director of engineering standards and grid modernization. "We are committed to improving resilience and reliability in those communities, and will be matching these federal funds dollar-for-dollar with our own investment in these programs."
The government funding will help reduce the likelihood and consequence of wildfires, minimize the impacts to the grid due to extreme weather and align resilience investments with state, Tribal and regional plans. The projects' scope includes:
Hundreds of miles of covered conductor
Thousands of fire-resistant poles
Thousands of non-expulsion fuses
Workforce development and pre-apprentice programs
Enhanced forecasting capabilities for wildfire risk management
Improved grid resiliency and reliability
PacifiCorp would like to thank its key partners in supporting its grant application, including labor union partners (IBEW Local 125, IBEW Local 57, IBEW Local 77 and IBEW Local 659), subrecipients (Rural Development Initiative, Crater Lake Electrical Joint Apprenticeship Center), higher education partners (University of Utah, Utah State University, College of the Siskiyous, Oregon Institute of Technology), and state and local agency and tribal partners.
100% of the infrastructure upgrades identified in the PEER program and 50% of the upgrades in REFORM will impact underserved and Tribal communities. The two projects combined will benefit tens of thousands of PacifiCorp customers in California, Idaho, Oregon, Utah, Washington and Wyoming.
About PacifiCorp – PacifiCorp is one of the lowest-cost electrical providers in the United States, serving two million customers. The company operates as Rocky Mountain Power in Idaho, Utah and Wyoming and as Pacific Power in California, Oregon and Washington. PacifiCorp provides safe and reliable service through a vast, integrated system of generation and transmission that connects communities as the largest regulated utility owner of wind power in the West. For more information, visit www.pacificorp.com.  
State Program Offers Free Help for Medicare Open Enrollment
(Salem) — Medicare open enrollment for the 2024 Medicare plan year began on Oct. 15 and remains open through Dec. 7, 2023. The Oregon Department of Human Services (ODHS) wants Oregonians to know about free help available when making decisions about coverage including the Oregon Guide to Medicare Insurance Plans.
The Senior Health Insurance Benefits Assistance (SHIBA) program within the ODHS Office of Aging and People with Disabilities (APD) is available to help Oregonians understand their Medicare options and benefits, provide enrollment guidance and help people detect and avoid Medicare scams. During Open Enrollment, people with Medicare can make changes to their health plan or prescription drug plan, pick a Medicare Advantage plan, or choose Original Medicare.
Oregonians who need help navigating Medicare open enrollment are encouraged to call SHIBA at 800-722-4134 (toll-free) or learn more by visiting the SHIBA website at SHIBA.Oregon.gov. The 2024 Oregon Guide to Medicare Insurance Plans will be available on the SHIBA website in the coming days and will be translated to multiple languages.
"SHIBA certified counselors can help people make informed decisions to choose the plan that works best for them as well as understand the difference between Original Medicare and Medicare Advantage plans," said Jane-ellen Weidanz, who oversees SHIBA as APD Deputy Director of Policy.
SHIBA certified counselors can also help people report scams to Medicare and educate people on how to avoid Medicare scams or fraud. "Scams and fraud are becoming more common through email, text messages, social media and phone calls. Anyone who receives a message or email about Medicare from a number or person they do not recognize should not respond to it," said Weidanz. "SHIBA counselors are here to help Oregonians if they have questions about the validity of information they have received and are committed to ensuring Oregonians have the information they need."
Help from SHIBA is available over the phone and through virtual and in-person appointments. Because high call volume during Open Enrollment may result in longer than usual wait times, Oregonians are also encouraged to access free resources on the SHIBA website such as Medicare frequently asked questions, an agent locator tool, a list of free virtual and in-person Medicare presentations and videos to help people understand their Medicare options.
About the Oregon Department of Human Services – The mission of the Oregon Department of Human Services is to help Oregonians in their own communities achieve wellbeing and independence through opportunities that protect, empower, respect choice and preserve dignity.
About the Senior Health Insurance Benefits Assistance program – The Senior Health Insurance Benefits Assistance (SHIBA) program is a statewide network of certified counselors volunteering in their community to help all Oregonians make educated Medicare decisions. SHIBA offers free, objective, confidential and local one-on-one health insurance counseling and assistance to people with Medicare and their families.
Oregon Parks Forever and SOLVE Oregon are inviting all outdoor enthusiasts to help restore the Minto County Park
Oregon Parks Forever and SOLVE Oregon are inviting all outdoor enthusiasts to join us as "We Care For Parks" helps restore the Minto County Park in Gates, OR on Saturday and Sunday, November 4 & 5th.
If you have driven the Santiam Highway between Salem and Detroit, you know the devastation wrought by the Labor Day fires in 2021.
We Care for Parks volunteer teams will assist in a variety of maintenance activities. From general park clean-up and removal of invasive plants to construction projects like building footpath bridges and laying out gravel paths through the park. We're excited to join forces with SOLVE Oregon to help turn this park into an oasis on the route from Salem to Detroit.
You can join us for either or both Saturday and Sunday from 8:00 am to 4:00 pm. When you register you will receive more details on the event. (We can say that there will be a break for lunch, with food carts at the park, and we have some pretty sweet swag to say "thank you" for your help. )

Space is limited, and you can sign up to reserve a place. Sign up here: https://www.solveoregon.org/opportunity/a0C8W00000slx4r/minto-park-event
Oregon's Vietnam Veterans War Memorial Hosts Fundraiser at Brothers Car Collection
The Vietnam War Memorial Fund (VWMF) will hold a fundraiser on Tues. Oct 24, 2023, 6-8 p.m. at Salem's Brothers Car Collection to raise money for the memorial's construction. Only 150 tickets will be sold for $50 each, with the hope that guests will learn more about the project and make additional donations on-site.
Steve Bates, President and co-founder of the VWMF, expressed the urgency of the fundraising efforts for the $5.5 million project that slowed due to COVID. "We hope to have the pre-construction process completed this fall so we can adopt an actual construction calendar for 2024," said Bates. "But we must raise more funds to meet the 2024 construction goals. We are seeking support from additional charitable foundations and the public," he added.
The Vietnam War Memorial will be in the southwest corner of the Willson Park portion of the State Capitol State Park, west of the Capitol Building, and south of the World War II Memorial. Bates said, "It is significant that these two wars be memorialized on the Oregon Capitol grounds as they are the two wars that caused the most Oregon casualties. The two memorials together will honor about 75% of Oregon's war dead."
The Brothers Car Collection is a private collection of more than 600 cars. Over 335 vehicles, including muscle cars and exotic sports cars, are on display in a 117,000-square-foot warehouse turned museum that is not open to the public.
Tickets are $50 and available in advance only at ocvvm.com/GAtix or on their Facebook event page. More details will be provided after ticket purchase in a confirmation email. Food will be available for purchase. The group is seeking raffle items as well as sponsors.
ABOUT THE MEMORIAL: The VWMF is a group of Oregonians committed to establishing the memorial to honor the men and women who served in the Vietnam War. The project aims to help bring peace to the suffering endured by those rejected after returning home. The 2021 Oregon State Legislature gave its final permissions by unanimously passing Senate Bill 319, establishing the Vietnam War Memorial on the Oregon State Capitol Grounds. On July 14, 2021, Governor Kate Brown signed that bill into law. Groundbreaking is tentatively scheduled for spring 2024.
ABOUT OREGON AND THE VIETNAM WAR: The Vietnam War was a tumultuous period in American history, spanning two decades and becoming the longest war in recorded history. It lasted from November 1955 to May 1975. By 1968, the United States had over 500,000 military personnel on the ground in Vietnam, with 2.7 million Americans serving during the conflict. Tragically, 58,318 Americans died, including 710 Oregonians killed in action. Four Oregon families lost two sons each.
ABOUT VWMF: Vietnam War Memorial Fund's website at www.ocvvm.com. The VWMF Store is found here. The Vietnam War Memorial Fund is a recognized 501(c)3 organization. Donations are also accepted by check to the Vietnam War Memorial Fund – P O Box 1448 – Boring, Oregon 97009 or by credit card at www.ocvvm.com.
Missing Yachats Man's Vehicle Found in North Lane County
On 08/25/2023, Dustin Steyding was reported missing to the Lincoln County Sheriff's Office after he left work on 07/22/2023 and hadn't been located since. Dustin was living and working in the Yachats area.
Dustin was reported to be in good physical condition, having previously worked as a hot shot firefighter in New Mexico. Dustin is very experienced in the woods and commonly goes out for hikes to stay in shape. Without means to locate Dustin, Deputies entered Dustin as a missing person in a national database.
On 09/04/2023, the Lincoln County Sheriff's Office received a call from Dustin's family after they located his vehicle on Keller Creek Rd, just outside of Lincoln County in Lane County. Lincoln County Sheriff's Office Deputies contacted the vehicle and determined it had been at the location for some time. Deputies were unable to determine Dustin's direction of travel from the vehicle.
The vehicle having been located in Lane County, Lincoln County Deputies contacted the Lane County Sheriff's Office Search and Rescue Team and arranged for their response the next day to started searching the area. After two days of searching, no clues to Dustin's have been found.
Anyone with information on the whereabouts of Dustin Steyding should contact the Lincoln County Sheriff's Office at 541-265-0777 and reference case number 23S-07321.