The latest news stories and stories of interest in the Willamette Valley from the digital home of Southern Oregon, from Wynne Broadcasting's WillametteValleyMagazine.com
Tuesday, May 24, 2022
Willamette Valley Weather
EWEB Begins Cutting Down Dead Trees As Part Of Wildfire Mitigation Plan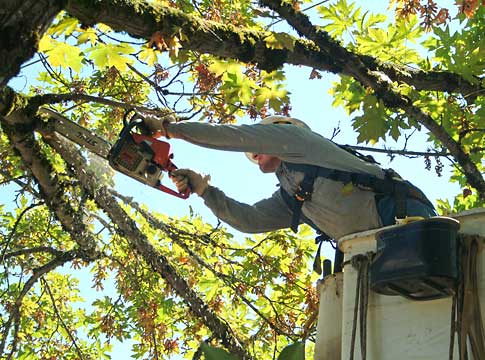 Crews with the Eugene Water and Electric Board have begun cutting down trees and plants in the city and more rural areas to prevent downed power lines and potential wildfires.
When choosing trees to cut down, EWEB focuses on felling ones closest to power lines, especially if they are dry and dead.
EWEB trims 300 power line miles of vegetation each year, along with inspecting and pruning additional 250 miles and proactive maintenance of more than 725 miles.
So far the focus has been on the south Eugene hills, the McKenzie River Valley, and closer to downtown when trees get too close. Although this has been a rainy spring so far, EWEB's trimming season has been starting increasingly early over the years as the climate becomes drier.
Trimming trees is one of the components of EWEB's wildfire mitigation plan, and the utility has set aside $1 million from its 2022 budget for wildfire mitigation activities.
EWEB plans to submit its wildfire mitigation plan to the utility's board of commissioners in June, and those plans are newly required under state Senate Bill 762 for consumer-owned utilities.
Over the next two to three years EWEB plans to invest in areas where fire risk is the highest, which includes putting more lines underground, such as one project planned for the area south of Spencer Butte Middle School. EWEB recently finished a project in the South hills to put more than a mile of power lines underground, which used FEMA hazard mitigation funds. Putting power lines underground is one of the more expensive options, and roughly 50% of the city's power lines are already underground. Other fire mitigation techniques can include switching to poles made of more fire-resistant materials. FOR MORE INFO: https://www.eweb.org/outages-and-safety/trees-and-power-lines
Eugene City Council Holding A Special Meeting Tuesday To Vote On Middle Housing Code Amendments
The Eugene City Council will be holding a special meeting Tuesday to vote on Middle Housing code amendments. Meanwhile, the council is still taking public input.
The city council made some changes to an ordinance that was crafted with public involvement over two years. It allows for duplexes, triplexes, fourplexes and cottage clusters on lots currently zoned for single family homes. It's meant to enact a new state law that requires cities to provide more housing choices for Oregonians.
The council decided to reduce the maximum allowable building height from 35 to 30 feet and to remove a parking incentive for small dwelling units. They also changed the parking incentive for proximity to transit. The council still hasn't decided whether to change the maximum lot coverage for middle housing.
That discussion and a likely vote on the ordinance is set for Tuesday at 5:30.
People can also share comments online: https://engage.eugene-or.gov/middle-housing
Eugene Police Department Participating in "Click It or Ticket" Campaign
The Eugene Police Department and other law enforcement agencies across Oregon are emphasizing the benefits of wearing a seat belt for the US Department of Transportation's nationwide "Click It or Ticket" campaign.
The campaign runs from May 23 to June 5 and is part of an effort to educate the public about the lifesaving effects of wearing a seat belt while driving. The program is intended to increase police presence by coordinating seat belt enforcement and providing seat belt fact sheets to drivers. The EPD will also be participating in this event.
EPD's Sergeant Scott Dillon, who operates as part of EPD's Traffic Safety unit, said "We respond to many crashes and see first-hand how important seat belts are. However, we still see drivers and passengers not buckling up and want to remind everyone to take this simple step."
According to the National Highway Traffic Safety Administration, there were nearly 11,000 passengers killed in crashes in 2020 who were not wearing seat belts. The administration adds that in that same year, 58% of passengers killed at night were not wearing their seat belts. One focus of the campaign is nighttime enforcement of seat belt laws, and participating law enforcement agencies will be taking a no-excuses approach and writing tickets for drivers and passengers without seat belts day and night. FOR MORE INFO: https://www.eugene-or.gov/CivicAlerts.aspx?AID=5637
We want to keep you informed about COVID-19 in Oregon. Data are provisional and change frequently. This report covers the three-day period from May 20 to May 22, 2022. Visit our dashboard, linked below, and hover over the new cases graph to view new presumptive and confirmed case numbers reported to OHA by date. For more information, including COVID-19 data by county, visit our dashboard: https://public.tableau.com/views/OregonCOVID-19Update/DailyDataUpdate?:language=en-US&:toolbar=n&:display_count=n&:origin=viz_share_link
If you've tested positive for COVID-19, find resources, get support and take the COVID-19 Case Survey to report your positive at-home test:
Visit govstatus.egov.com/or-oha-covid-19-positive-test, or
Call the COVID-19 Support Hotline at 866-917-8881, or
Text "OHACOVID" to 61222.
The Hotline is open Monday to Friday, 8 a.m. to 6 p.m. and Saturdays, 10 a.m. to 4 p.m. Language interpretation is available. While you're not required to report your positive at-home COVID-19 test results we highly recommend you do so. Your honesty helps us understand how the virus is affecting you and your community. We also recommend letting close contacts know about potential exposure. Hospitals, health care providers, laboratories and local public health authorities are required to report test results.
Oregon-Washington BLM to impose fire restrictions, fireworks ban starting Friday
Fire restrictions will be in place across Pacific Northwest starting May 27 to help protect local communities.
The Bureau of Land Management announced that the use of fireworks, exploding or metallic targets, steel component ammunition, tracer or incendiary devices and sky lanterns will be prohibited on public areas across Oregon and Washington.
Those who violate those prohibitions could see a $1,000 fine and/or a prison sentence of up to a year. People who are found responsible for creating wildfires on federal lands may be held responsible to pay off fire suppression costs.
"Fire restrictions help protect our first responders, local communities, and public lands from accidental wildfires," Barry Bushue, BLM Oregon/Washington state director. said. "We are continuing to see drought conditions across Oregon and Washington. By following fire restrictions, the public can help us focus our fire resources on naturally caused fires."
May is Wildfire Awareness Month. CLICK HERE to read more about the fire restrictions.
Oregon Cracks Down On Seatbelt Violations With 'Click It Or Ticket' Campaign
Make sure you buckle up, as law enforcement agencies across Oregon roll out a statewide crack-down on seatbelt violations.
The effort is part of an annual nationwide "Click It, or Ticket" campaign.
Local agencies will use federal funding to educate people about seatbelt and child seat laws.
Oregon Department of Transportation data from 2020 shows improper seat belt use was a factor in 32-percent of deadly crashes in the state. The campaign runs through June 5.
Oregonians Get Early Glimpse of 2023 Health Insurance Rates
Salem – Oregon consumers can get a first look at requested rates for 2023 individual and small group health insurance plans, the Oregon Department of Consumer and Business Services announced today.
In the individual market, six companies submitted rate change requests ranging from an average 2.3 percent to 12.6 percent increase, for a weighted average increase of 6.7 percent. In the small group market, nine companies submitted rate change requests ranging from an average 0 percent to 11.6 percent increase, for a weighted average increase of 6.9 percent. Our initial review has found that insurers have identified inflation, medical trend, and enrollment changes as factors in the proposed increases. See the attached chart✎ EditSign for the full list of rate change requests.
Oregonians will also see an uptick in premiums due to the expiration of temporary enhanced subsidies for on exchange individual market plans. The additional premium support has helped to lower monthly premiums by an average of 46 percent since enactment in 2021. Under the enhanced subsidy structure, people between 151 percent and 200 percent of the federal poverty level can get a bronze plan for as low as $1 per month, with other plans varying in costs. The loss of subsidies will equate to an approximate $11.9 million increase every month for Oregonians.
Health insurance companies submitted rate requests to the department's Division of Financial Regulation on May 16. The requested rates are for plans that comply with the Affordable Care Act for small businesses and individuals who buy their own coverage rather than getting it through an employer. Every county has at least four companies available for people to buy insurance on the individual market.
Over the next two months, the division will analyze the requested rates to ensure they adequately cover Oregonians' health care costs. The division must review and approve rates before they are charged to policyholders.
"Oregon continues to have a strong and competitive insurance marketplace, with four carriers offering plans statewide and Oregonians in most our counties having five or six companies to choose from, " said Insurance Commissioner and DCBS Director Andrew Stolfi. "The Oregon Reinsurance Program continues to allow Oregonians to find reasonable rates."
The Oregon Reinsurance Program continues to help stabilize the market and lower rates. Reinsurance lowered rates by 6 percent for the fifth straight year.
Virtual public hearings about the 2023 health insurance rates will be held July 27-28. A web address to watch the public hearings will be posted at oregonhealthrates.org. At the hearings, each insurance company will provide a brief presentation about its rate requests, answer questions from the division, and hear public comment from Oregonians.
"We look forward to a thorough public review of these filings as we work to establish next year's health insurance rates." Stolfi said. "We encourage all Oregonians to join us for the virtual public hearings and provide feedback on their health insurance plans."
Oregonians are encouraged to comment on rate change requests during the public comment period, which opens later this month and runs through July 7. The public can submit comments at oregonhealthrates.org and during the public rate hearings.
Preliminary decisions are expected to be announced in early July, and final decisions will be made in early August after public hearings and comment periods end.
About DCBS: The Department of Consumer and Business Services is Oregon's largest business regulatory and consumer protection agency. For more information, go to www.dcbs.oregon.gov.
About Oregon DFR: The Division of Financial Regulation is part of the Department of Consumer and Business Services, Oregon's largest business regulatory and consumer protection agency. Visit www.dcbs.oregon.gov and dfr.oregon.gov.​​
Greater Idaho Movement Alters Proposal Map Following Defeat In Josephine and Douglas Primary
Greater Idaho doesn't want Southwestern Oregon anymore. The group advocating to make rural Oregon counties part of neighboring Idaho "announced that it will propose a less ambitious map to state legislatures as 'phase 1' of the project. The map only adds eastern Oregon to Idaho. The map does not give Idaho any coastline – Oregon would
keep all of southern Oregon west of, and including, the Cascade (mountain) Range."
The group anticipates putting a question on the Morrow County ballot this November and a Wallowa County ballot next year. The proposal would put fourteen eastern Oregon counties and three partial eastern Oregon counties under the governance of Idaho. The area has a population of 386,000. This is 9% of the population of Oregon and 63% of the land area of Oregon.
Under phase 1, Idaho would almost tie Montana in land area but have twice the population of Montana. The movement is asking Oregon state legislators for hearings and for cosponsors for a resolution that would invite Idaho to begin talks with Oregon on moving the border.
ODFW Wants Reports Of Snapping Turtles
Snapping turtles, an invasive species in Oregon, are nesting this time of year and are more likely to be encountered on land which is an opportunity for the public to help out.
Snapping turtles can harm native turtle populations as well as amphibians, mammals, birds, and fish. ODFW wildlife biologists have seen an uptick in reports, and some snapping turtles have been captured recently by members of the public.
If you find a snapping turtle on land and can safely do so, contain the turtle and immediately contact ODFW. For example, put a large sturdy container such as a plastic storage tote over the turtle and place a heavy object on top to prevent the turtle from escaping. Stay away from the snapping turtle's head – they have a long neck and a powerful bite.
The common snapping turtle, indigenous to the eastern United States but invasive in Oregon, can reach up to 18 inches in length. Its top shell is strongly serrated and varies from tan/brown to olive to almost black. Its long tail has three rows of saw-tooth keels.
Invasive turtles can be delivered to your local ODFW office when they are open Monday through Friday, 8 a.m. to 5 p.m. Please call ahead to arrange your delivery.
Please report sightings of snapping turtles to ODFW by visiting https://oregonturtles.org.
https://www.facebook.com/pg/Have-You-Seen-Me-Southern-Oregons-Missing-People-161249961222839/posts/