The latest news stories and stories of interest in the Willamette Valley from the digital home of Southern Oregon, from Wynne Broadcasting's WillametteValleyMagazine.com
Tuesday, May 10, 2022
Willamette Valley Weather
Mckenzie School District Cancels School Due To Bus Driver Shortage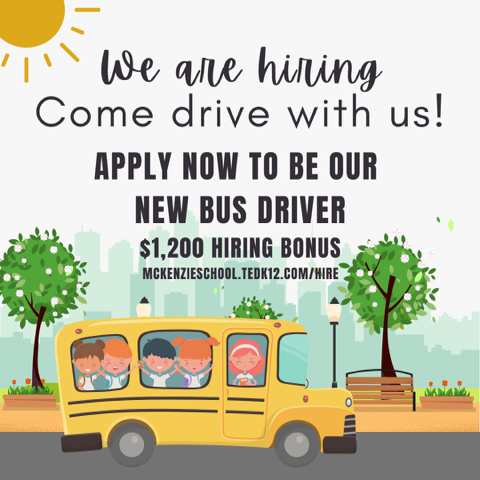 All schools in the McKenzie School District will be closed on Tuesday, May 10th due to a bus driver substitute shortage.
The alert was sent out at 9:15 p.m. that said school will be closed but staff are still being asked to report. Preschool is canceled as well.
A similar situation happened in March of 2022 when there were not enough bus drivers available.
The district has previously sent out a call for more drivers, and even offered a signing bonus. The positions pay between $16 dollars and $21 dollars and hour with a $1200 signing bonus.
The Superintendent said hiring drivers had been an issue for a while, but it's gotten worse in recent years and they are in critical need of drivers. MORE INFO: https://www.mckenzie.k12.or.us/article/724032
Oregon State Hospital to Submit Corrective Action Plan
Response follows CMS report on deficiencies at OSH's Junction City campus
Administrators at the Oregon State Hospital (OSH) have 10 days to submit a corrective action plan or risk losing certification to be reimbursed for federal Medicare payments after state regulators filed a report that identified a range of supervision and reporting deficiencies at the hospital's Junction City campus. 
The findings stem from an inquiry into the supervision of a patient who went on unauthorized leave, known as "elopement," during an outing in the community late last year. However, the investigation's scope broadened after the initial incident uncovered additional deficiencies.
OSH provides psychiatric treatment for adults from throughout the state who need hospital-level mental health treatment. The hospital provides care at two campuses: a main campus in Salem and a second campus at Junction City.
The state hospital is eligible to receive federal Medicare and Medicaid payments under Conditions of Participation issued by the federal Centers for Medicare and Medicaid Services (CMS) and, like other health care facilities, must remain in compliance with federal requirements – including meeting state licensing obligations – to continue to receive federal reimbursement. 
The federal inquiry focused on operations at the Oregon State Hospital's Junction City location in December 2021 and January 2022. The review was conducted by surveyors in the Health Facility Survey and Certification Program in the Health Care Regulation and Quality Improvement (HRQI) Section, which is part of the Oregon Health Authority's Public Health Division. One of HRQI's primary roles is to conduct reviews of complaints at hospitals and other health care facilities in Oregon on behalf of federal regulators.
The hospital is also a division of OHA. HCRQI regulators conducted the review following standard processes and protocols used in similar investigations into complaints at other psychiatric hospitals and programs in the state.
In their investigation report, HCRQI surveyors identified federal and state compliance issues in several categories reflecting deficiencies under CMS Conditions of Participation. Oregon State Hospital is making the CMS report available to the public as part of its commitment to transparency and ensuring accountability to its patients and their families.
Surveyors cited issues ranging from the lack of a permanent, onsite administrator to manage the Junction City campus on a daily basis, to episodes in which Junction City staff lost visual contact with patients while on outings, to shortcomings in documenting follow-up reviews after patient-to-patient altercations.
Administrators at OSH must submit a corrective action plan to CMS (through state regulators in the HRQI program), by May 15, which marks the 10-day deadline from the date of the federal agency's notification.
State hospital Superintendent Dolly Matteucci said, "Our staff at the Oregon State Hospital want to provide the highest quality care to our patients so they can recover and return to live healthy and productive lives in their communities. We look forward to addressing each of the administrative, documentation and supervision issues highlighted in this report."
OHA Director Patrick Allen said, "I appreciate the rigor and thoroughness of our state health care regulatory surveyors, who in their role of acting on behalf of CMS, took the opportunity to conduct a broad review of state hospital administrative structures and procedures. The state hospital will act promptly and transparently to fix these gaps."
We want to keep you informed about COVID-19 in Oregon. Data are provisional and change frequently.
This report covers the three-day period from May 6 to May 8, 2022. Visit our dashboard, linked below, and hover over the new cases graph to view new presumptive and confirmed case numbers reported to OHA by date. For more information, including COVID-19 data by county, visit our dashboard: http://ow.ly/sP3n50J3ct3
Oregon is receiving an additional 16-million dollars in emergency rental assistance funds from the federal government.
The money comes from states that didn't use their funds. Oregon Housing and Community Services won't reopen the website to new applicants. They will distribute the funds to current tenants who need additional support. Those tenants will be contacted starting this week.
The U.S. Department of Agriculture's Natural Resources Conservation Service awarded NRCS Oregon $6,765,000 for the Agricultural Conservation Easement Program – Agricultural Land Easements (ACEP-ALE). The program helps landowners protect their working lands.
In 2022, four entities representing eight landowners applied to the ACEP-ALE program. After seeing this significant interest, NRCS Oregon requested additional funds over their initial request of $590,060 to meet the high demand. These funds will allow landowners to protect 14,917 acres of farm and ranch land across the state. This federal funding matches newly appropriated state funds from the Oregon Agricultural Heritage Program (OAHP), multiplying conservation benefits resulting from agricultural land easements.
The OAHP program provides voluntary incentives to farmers and ranchers to support practices that maintain or enhance both agriculture and natural resources such as fish and wildlife on agricultural lands. The Agricultural
Conservation Easement Program (ACEP) helps landowners, land trusts and other entities protect, restore, and enhance wetlands, grasslands, and working farms andranches through conservation easements. These programs benefit participants and the American public by creating cleaner air, water and open American public by spaces.
The May Primary is the first statewide election since implementation of a new Oregon law allowing ballots received after 8 p.m. on Election Day to be counted, if they're postmarked by Election Day. 
A new campaign by the Secretary of State'sOffice reminds Oregonians last-minute voters now have the option to mail their ballot: "Drop it in your mailbox or a USPS collection box. Just make sure it's postmarked on or before Election Day," the new ad says, "Some mail-in ballots will arrive after Election Day, even if they were cast on time."
Ben Morris, with the Secretary of State's Office, says the goal is to combat the misinformation seen in other states, where people thought late ballot increases were evidence of fraud. "We're going to see the total number of votes go up on Wednesday and Thursday and Friday following Election Day.
Those are valid votes that were cast on time, and they'll count." There is still a deadline mailed ballots postmarked on time must be received within seven days of Election Day. There's more information at the state's Elections website. Oregon's Primary is May 17th.
The countdown is underway for Oregon residents to meet national Real ID requirements for domestic air travel.
The Real ID deadline arrives one year from this week. Starting May 3, 2023, travelers need more than a standard state driver's license or identification card at airport security checkpoints to board flights within the U.S. That's the day people need a Real ID-compliant driver's license or ID card, or a passport or other federally acceptable identification.
The federal Transportation Security Administration (TSA) has a full list of identity documents it will accept for air travel at TSA.gov. Oregon Driver and Motor Vehicle Services (DMV) Administrator Amy Joyce says, "A year may
sound like a long time, but it isn't when it comes to issuing secure identification such as driver licenses, ID cards and passports. It can take weeks to gather the documents you need to qualify for a type of ID that the TSA will accept at airports."
DMV says its offices in Oregon and across the country are busy, and the U.S. Department of State has a backlog for passport applications and renewals. That's why the DMV insists people get the Oregon Real ID option or a passport now.
Oregon State Fair Tickets Now on Sale
Tickets for the Oregon State Fair are now on sale. That includes General Admission, Carnival Ride, FairLift, and the Columbia Bank Concert Series tickets. Some of the performers this year include Shaggy, Nelly, and The Beach Boys. Concert tickets range from 40 to 100 dollars. The Fair runs August 26th through September 5th.
Klamath County Sheriff's Office Asks for Public's Help in Search For Trucker Suspect
The first real clue to come in on all the missing person cases in the area. Help Klamath Falls Oregon Sheriff Office ID this trucker. He was the last to see this woman alive and could be the key to not only solving this woman's disappearance but a number of the hundred other women missing in PNW. IF you have any information, please call (541) 883-5130
https://www.facebook.com/pg/Have-You-Seen-Me-Southern-Oregons-Missing-People-161249961222839/posts/